Recently updated on October 1st, 2023 at 09:50 am
,
Food day | Food Quotes | Reduce Food Waste
  How strange is this world? Here so many people die of hunger without eating, on another side, many people die because of diseases related to overeating. Here the poor walk thousands of steps to earn bread for a living, while the rich walk to digest their food. Food is the human need for which he sweats all his life, but even after this hard work, very few people get the freedom to eat the food they like. Others die hoping one day will have enough food.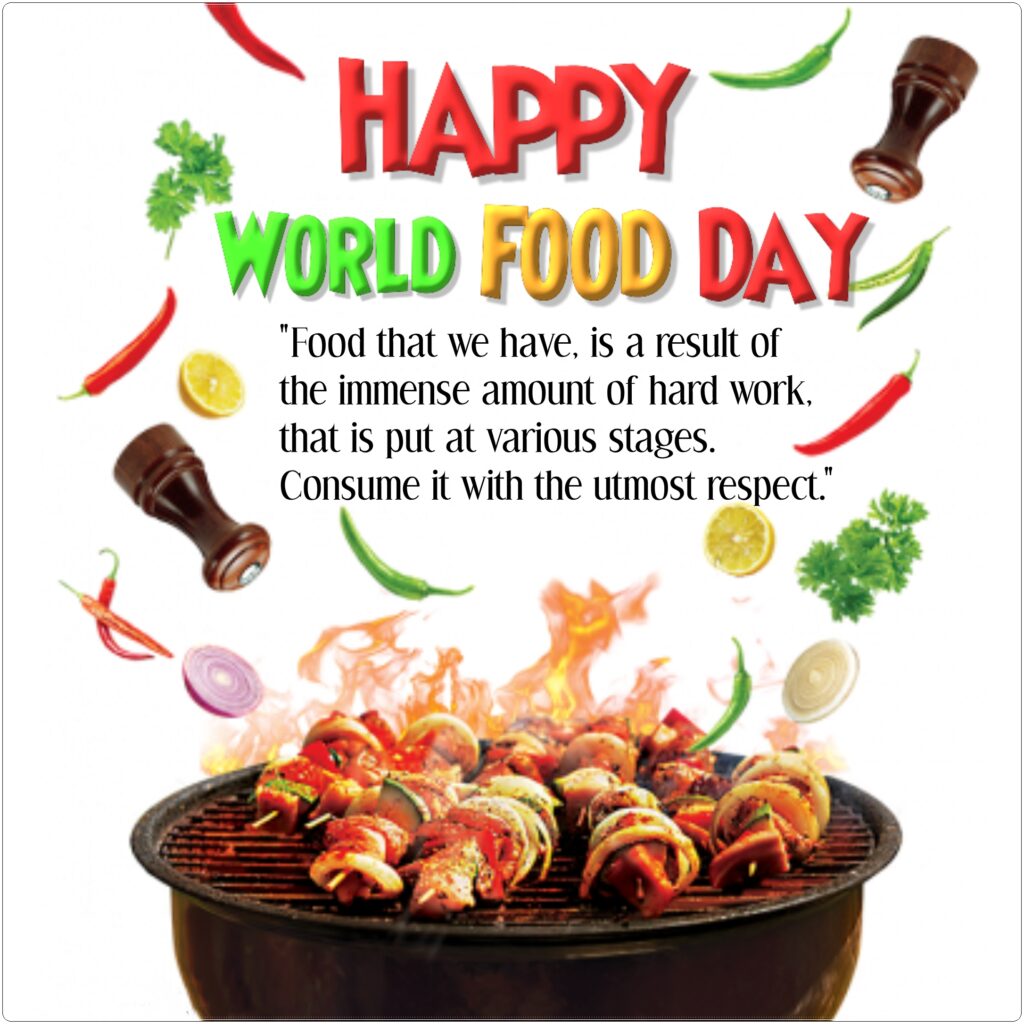 Food waste:
On one side of the world, there are people who have food more than necessary and they don't mind wasting and throwing away the remaining food. Food waste is a serious global issue and should not be put aside since hunger is still a rampant problem in many countries. There are also the environmental impacts of food production and its land-use requirements. As well as the extra burden wasted food puts into landfills, ultimately contributing to climate change. When we talk about food waste, we don't only mean what we,  consumers waste, but also what stores don't sell and then discarded; what restaurants and hotels waste, and what manufacturers and farmers lose along the way. There is also a difference in wastage between industrialized and developing countries. People in rich countries waste an average of 95 – 115 kg of food per person each year, whereas in poorer countries only an average of 8-11 kg per person is wasted yearly.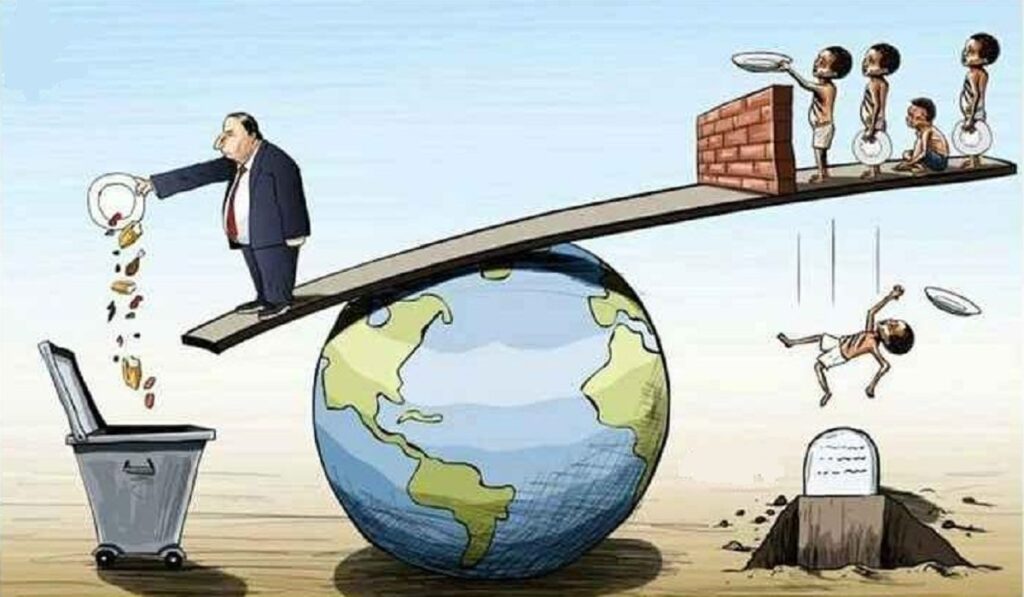 History of world food day:
  The Food and Agriculture Organization was established in 1945 in the United Nations. To commemorate this foundation day, "World Food Day" is celebrated all over the world on 16 October. Many organizations celebrate it as Food Safety Day. The first Food Day was celebrated in 1980. It is now celebrated in more than 150 countries around the world. It aims to raise awareness of the growing poverty, hunger, and food crisis.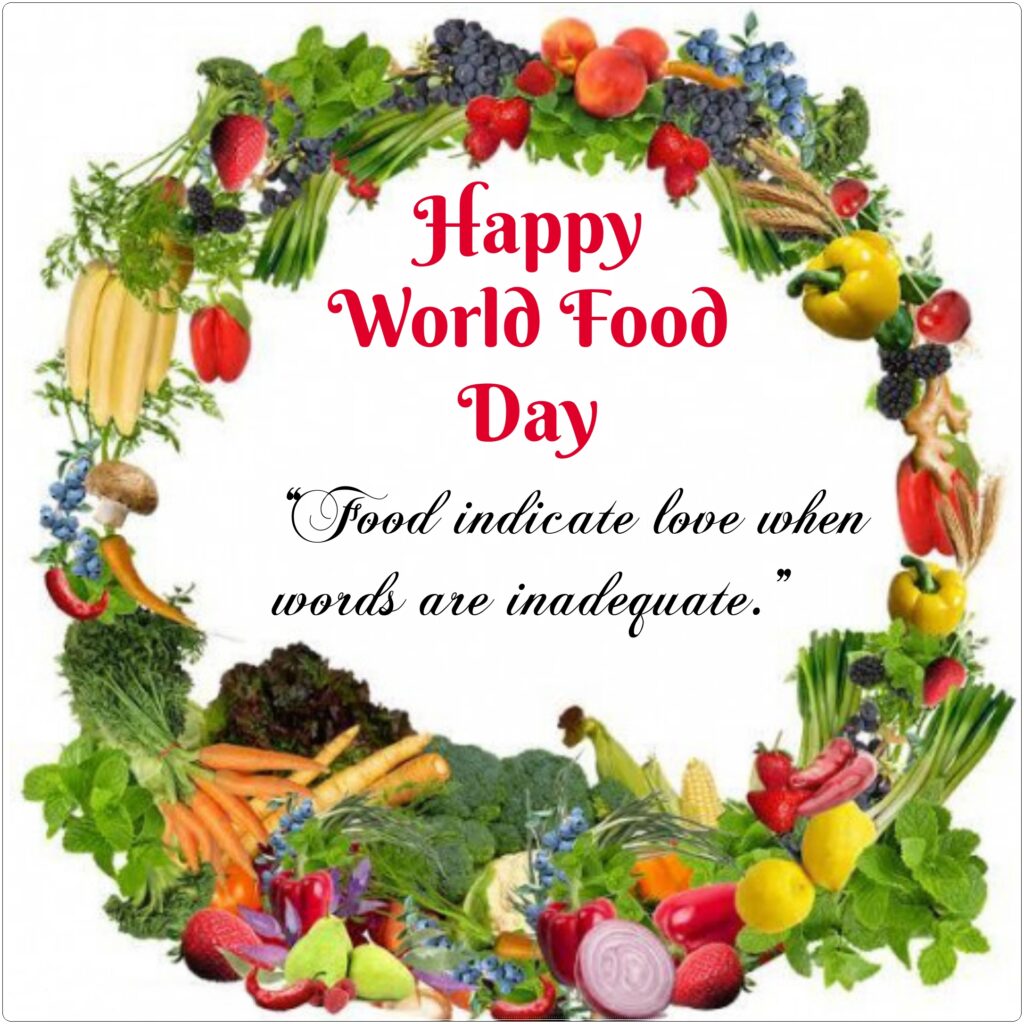 World food day Motto:
 One of the objectives of World Food Day is not to go hungry. There should be maximum food production in the whole world. Agro-technology and development can be promoted in developing countries so that their poverty can be removed, starvation conditions end. It has been 40 years since celebrating this day, but even today there are thousands of people in the world who are forced to sleep hungry.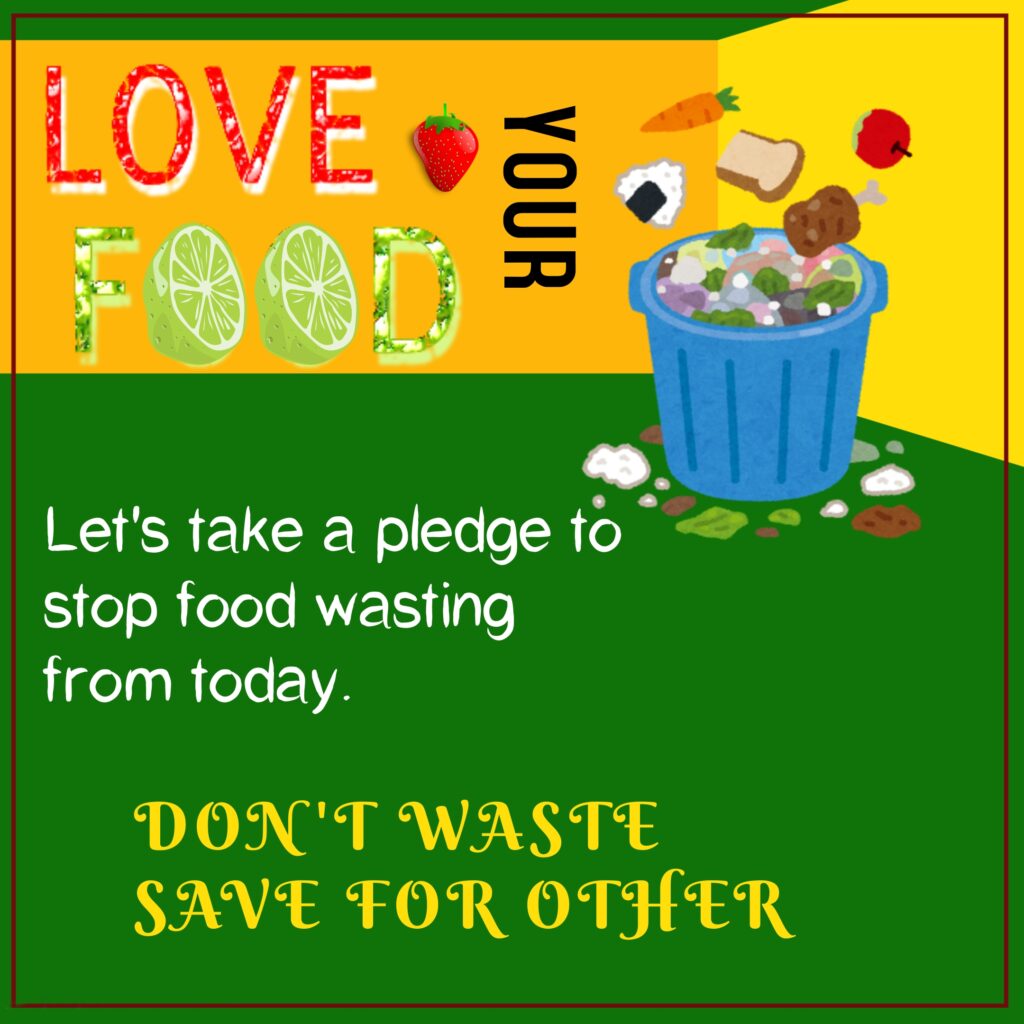 The Food and Agriculture Organization (FAO) was established on 16 October 1945 by the United Nations to create awareness in the world towards food grains and fight a major battle with hunger. It was decided to celebrate the day of 1979 to 16 October as World Food Day.
What are our responsibilities?
 This year whole world is suffering from the Coronavirus pandemic, many people lost their jobs, many small and big businesses suffered during the lockdown and still suffering due to Coronavirus. According to the report by Economic times, Global poverty could rise to over one billion people due to the COVID-19 pandemic and more than half of the 395 million additional extreme poor would be located in South Asia, which would be the hardest-hit region in the world.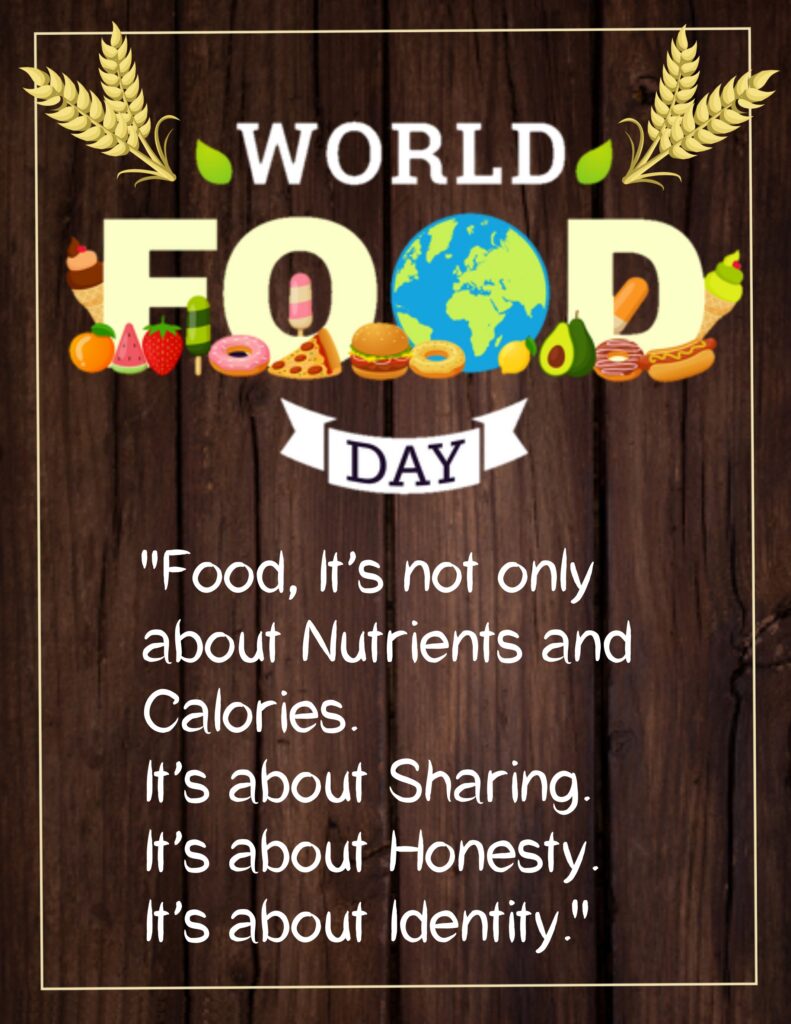 There is a huge shortage of food not only in India but in many countries of the world. Shortage of food grains and increasing population has created such a terrible situation in the world where millions of people are ready to spill their blood and sweat for two times bread. Despite hard work to fill the sinful stomach, many lives die every day in every corner of the world.
Food waste control: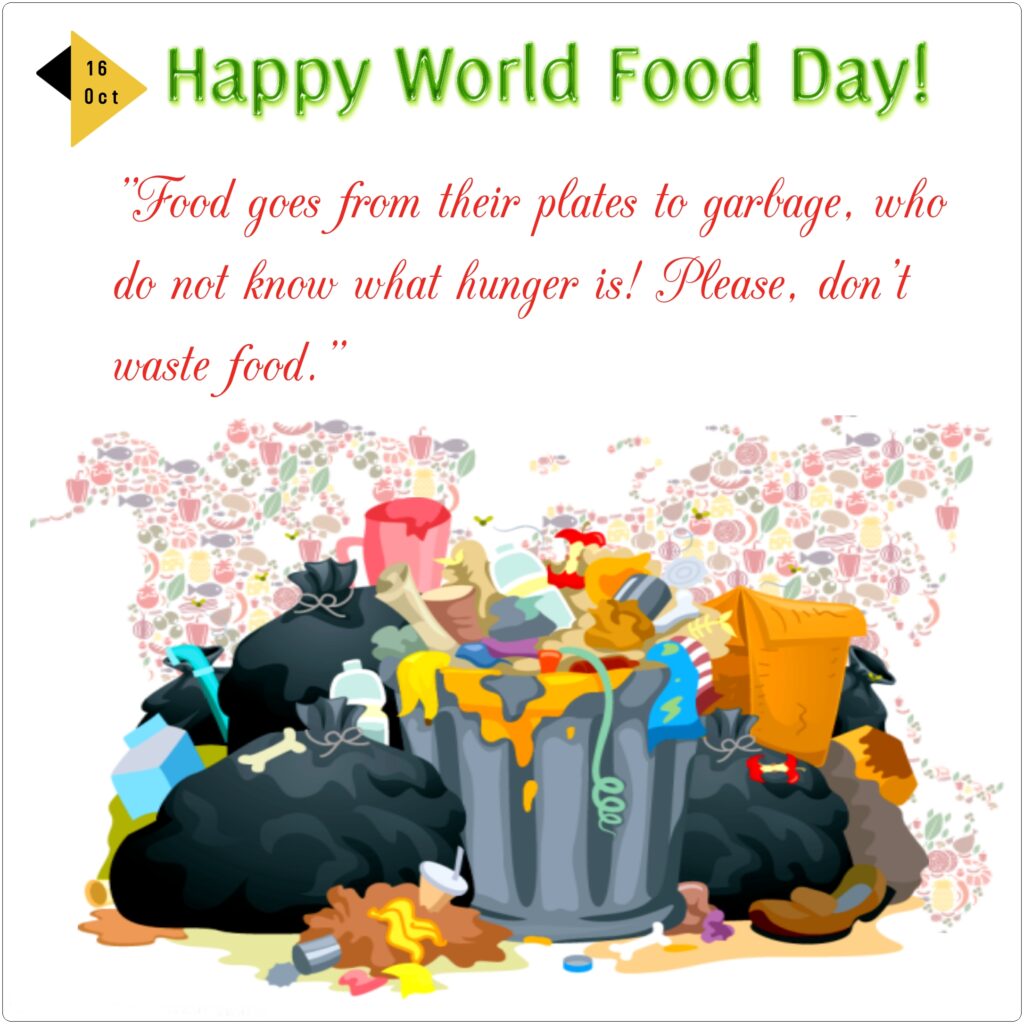 There is one very popular message by Mr Ratan Tata that went viral on social media about food wastage. I would like to share with you.
  "Germany is a highly industrialized country. In such a country, many will think its people lead a luxurious life. When we arrived in Hamburg, my colleagues walked into the restaurant, we noticed that a lot of tables were empty. As we were hungry, our local colleague ordered more food for us. When we left, there was still about one-third of un-consumed food on the table. When we were leaving the restaurant, the old ladies spoke to us in English, we understood that they were unhappy about us wasting so much food. "We paid for our food, it is none of your business how much food we left behind," my colleague told the old ladies. The old ladies were furious. One of them immediately took her handphone out and made a call to someone. After a while, a man in uniform from the Social Security organization arrived. Upon knowing what the dispute was, he issued us a 50 Euro fine. We all kept quiet.
The officer told us in a stern voice, "ORDER WHAT YOU CAN CONSUME, MONEY IS YOURS BUT RESOURCES BELONG TO THE SOCIETY. THERE ARE MANY OTHERS IN THE WORLD WHO ARE FACING A SHORTAGE OF RESOURCES. YOU HAVE NO REASON TO WASTE RESOURCES."
The mindset of the people of this rich country put all of us to shame. WE REALLY NEED TO REFLECT ON THIS. We are from a country that is not very rich in resources. To save face, we order large quantities and also waste food when we give others a treat."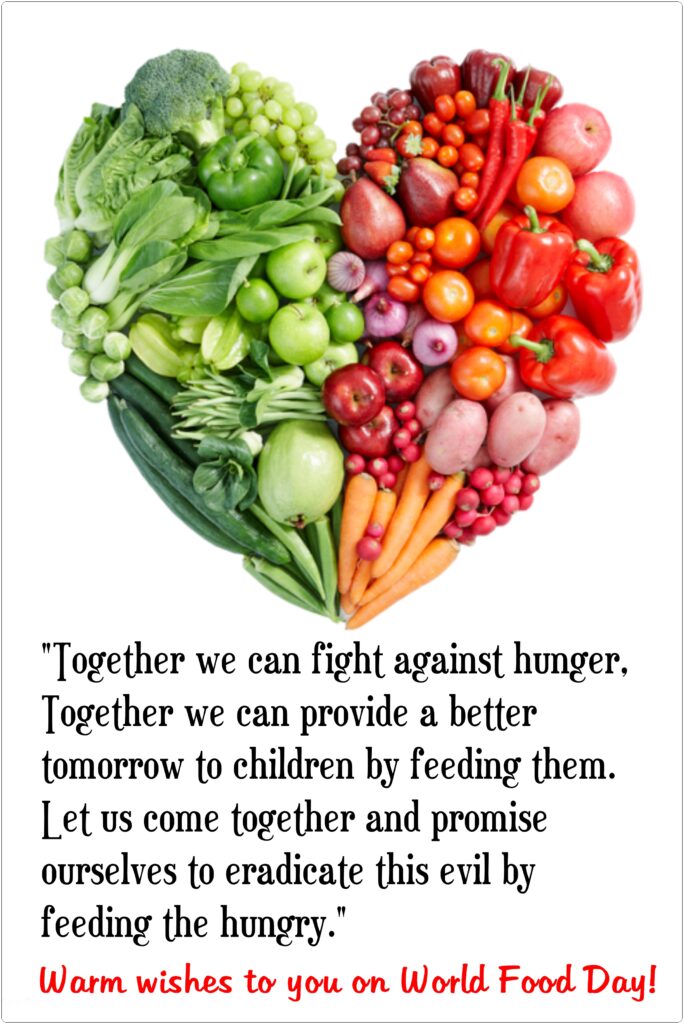 Quotes about food:
 Share these quotes, Wishes, and messages with your family and friends. To spread awareness of the value of food in our life. Because on this earth every living thing's primary need is food. Without food on one can survive.
"We should always respect the food we get because it is the blessing of God and love from someone who cares for us. Happy World Food Day to you."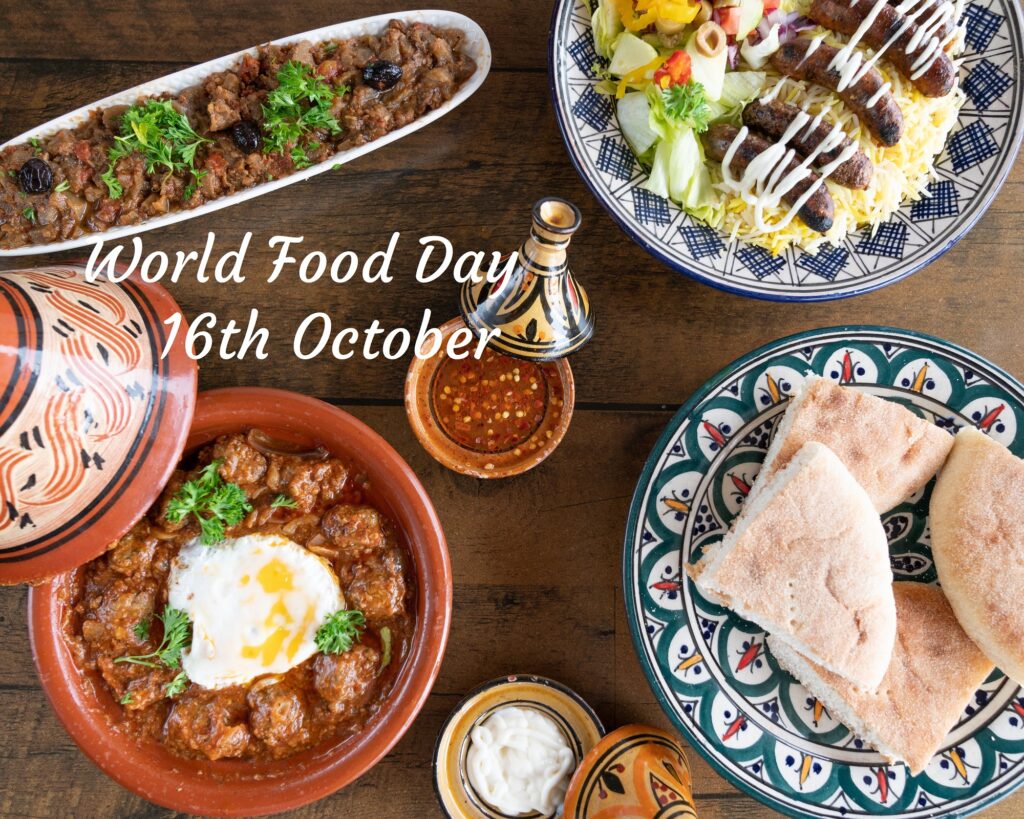 "Blessed souls are those who get to enjoy three meals every day…. Let us always thank God for blessing us with food. A very Happy World Food Day to you!"
"Best days are always those when you enjoy the best food on your plate."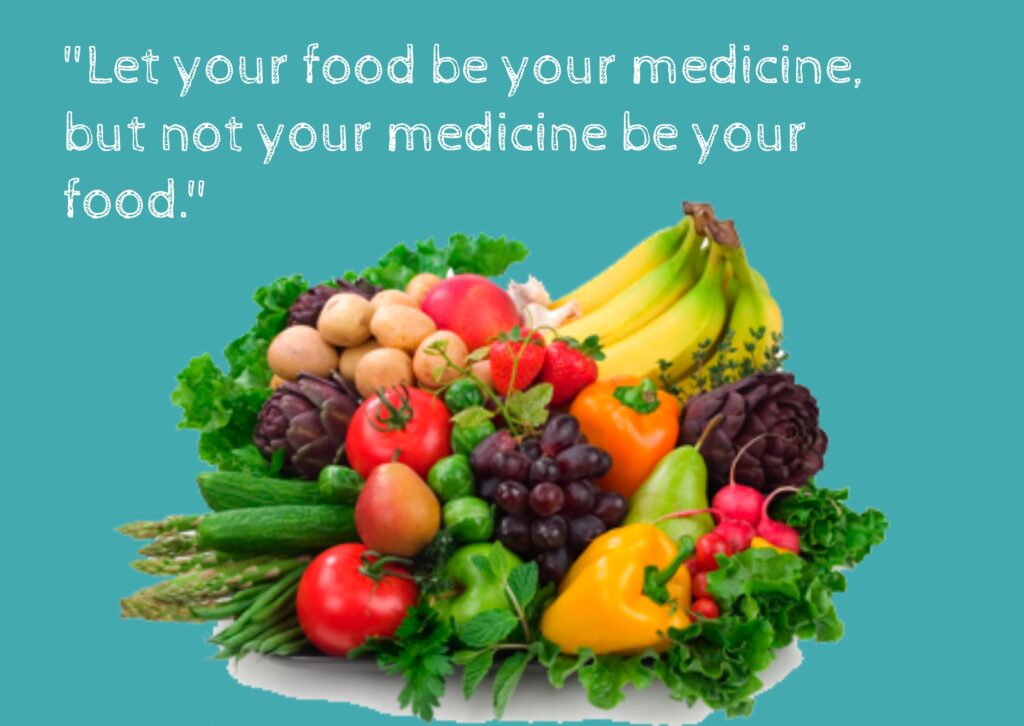 "Let us not forget to enjoy the yummiest FOOD because that is the most important lifeline."
 "On World Food Day, we must promise ourselves to never waste food… as an initiative and contribution to saving lots of food for those that are hungry.. allow us to make an enormous difference with our small actions… Wishing you a warm and Happy World Food Day my dear!!!"
 "It's our responsibility to strike a balance between those that are hungry and people who are treated with the simplest of the cuisines.. allow us to be skilled, allow us to feed the hungry, allow us to share our food. Best wishes to you on World Food Day."
 "Proper use of food from everybody can end hunger"
World food day images: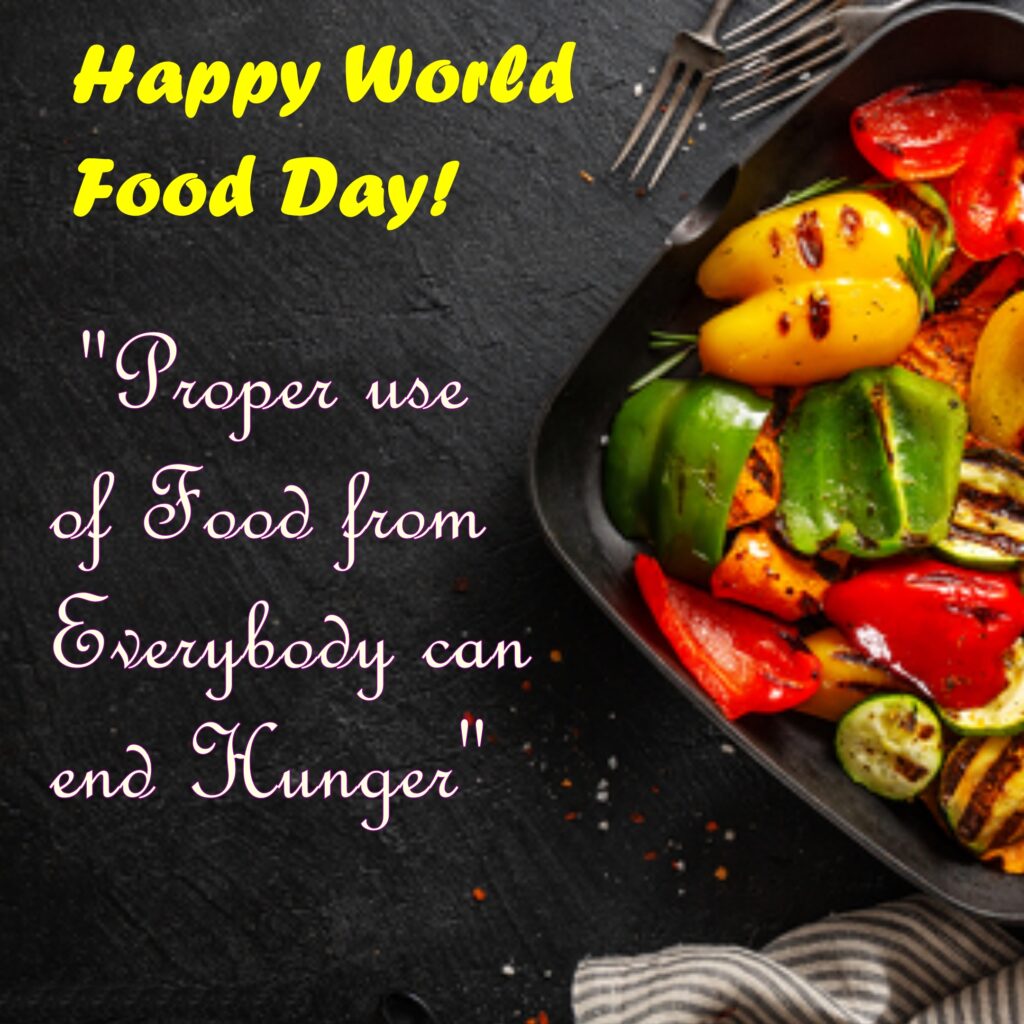 "Eating is not merely a material pleasure. Eating well gives us a chance to give joy to life and contributes immensely to goodwill and happy companionship. It is of great importance to the morale."
"When it's about good food, you don't need a silver fork. World Food Day!"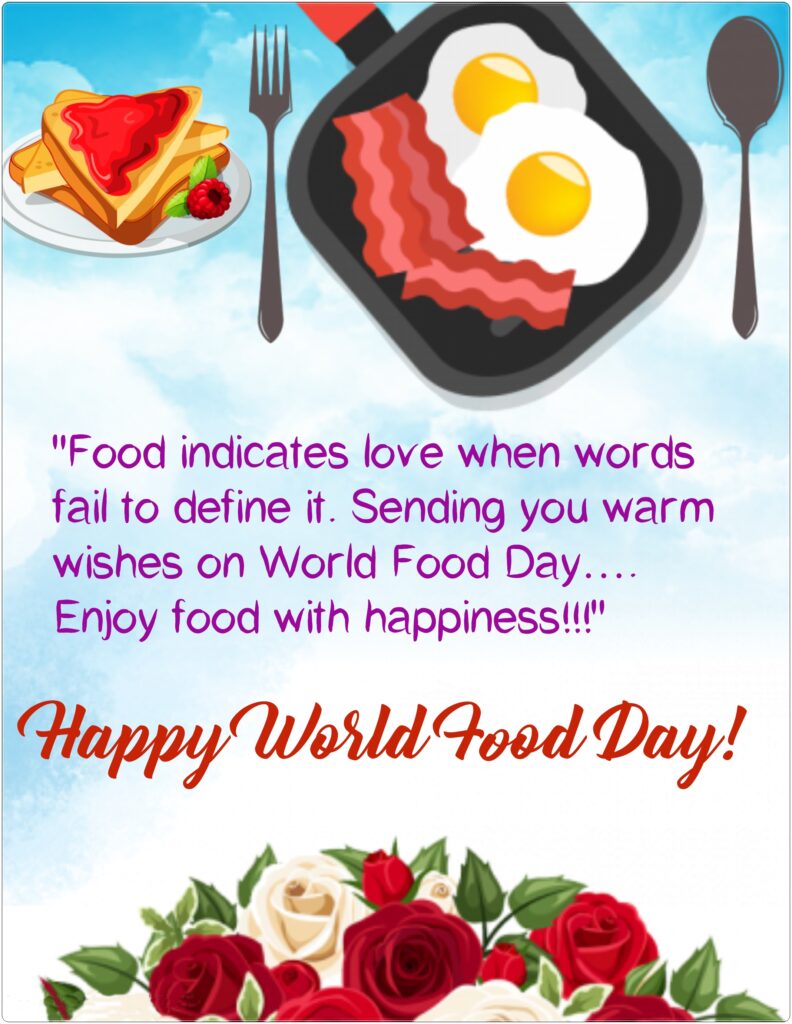 "Food for the body is not enough. There must be food for the soul."
"No One can think well, love well, sleep well if one has not dined well."
There is no loyal love than the love of food.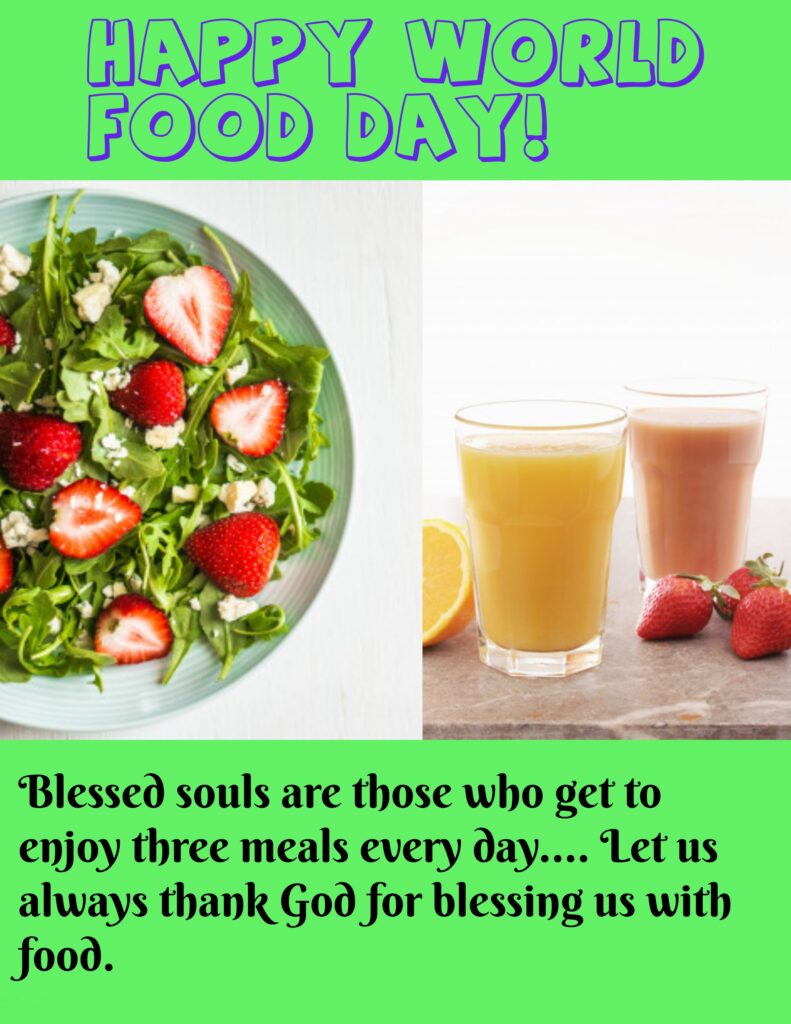 "Good food basically that we have in our plate is a result of the immense amount of hard work that is put at various stages…. Consume it with utmost respect…. Best wishes on World Food Day!"
"Food indicates love when words fail to define it Sending you warm wishes on World Food Day…. Enjoy food with happiness!!!"
World food day messages:
"Together we can fight against hunger, Together we can provide a better tomorrow to children by feeding them. Let us come together and promise ourselves to eradicate this evil by feeding the hungry. Warm wishes to you on World Food Day."

"Food goes from their plates to garbage, who do not know what hunger is! Please, don't waste food. Happy food day!!!"
"On World Food Day, we must promise ourselves to never waste food as an initiative and contribution to saving food for those who are hungry, let us make a big difference with our small actions. Wishing you a warm and Happy World Food Day!"
"Food that we have on our plate is a result of the immense amount of hard work that is put at various stages consume it with the utmost respect. Best wishes on World Food Day."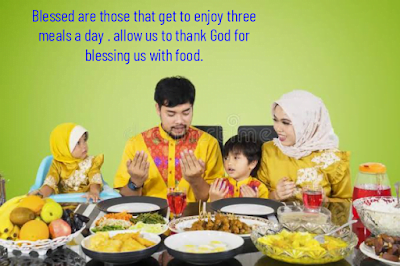 "If more of us valued food and cheer and song above hoarded gold, it would be a merrier world."
― J.R.R. Tolkien
"One cannot think well, love well, sleep well if one has not dined well."
― Virginia Woolf,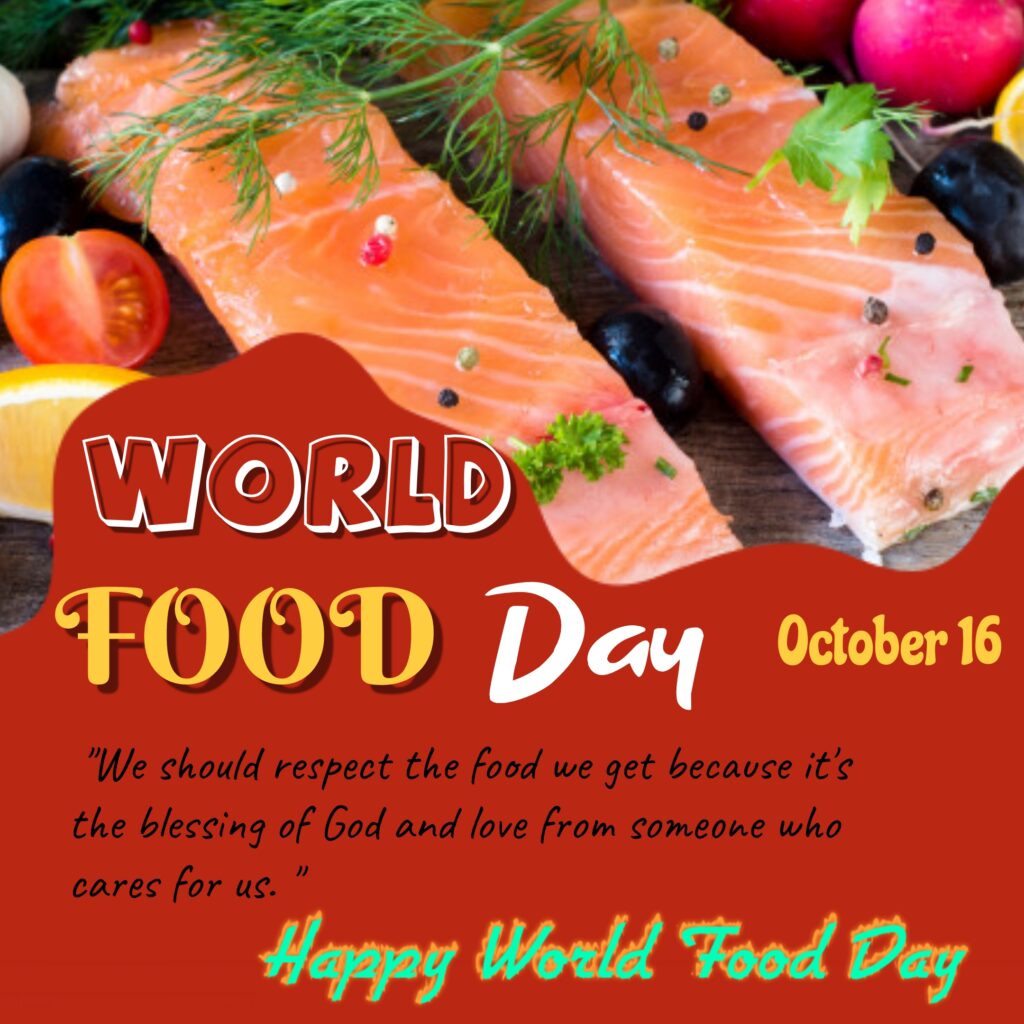 Food Quotes:
"If we all get together, we can fight against hunger. Let us make a promise to come together and promise ourselves to eradicate this evil by feeding the hungry. Warm wishes to you on World Food Day!"
"Add a mix of spices to the lives of people around you by treating them with healthy and nutritious food so that they grow into healthier and fitter people… Let's say NO to junk and always eat healthy. Wishing you a very Happy World Food Day!"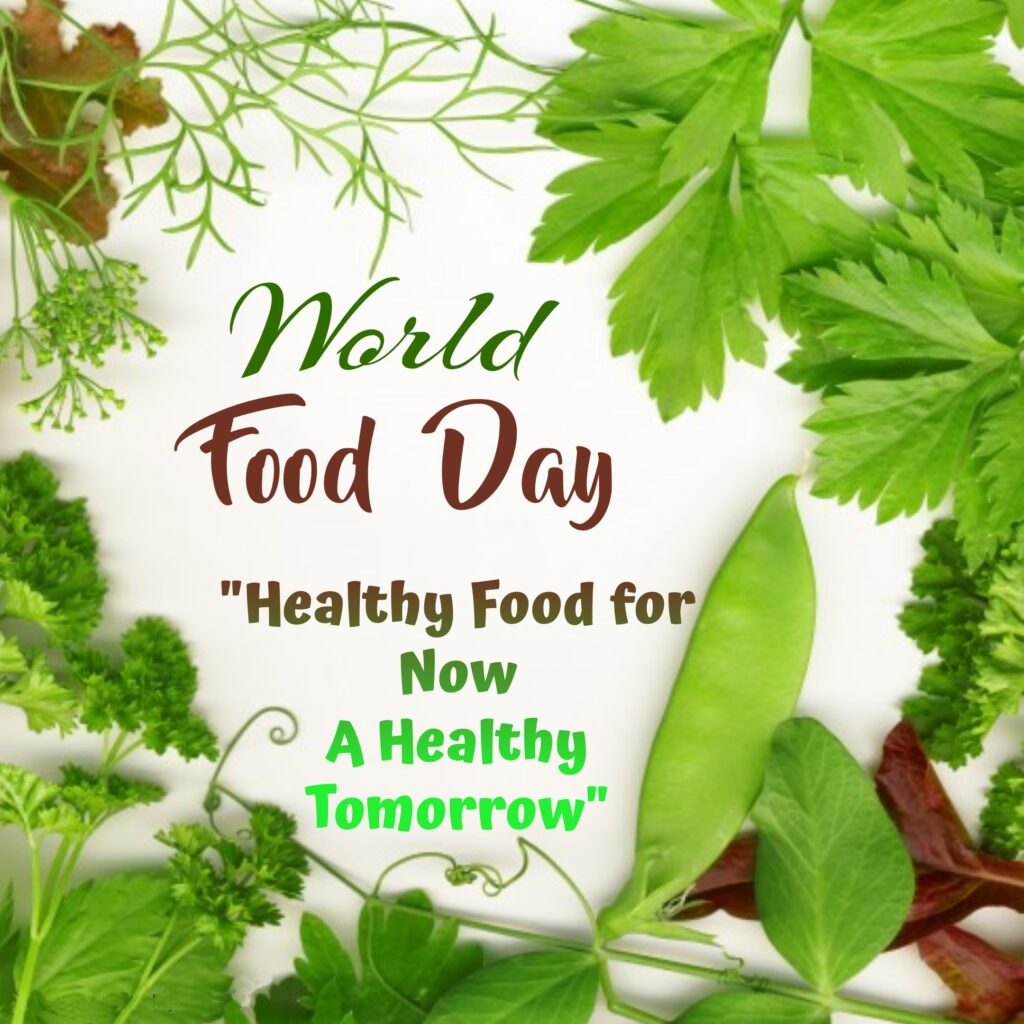 "On this day, I am going to have a fine dine with the family. Happy World Food Day!"
"Are you looking to make your taste buds fly? Enjoy sweet corn on world food day!"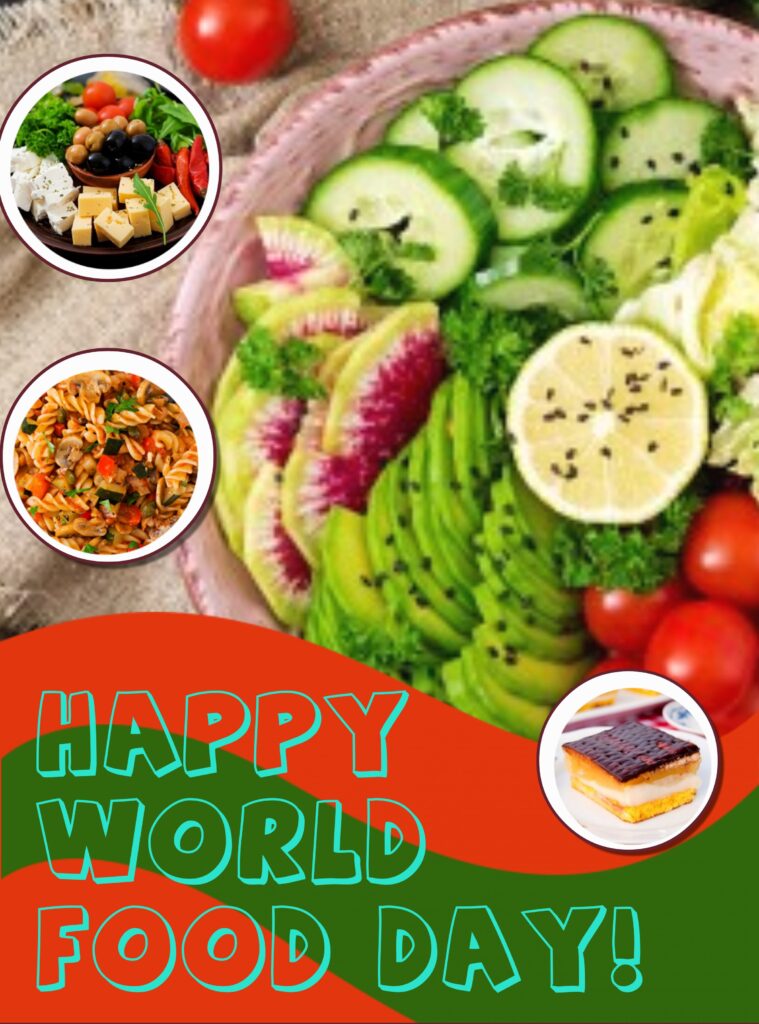 "Food indicate love when words are inadequate."
"Let's distribute food on World Food Day!"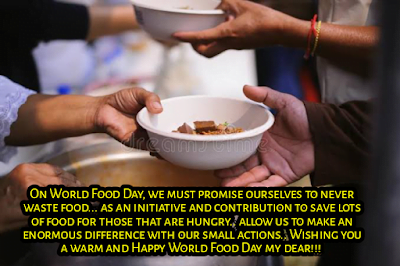 "Eat more good food and let your taste buds fly!"
"Who is ready to eat some delicious food. Happy World Food day!"
Please visit our website for more beautiful quotes and images. We assure you that you will get something new every time you visit our website. So, please come back as soon as possible to find out more. We'll be waiting for you.
https://wishes1234.com