Recently updated on November 1st, 2023 at 02:13 am
Best collection of Sister love quotes
The relationship between sisters looks like the same flowers from the garden having different fragrances, which have properties to keep the home atmosphere fresh and happy. Sister-sister relationship is slightly different from the brother-sister relationship, there are fewer fights and more fun. Maybe because, they can easily share all things they have with each other, toys, dresses, makeup set, jewelry, etc. they can play together as friends with dolls, helps Mom in the kitchen, and they can easily share their secrets with each other. which they can't share with their mother.
Sister Quotes:
"Sisters are the best kind of friends – there's no friend like a sister."
"A sister is a gift to the heart, a friend to the spirit, and a golden thread to the meaning of life."
"A sister can be seen as someone who is both ourselves and very much not ourselves".
"There can be no better friend than a sister!"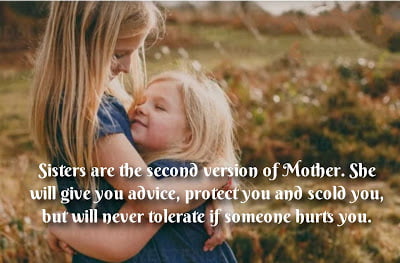 "Our name for each other is Sissy. One name, two sisters, our shorthand whether we are separated by a room or by an ocean. A word to which we both instinctively answer and turn. Because, after everything, we are sisters first."
"Sisters bonding, Like both eyes, are together."
"Sister is a little bit of childhood that can never be lost."
"A sister is God's way of proving he doesn't want us to walk alone."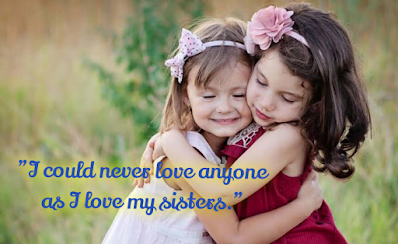 "There is no better friend than a sister."
"I am so proud to call you sister. I could not ask for a better friend, for a better encourager, you have made a positive difference in my life."
"There is no better friend than a sister, and there is no better sister than you."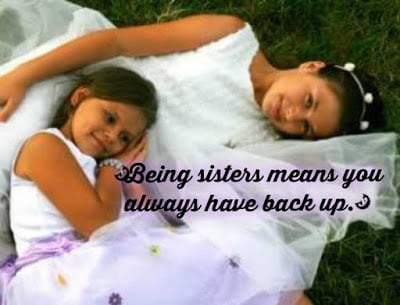 "God sent me an angel when he gave me you as a sister."
"A sister is one with whom we have a special connection, she is a support and an encourager; and an inspiration to be all that we can be."
"I believe in you, sister. I believe that God loves you more than you know and has a plan for your life that is beyond anything you could imagine."
"Happiness is a cup of tea and a chat with your sister."
"Sister is our first friend and second mother."