Recently updated on October 1st, 2023 at 09:49 am
Dussehra Wishes
  Dussehra and Vijayadashami is the most important festival in India. This year Dussehra will be celebrated on 15 October 2021. Dussehra (Vijayadashami) is a major festival. Lord Rama killed Ravana on this day and Goddess Durga conquered Mahishasura after nine nights and ten days of the war. It is celebrated as the victory of truth over untruth. That is why this Dashami is known as 'Vijayadashami'. It is one of the three most auspicious dates of the year, the other two being Pratipada of Chaitra and Kartik Shukla.
This festival is also related to Navaratri as it happens only after Navaratri and it also mentions the courageous actions of the Goddess against Mahishasura. Dussehra or Vijaya Dashami is celebrated on the tenth day after Navratri.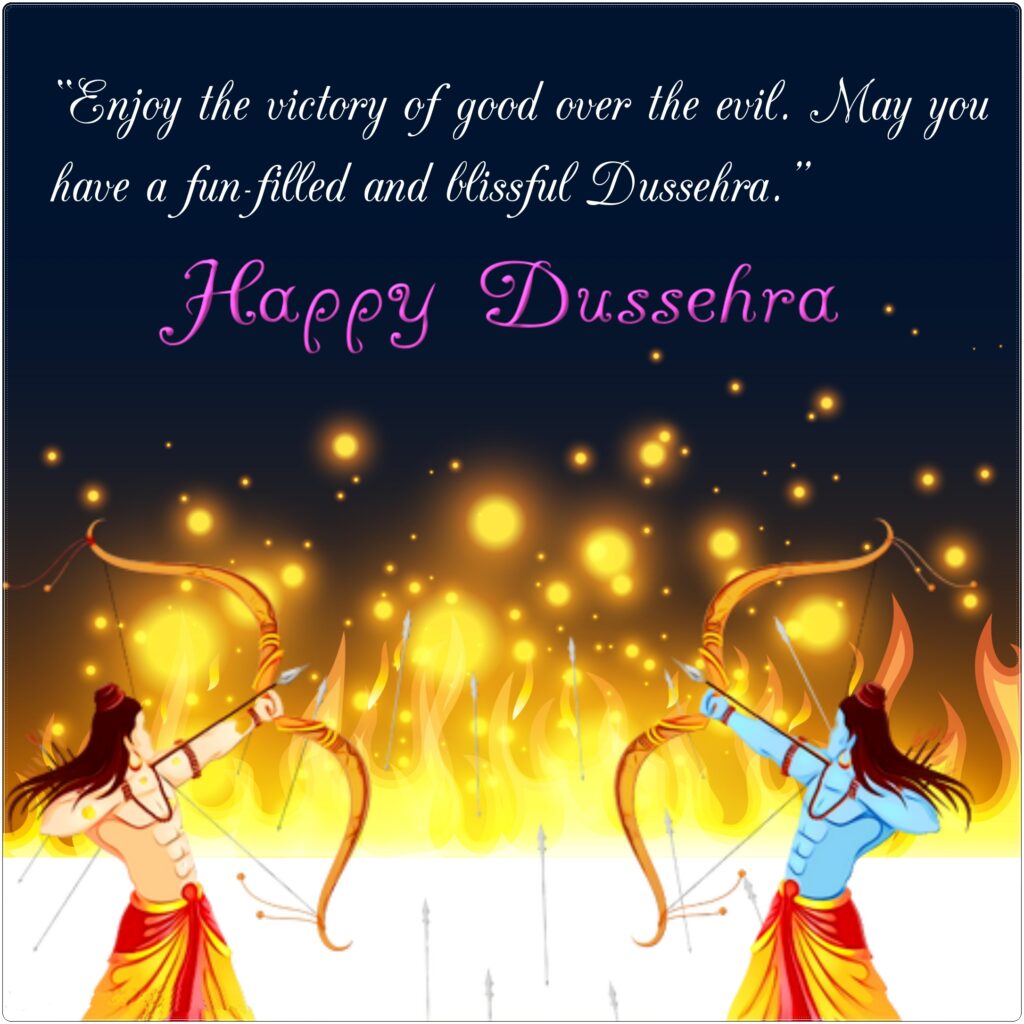 Celebration of Dussehra:
 On the occasion of Dussehra, Ramlila is organized at different places across the country. A fair is also organized there. On this day people do arms worship and start a new work (like the start of letter writing, the start of a new industry, sowing seeds, etc.). It is believed that victory and success are achieved in the work that is started on this day. In ancient times, kings used to go on a battle march on this day praying for victory.  A huge effigy of Ravana is made and lit. Whether Dussehra or Vijayadashami is celebrated as the victory of Lord Rama or as Durga Puja, it is a festival of Shakti-puja in both forms, the date of Shastra Puja. There is a festival of joy and joy and victory. Indian culture is a worshiper of valour. The festival of Dussehra provides the inspiration for the renunciation of ten types of sins – work, anger, greed, temptation, hatred, ego, laziness, violence, and theft.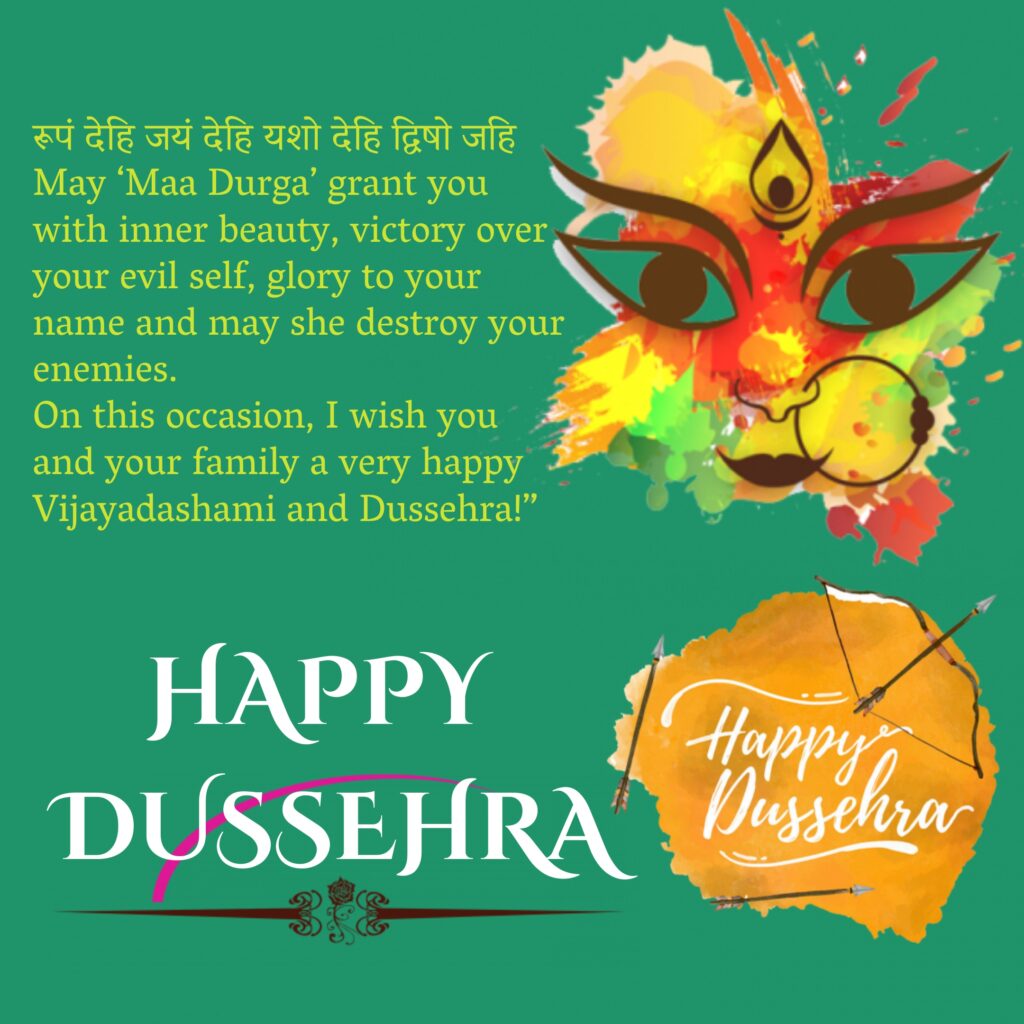 Dussehra celebrations in Maharashtra:
 In Maharashtra, on the day of Dussehra, they exchange Apata (Bauhinia racemosa) leaves with each other as gold. According to the story, on this day, the god of wealth 'Kubera' himself converted millions of Apta leaves into gold to help an honourable scholar 'Kautsya' to pay 'Guru-Dakshina' (Fees). Kautsya accepted only the ones he needed & the rest were distributed among residents of 'Ayodhya.'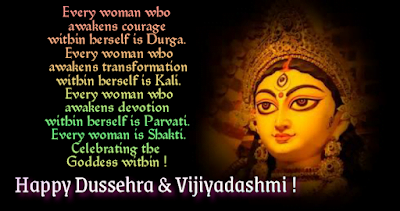 On Dussehra, Simollanghan, bhumi Pujan (worship of earth), and Shastra Puja are performed. In the evening king would cross the village boundary to the northeast, worship the bhumi or apata tree, establish the goddess Aparajita on it from the Ashtadal line there and pray to her, "Make me victorious." After that, it was customary for the warriors to worship arms, the traders to go for trade, and the students to worship Saraswati. The children draw a symbolic picture of Saraswati on a slate board and worship it. Initially, it was an agricultural folk festival.  In rural areas, it is also common to put a bundle of barley grass in one's head.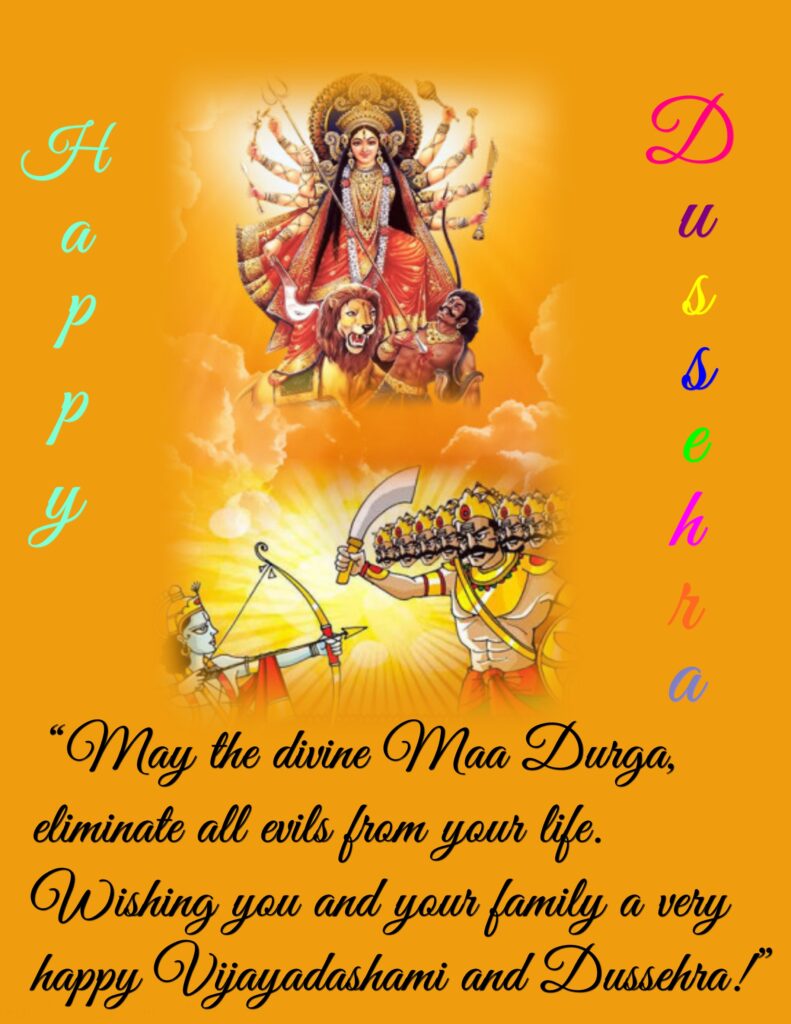 Dussehra wishes: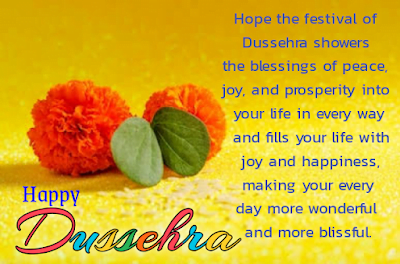 "May this Dussehra, Light up for you. The hopes of Happy times, And dreams for a year full of smiles!"
"In your life, may well triumph over evil, and may you achieve the strength and courage to follow the path of righteousness. Happy Dussehra and Vijayadashmi to all!"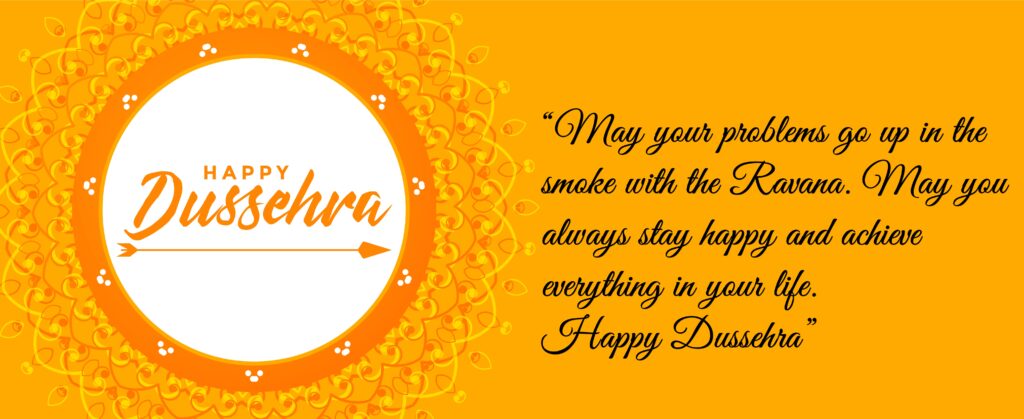 "Wish you that the colour, bliss, and beauty of this festival. Be with you throughout the year! Happy Dussehra and Vijayadashmi!"
"On this auspicious occasion of Vijayadashmi, may goddess Durga take away all your worries and bless you with health, wealth, and prosperity. Happy Vijayadashmi !"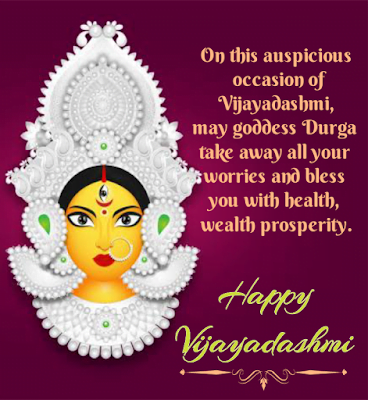 "Wish Today's new morning sun rays becomes so pleasant, all the worries and pain should vanish from your life like darkness vanishes in light,  happy Vijayadashami and Dussehra!"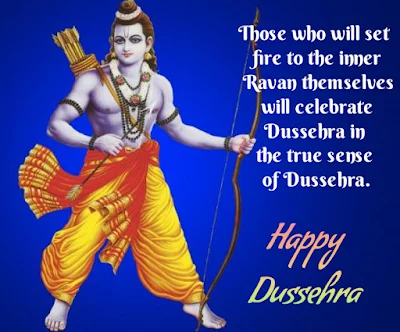 "May this Dussehra light up for you… Bringing all the dreams a year full of smiles! Best Wishes on  Vijayadashami and Dussehra!"
"This Dussehra, every human being should do just one thing and destroy every evil that is flourishing in the inner world. Wish you Dussehra with this wish."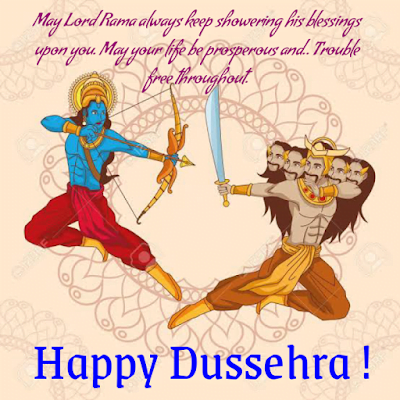 "As Lord Shree Ram kills Demon Raavan
And comes back to the people he
 loves, As Goddess Maa Durga kills Demon Mahishasur,
And prepares to go back to her
heavenly abode,
May this goodness over these evil stories,
Inspire all of us towards our own victories
over our failure! To meet our great targets!
Happy Dussehra to all!"
Dussehra Quotes: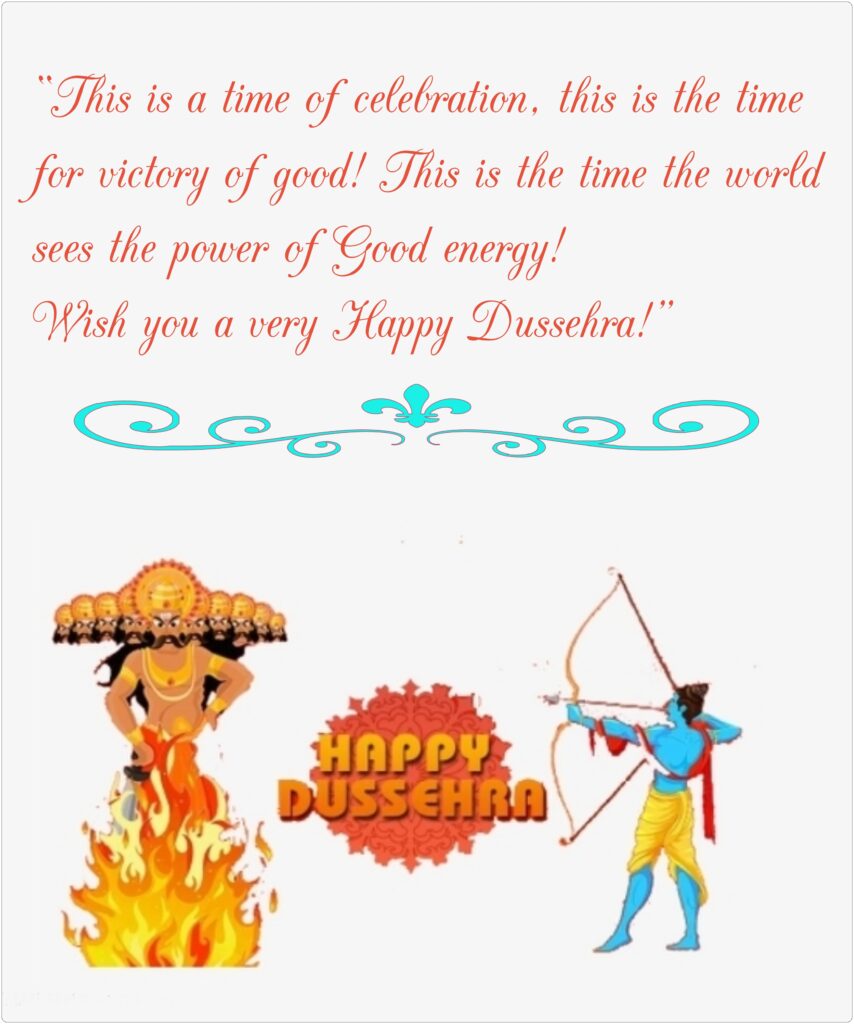 "Wishing you and your family new heights, Vijayadashami, the festival of the victory of truth on untrue, hearty best wishes to you Dussehra."
"May Goddess Durga maa bless you and your family with prosperity and happiness. Happy Vijayadashmi!"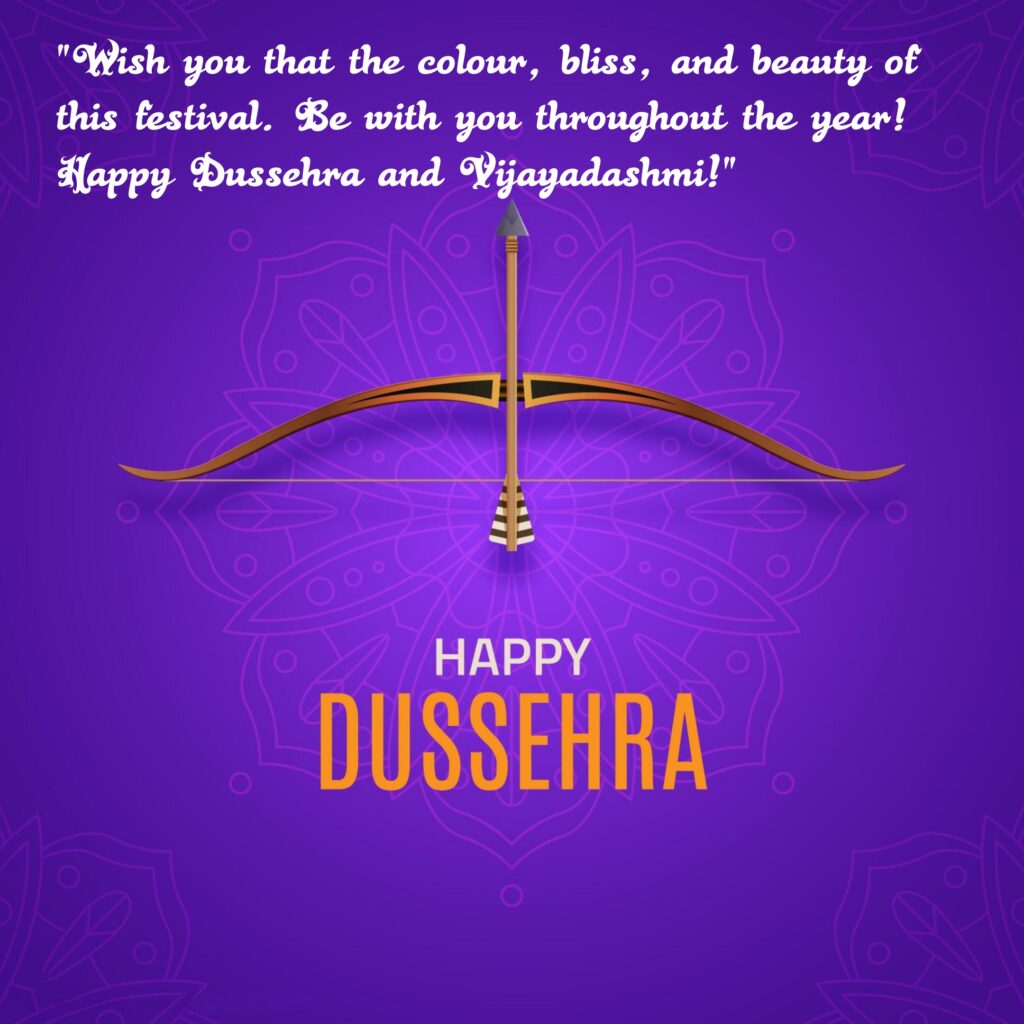 "Spread joy and happiness by conquering all the negativity within you. A very Happy and Blessed Dussehra to you and your family."
"Victory of religion over iniquity, a victory of truth over untruth, a victory of good over evil, a victory of virtue over sin, triumph of virtue over tyranny, mercy over anger, a victory of forgiveness, a victory of Rama over Ravana, Heartiest greetings on the day of Vijayadashami."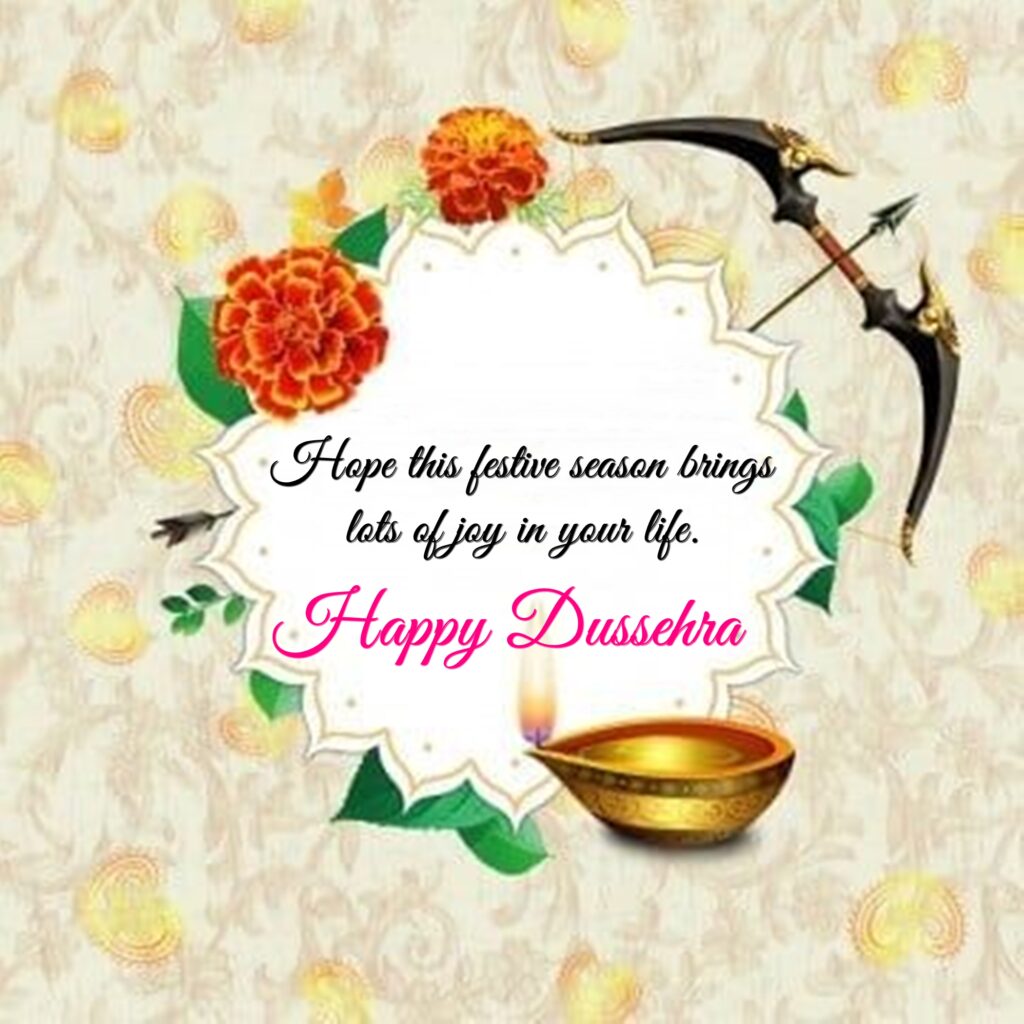 "May Lord Rama always keep showering his blessings upon you. May your life be prosperous and… Trouble-free throughout all days, best wishes to you Dussehra."
"An auspicious day to start with any good work… It was today that good won a victory over bad May this day clear all hurdles of your life and start a new era of well-being."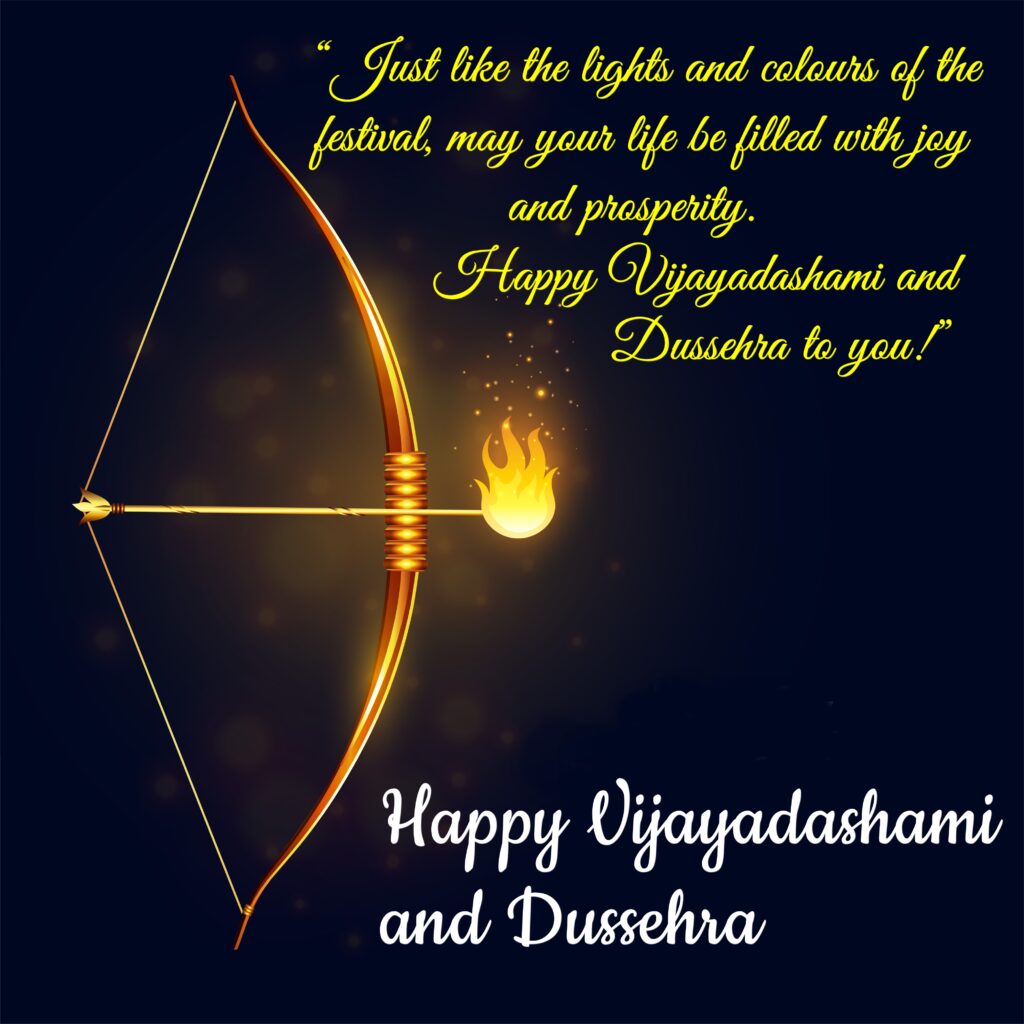 "Festival Dussehra signifies the great victory of goodness over badness. May all the badness in and around all of you vanish by the virtue of the goodness in and around all of you my friends."
Durgaa quotes:
"Life gives you a chance to make everything beautiful and make everyone happy. I wish you to have a jolly vibe and make everyone happy on the auspicious Dussehra. Wish you a happy Dussehra and Vijayadashami!"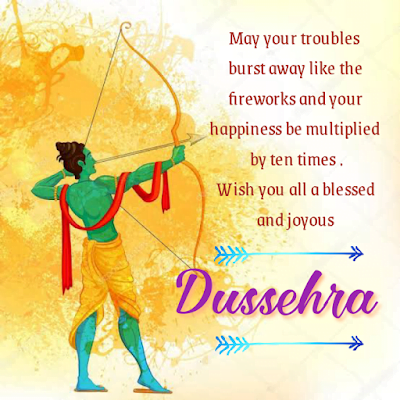 "Hope the festival of Dussehra showers the blessings of peace, joy, and prosperity into your life in every way and fills your life with joy and happiness, making your every day more wonderful and more blissful. Wish you a very happy Dussehra!"
"Every woman who awakens courage within herself is Durga, every woman who awakens transformation within herself is Kali. Every woman who awakens devotion within herself is Parvati, every woman is Shakti. Celebrating the Goddess within. Happy Dussehra and Vijayadashami."
"Open the doors and welcome all positivity into your home. It's Dussehra! Have a blessed one!"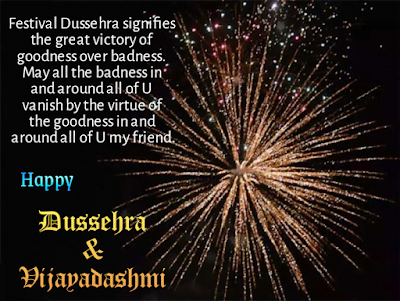 "Dussehra is A good time for celebration, Dussehra is A good time for victory of good over evil, let Let's keep continue to do the same behaviour having "true" spirit. Dassehra is A time when the whole world sees the example of the power of goodness over badness. Happy Dussehra and Vijayadashmi!"
Happy Dussehra in Hindi: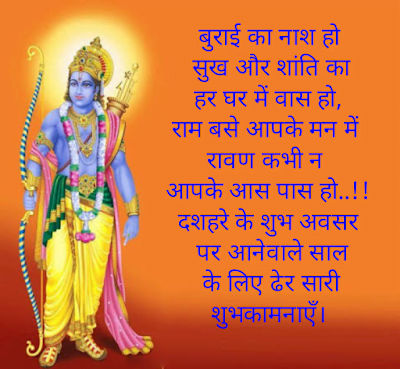 आनेवाले साल के लिए ढेर सारी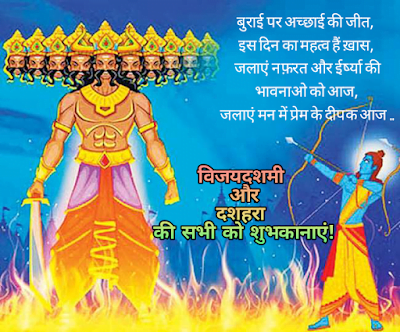 इस दिन का महत्व हैं ख़ास, 
जलाएं नफ़रत और ईर्ष्या की भावनाओ को आज, 
जलाएं मन में प्रेम के दीपक आज ..
 विजयदशमी  और दशहरा की सभी को शुभकानाएं!"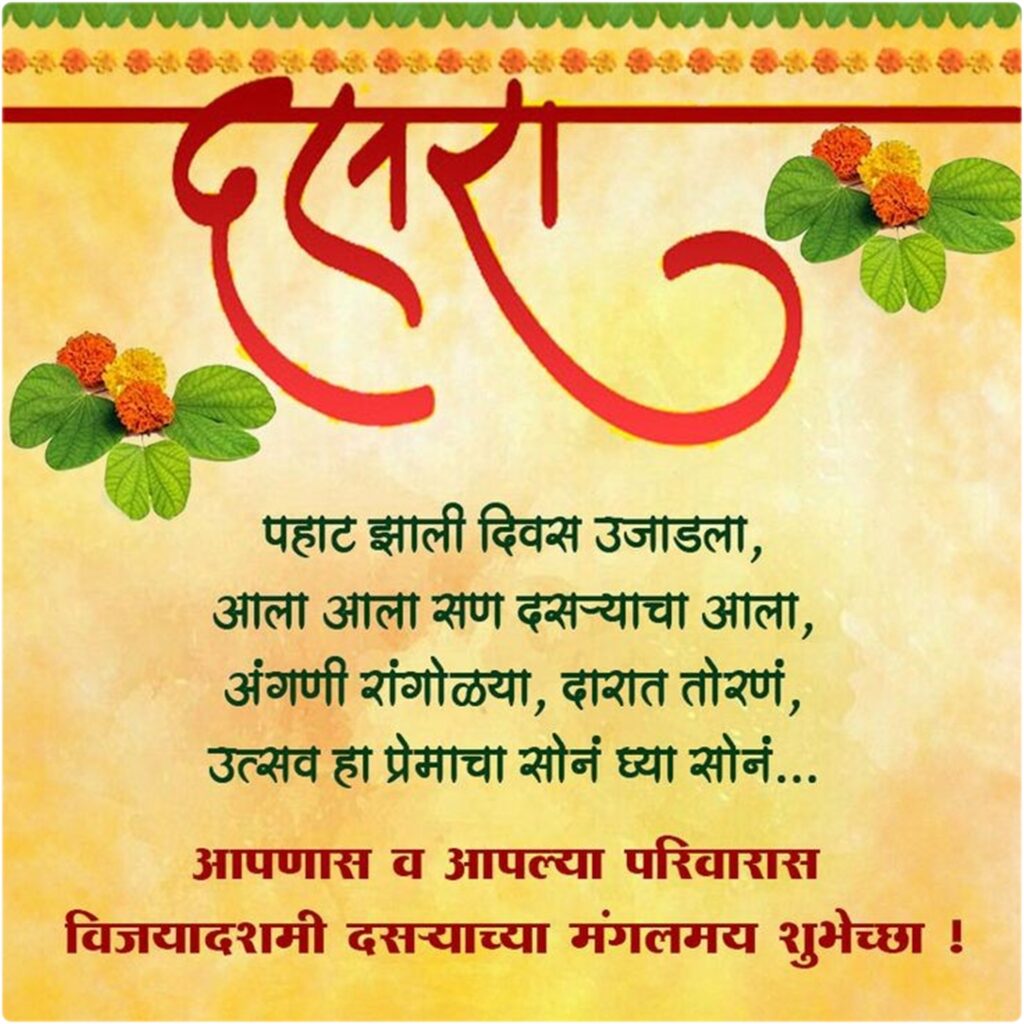 "सुनहरे सूरज की सुनहरी किरणें .. 
सुनहरी किरणों का सुनहरा दिन ..
 सुनहरे दिन की सुनहरी शुभकामनाए. 
सोने जैसे कीमती लोगों को ,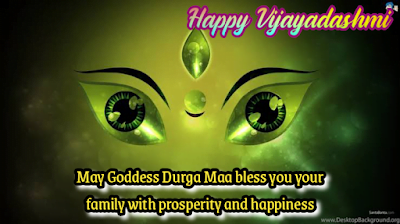 "भगवान राम आप पर हमेशा अपनी कृपा बरसाते रहें। आपका जीवन  में सुख और समृद्धि की बरसात हों ।

हैप्पी दशहरा!