Recently updated on November 1st, 2023 at 12:43 am
Best Friends day | Friendship day quotes
Friendship Quotes: Friends are the people to whom you're not related by blood but sometimes, these are the people who will stick closer to you more than some of your own families. You will know when you'd find your true friends, these are the people who are there with you through thick and thin. Friendship is a long-lasting relationship of affection. There are no restrictions in a friendship. Friendships that go beyond all the relationships in the world last for a lifetime. No one knows when these bonds of friendship match. But once these silk ties are matched, they never break for any reason. You share your journey with your friends and you share your dreams with them. At the end of the day, you seek their comfort and their crazy antiques.
The first Sunday in August is celebrated as World Friendship Day every year and National Best Friend Day is celebrated on June 8. Having a best friend is one of the most beautiful gifts in life. Whether you bond over your sense of humour, work-life, family things or everything in between, sometimes it's hard to put into words what your BFF means to you. Celebrate International Friendship Day and National Best Friends Day with the best friend quotes below.  Here are selected best friend quotes to celebrate your friendship!
Friendship Quotes:
"Friends are God's way of taking care of us. Happy Friendship Day!"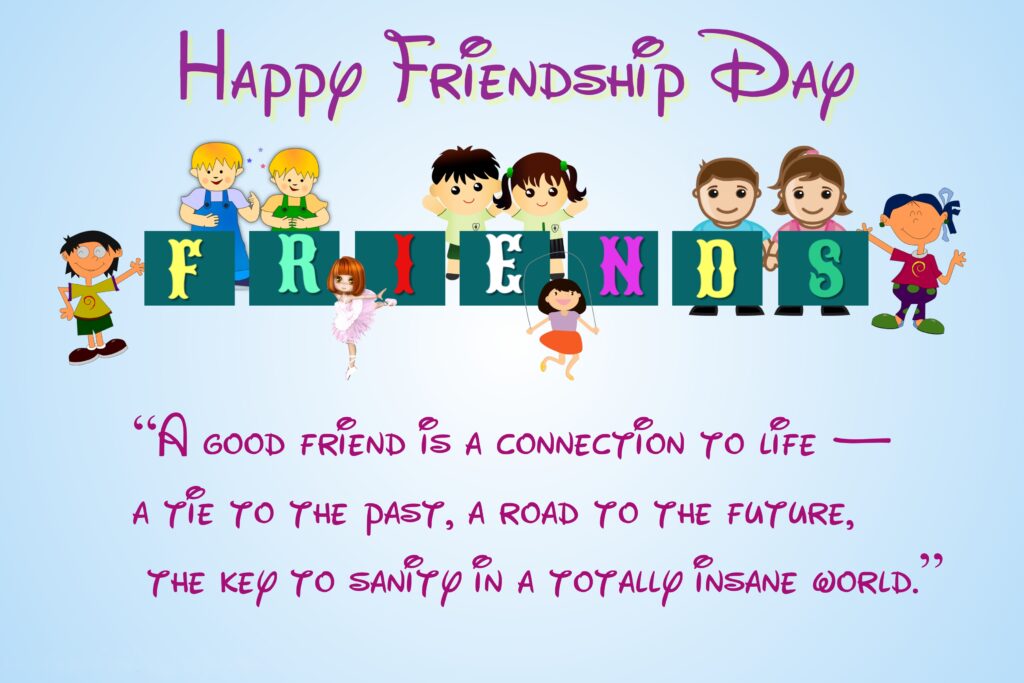 "Friendship is one mind in two bodies. Happy Friendship Day!"
"There are friends, there is family, and then there are friends that become family. Happy Friendship Day!"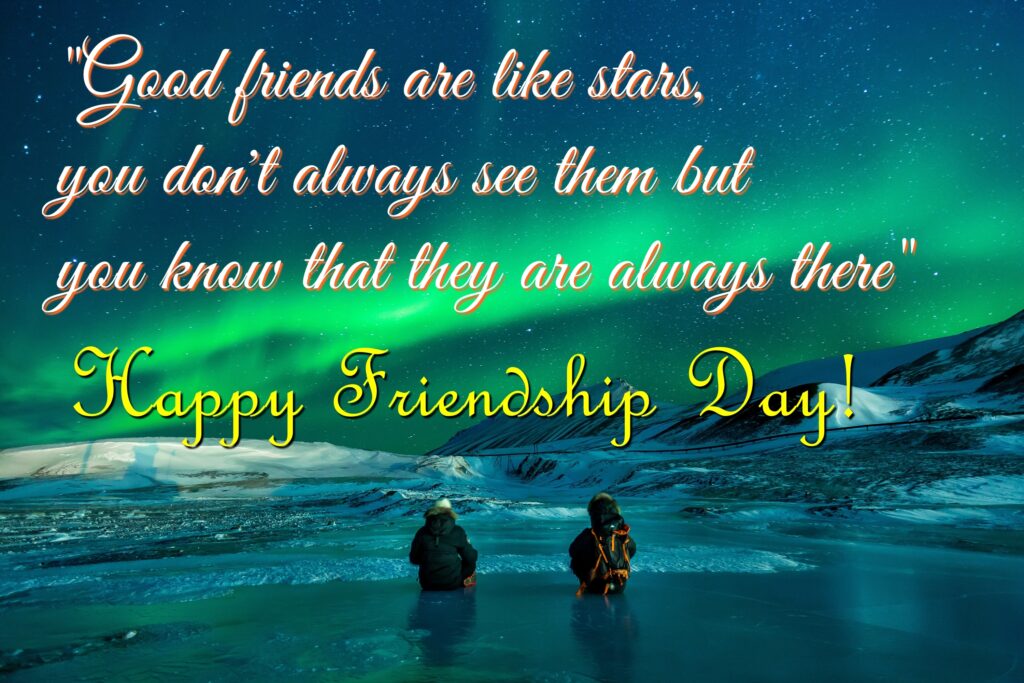 "Good friends are like stars. You don't always see them, but you know they're always there. Happy Friendship Day!"
"Many people will walk in and out of your life, but only true friends will leave footprints in your heart. Happy Friendship Day!"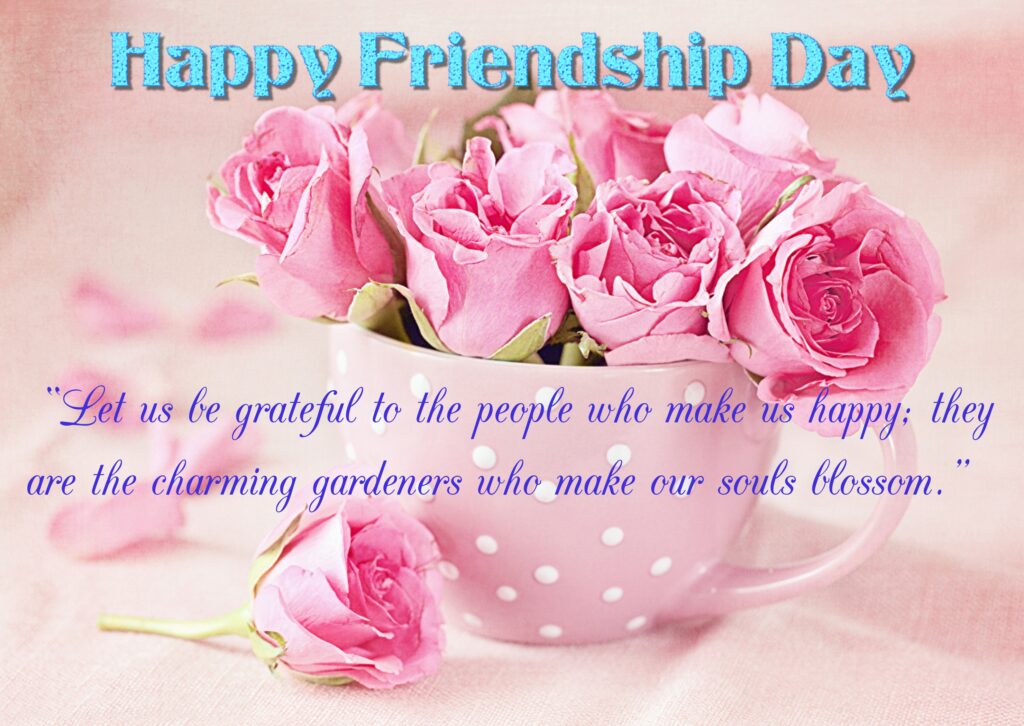 "I would rather walk with a friend in the dark, than alone in the light." – Helen Keller
"A best friend is someone who can see the truth and pain in you even when you are fooling everyone else. Happy Friendship Day!"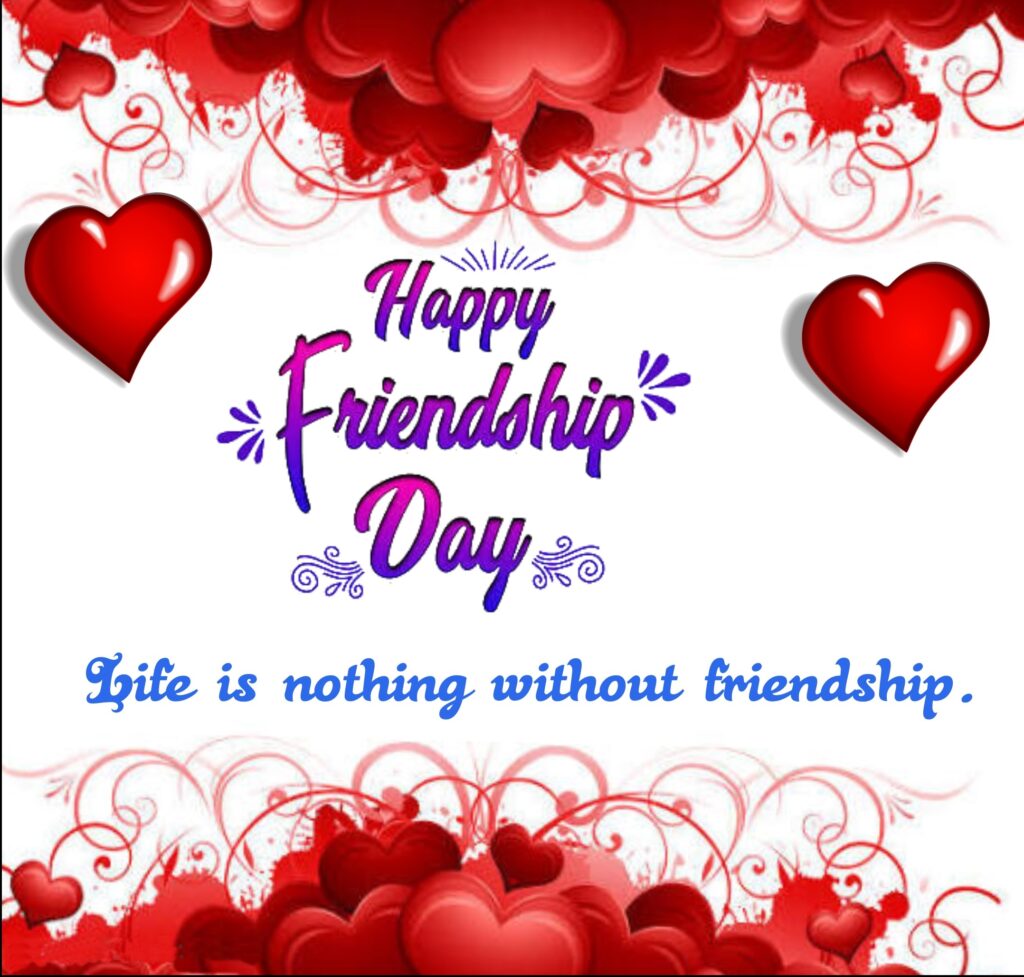 "A friend is someone who knows all about you and still loves you. Happy Friendship Day!"
"Friends make the good things better and the bad things not so bad."
Happy Friendships Day:
"A real friend is one who walks in when the rest of the world walks out." –  Walter Winchell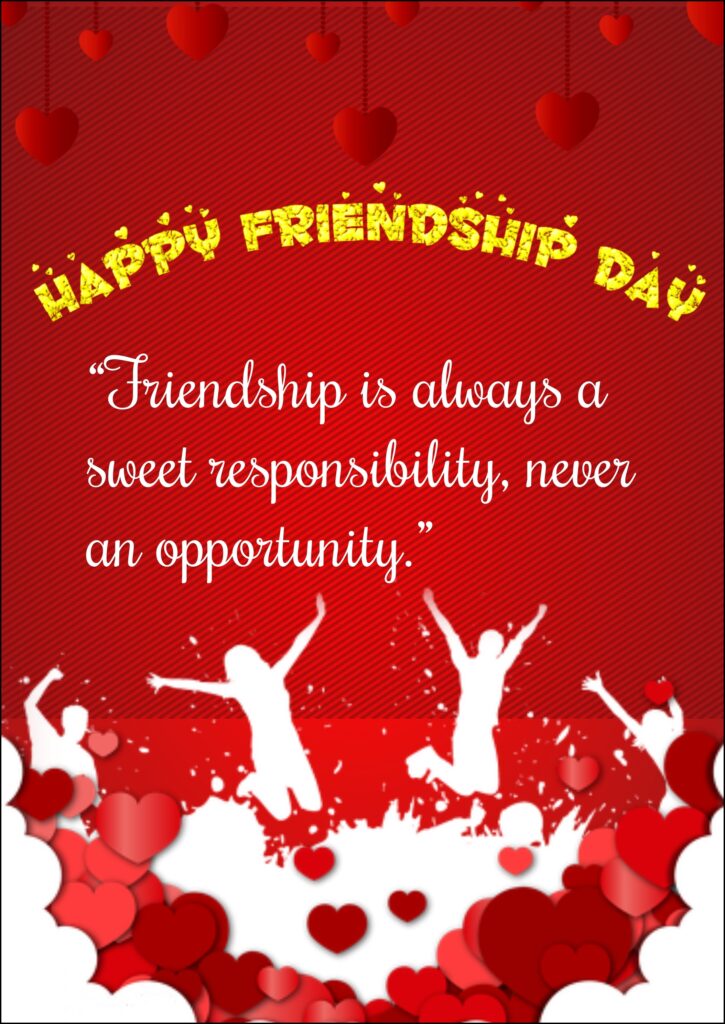 "A true friend never gets in your way unless you happen to be going down."  – Arnold H. Glasgow
"Anything is possible when you have the right people there to support you." –  Misty Copeland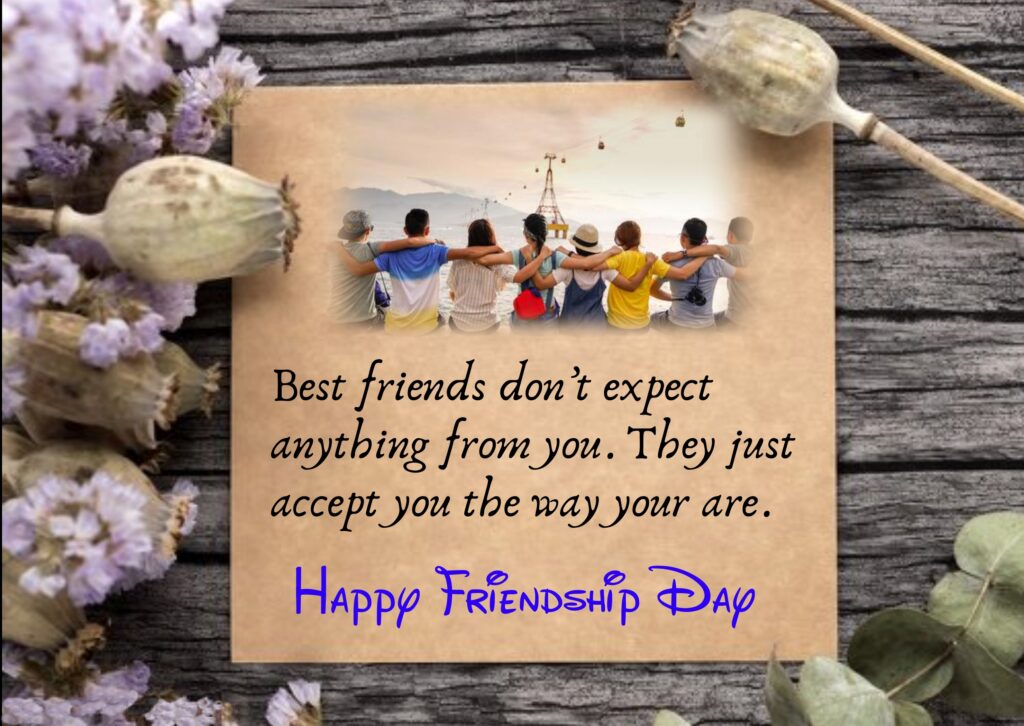 "There are three things that grow more precious with age; old wood to burn, old books to read, and old friends to enjoy." — Henry Ford
"The only way to have a friend is to be one." –  Ralph Waldo Emerson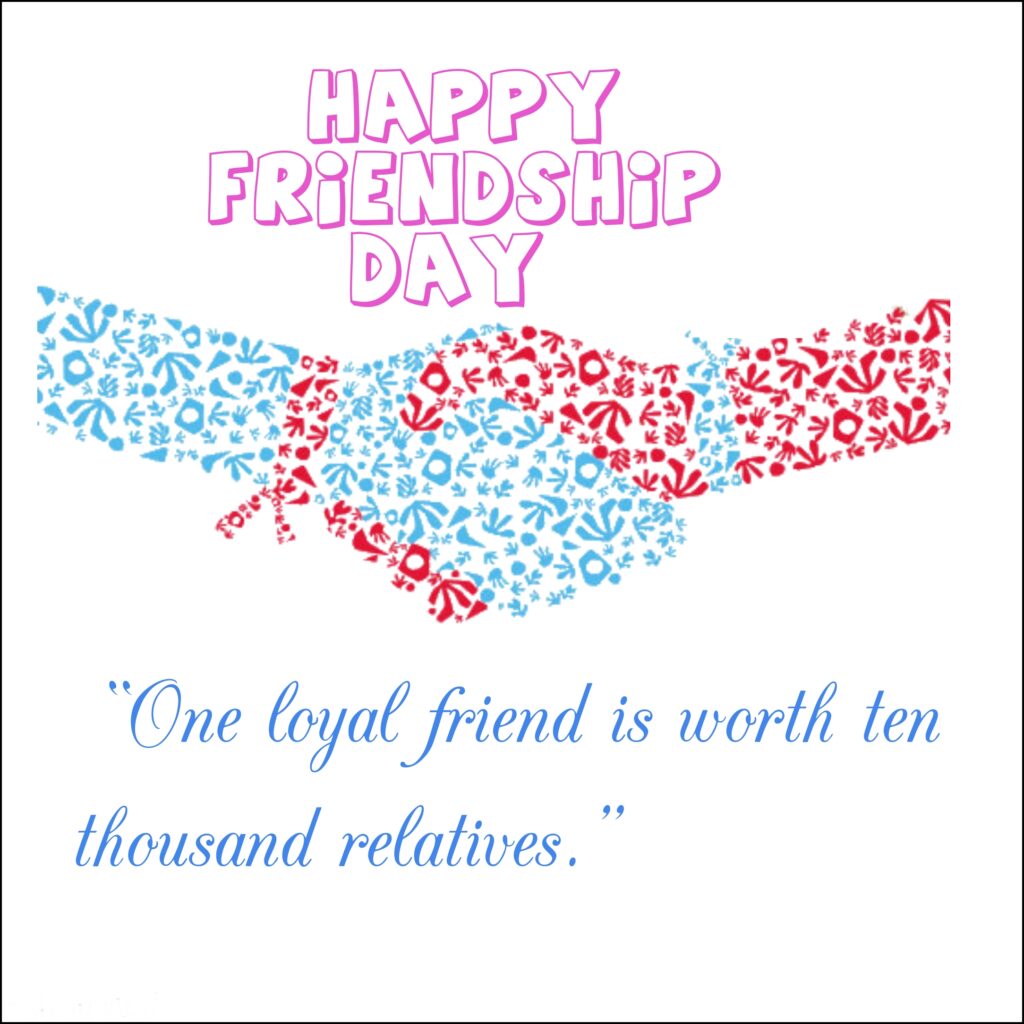 "A single rose can be my garden… a single friend, my world." – Leo Buscaglia
"One loyal friend is worth ten thousand relatives." – Euripides#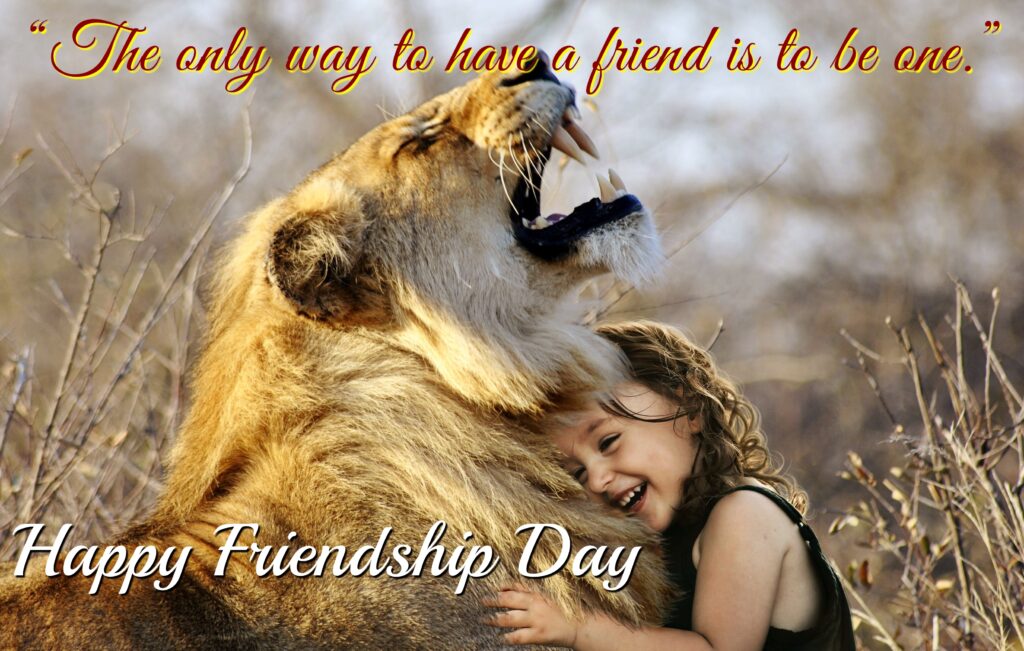 "Friendship is born at that moment when one person says to another, 'What! You too? I thought I was the only one." – C.S. Lewis
"The love that comes from friendship is the underlying facet of a happy life." – Chelsea Handler
Friendship Day Quotes:
"It's not what we have in life, but who we have in our life that matters. Happy Friendship Day!"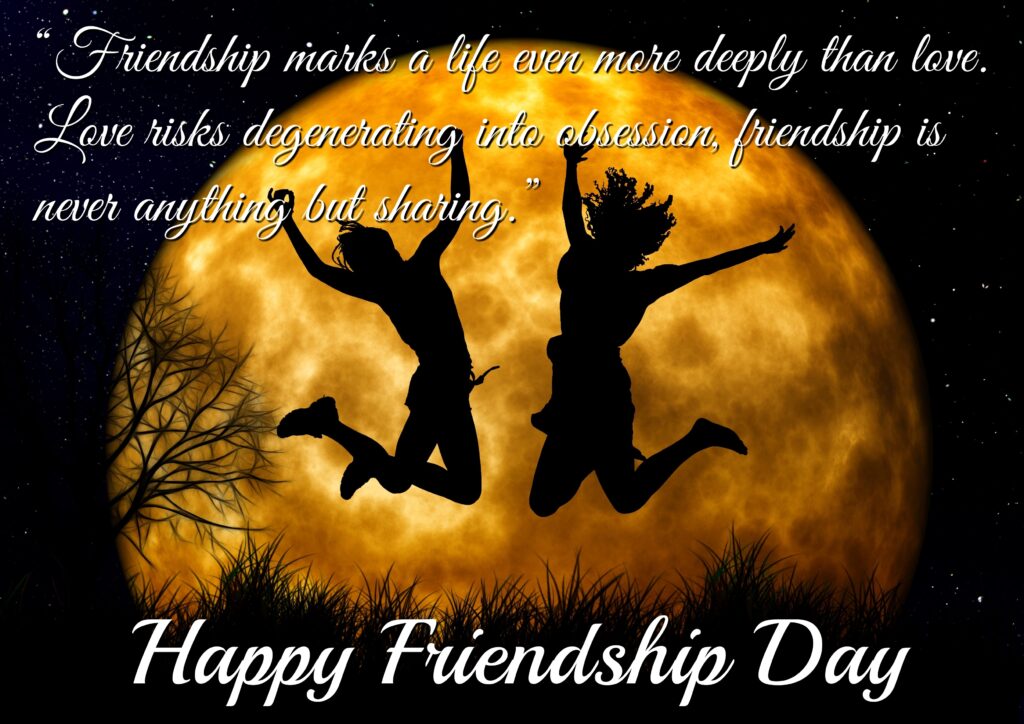 "A true friend is someone who never gets tired of listening to your pointless dramas over and over again." – Lauren Conrad
"A true friend is someone who is there for you when they would rather be someplace else." – Len Wein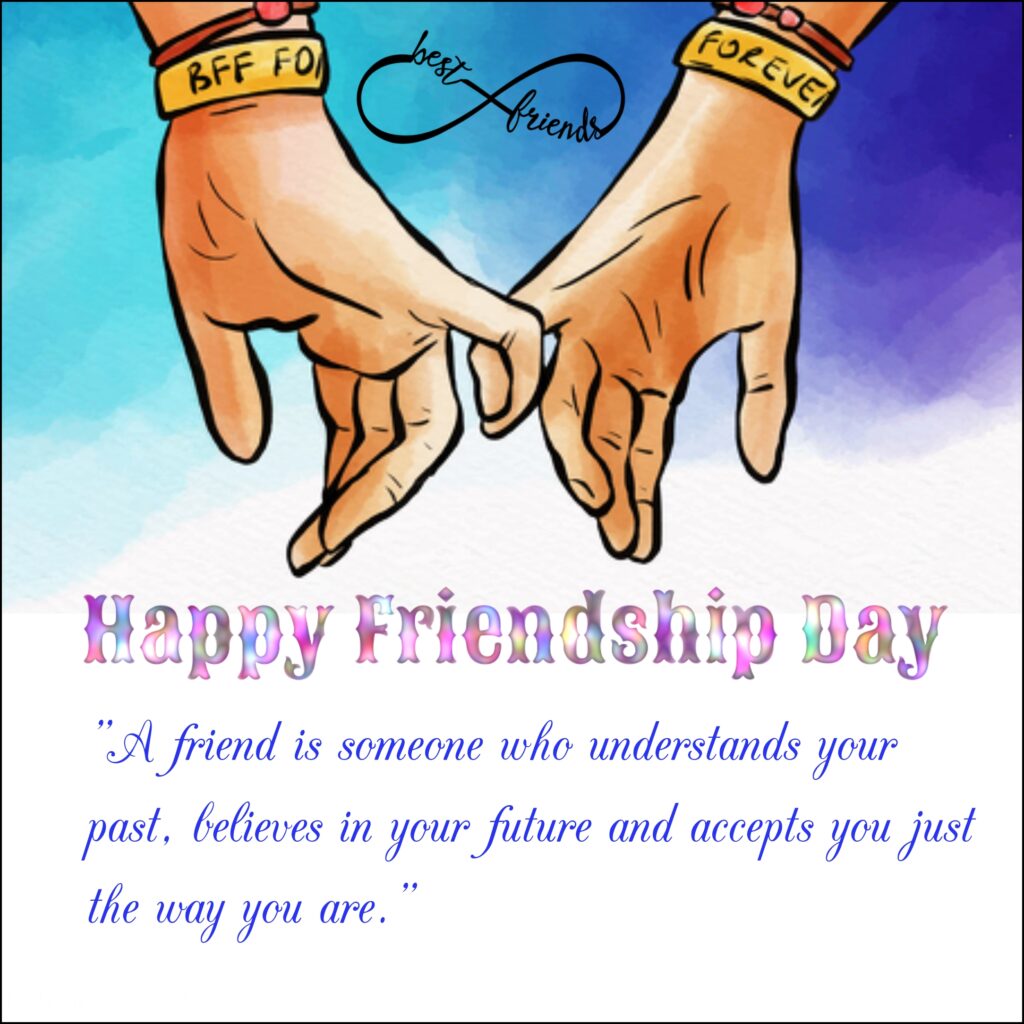 "A good friend is like a four-leaf clover: hard to find and lucky to have."
"Life was meant for good friends and great adventures."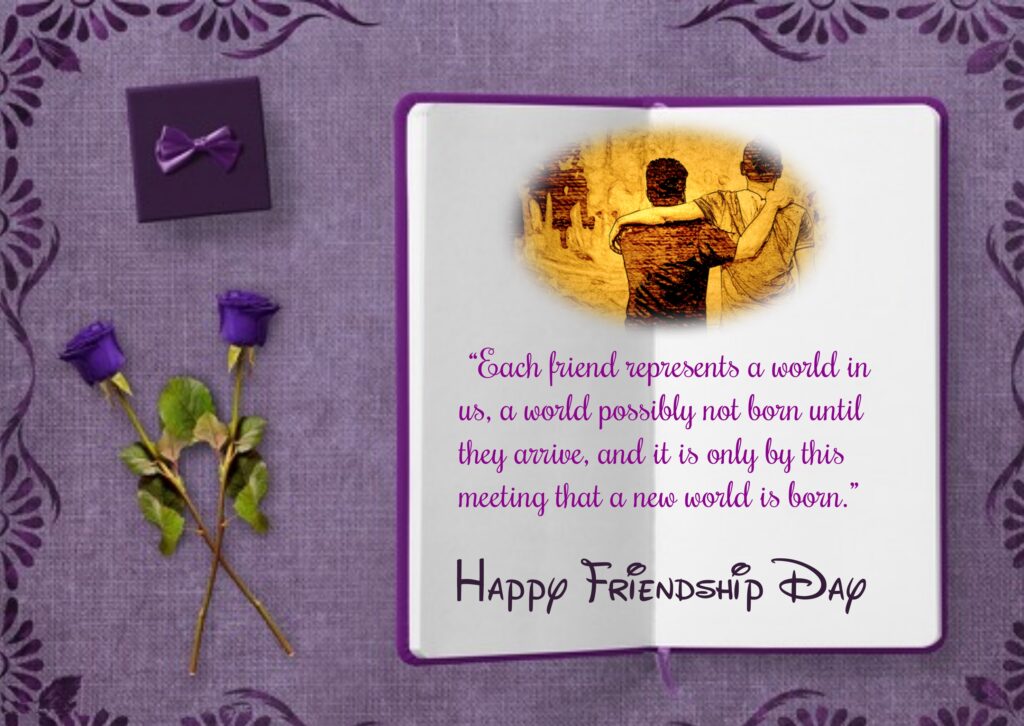 "Friendship is always a sweet responsibility, never an opportunity."  –  Khalil Gibran
"A friend is someone who knows the song in your heart and can sing it back to you when you have forgotten the words." – Shania Twain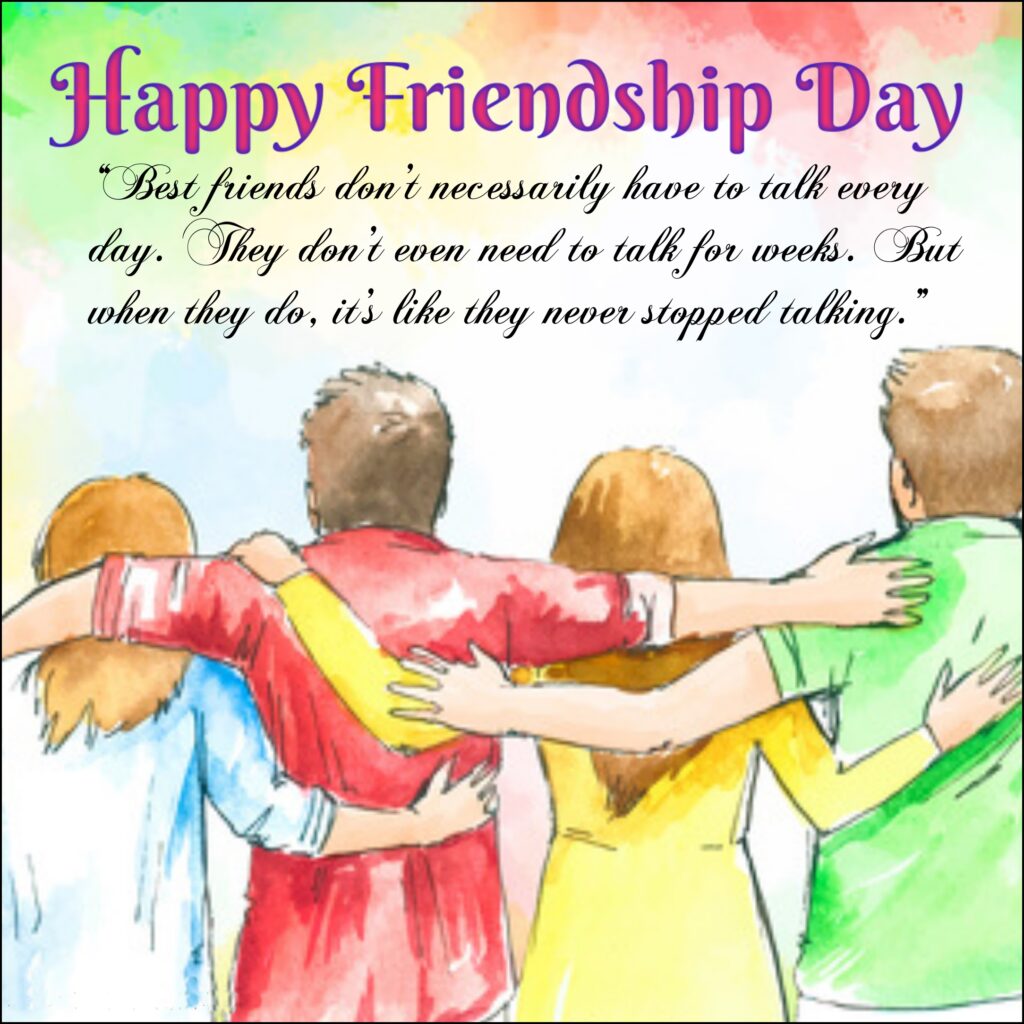 "True friends are always together in spirit." – L.M. Montgomery
"In the cookie of life, friends are the chocolate chips."
National Best Friends Day:
"If you live to be a hundred, I hope I live to be a hundred minus one day, so I never have to live without you."  – Winnie the Pooh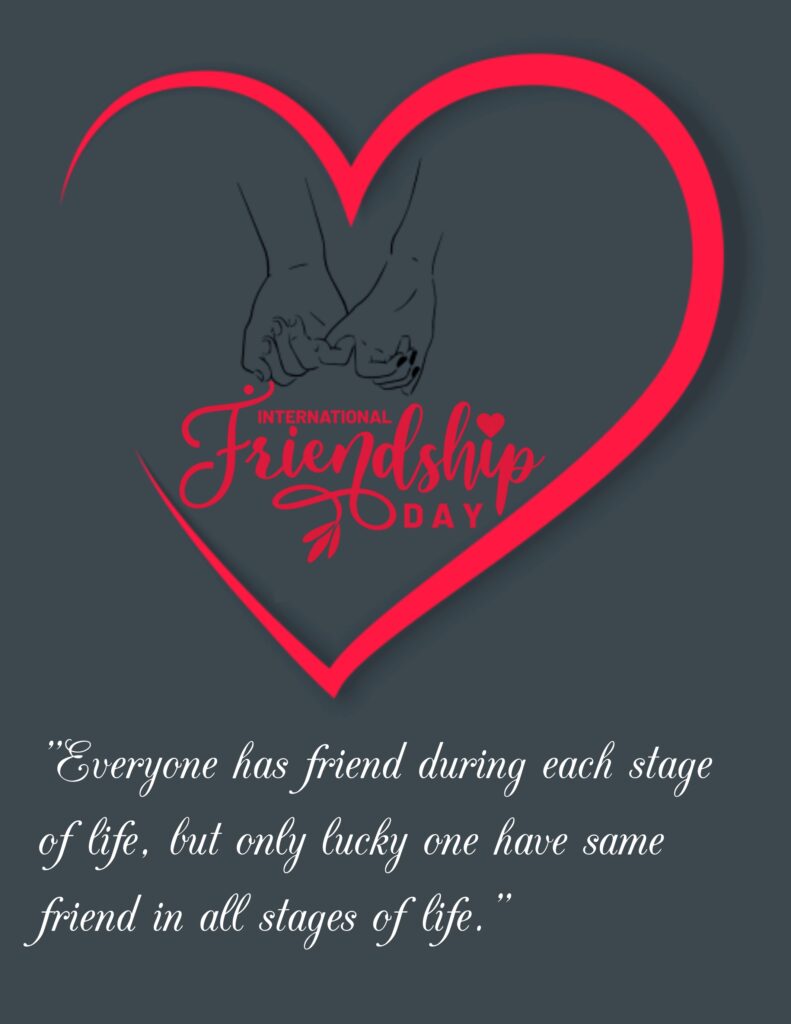 "Real friendship is when your friend comes over to your house and then you both just take a nap."
"Friendship marks a life even more deeply than love. Love risks degenerating into obsession, friendship is never anything but sharing." – Elie Wiesel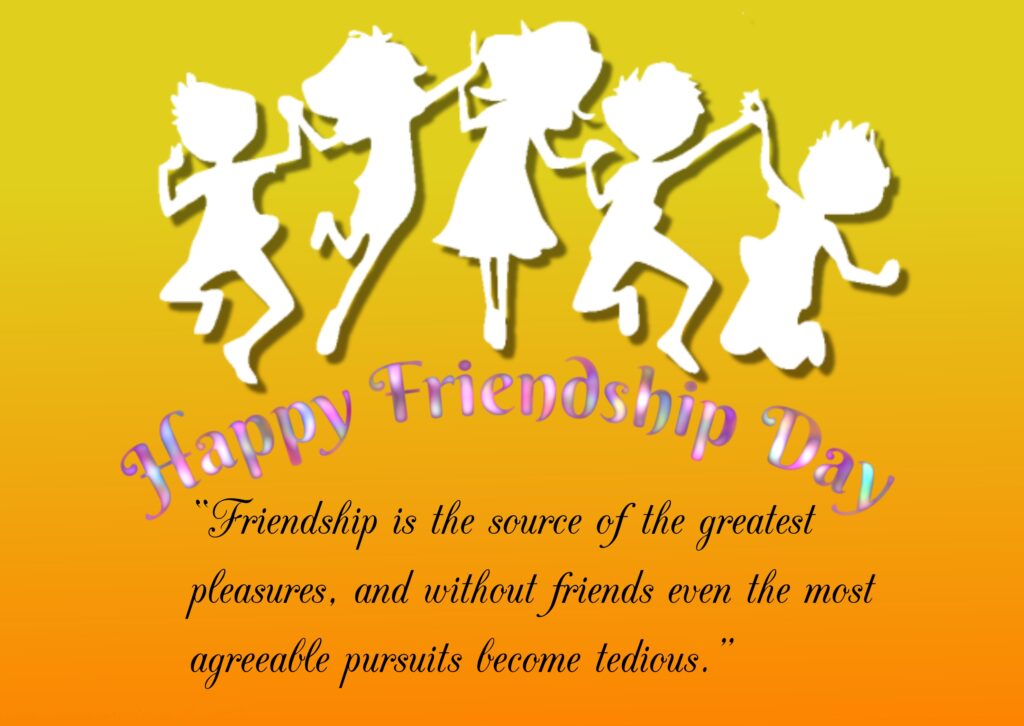 "Friendship is the hardest thing in the world to explain. It's not something you learn in school. But if you haven't learned the meaning of friendship, you really haven't learned anything." – Muhammad Ali
"Some people go to priests. Others to poetry. I to my friends."—Virginia Woolf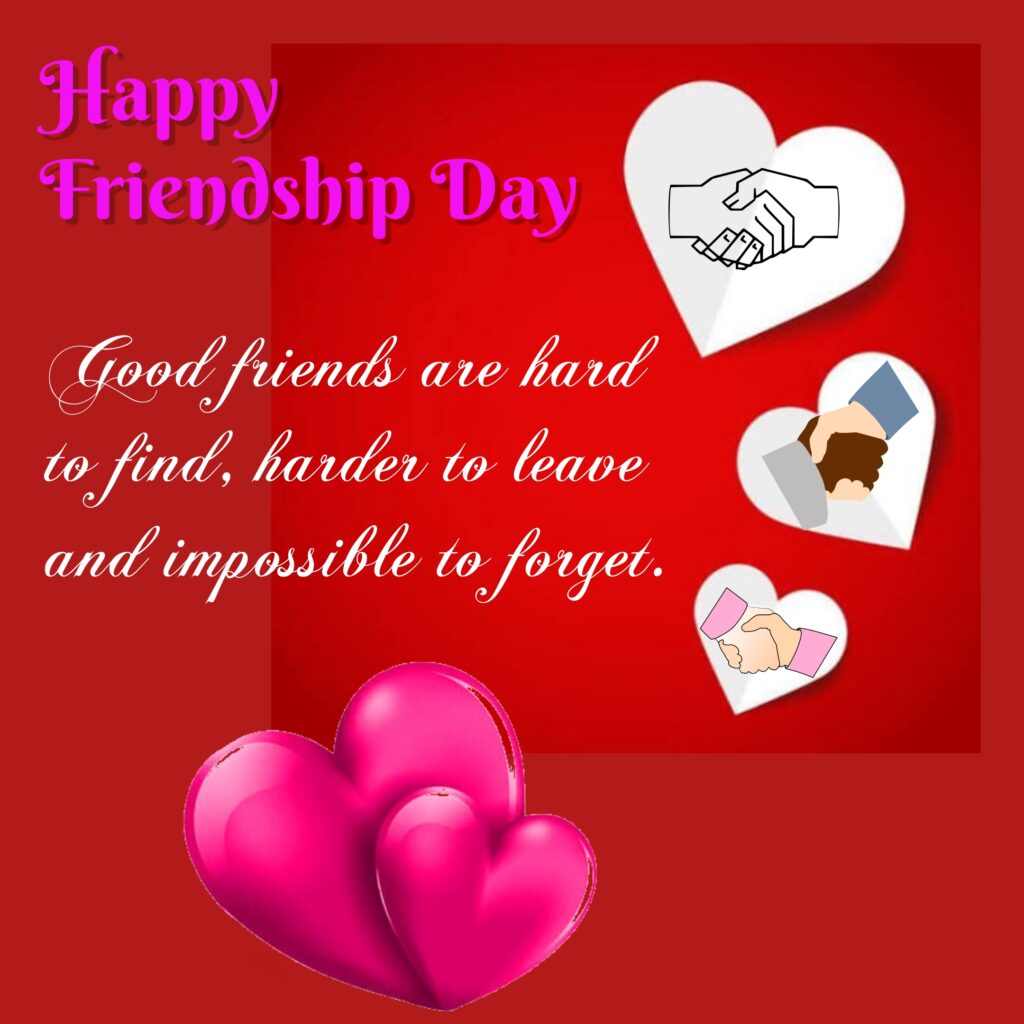 "A friend is one who knows you and loves you just the same." – Elbert Hubbard
"One's friends are that part of the human race with which one can be human." – George Santayana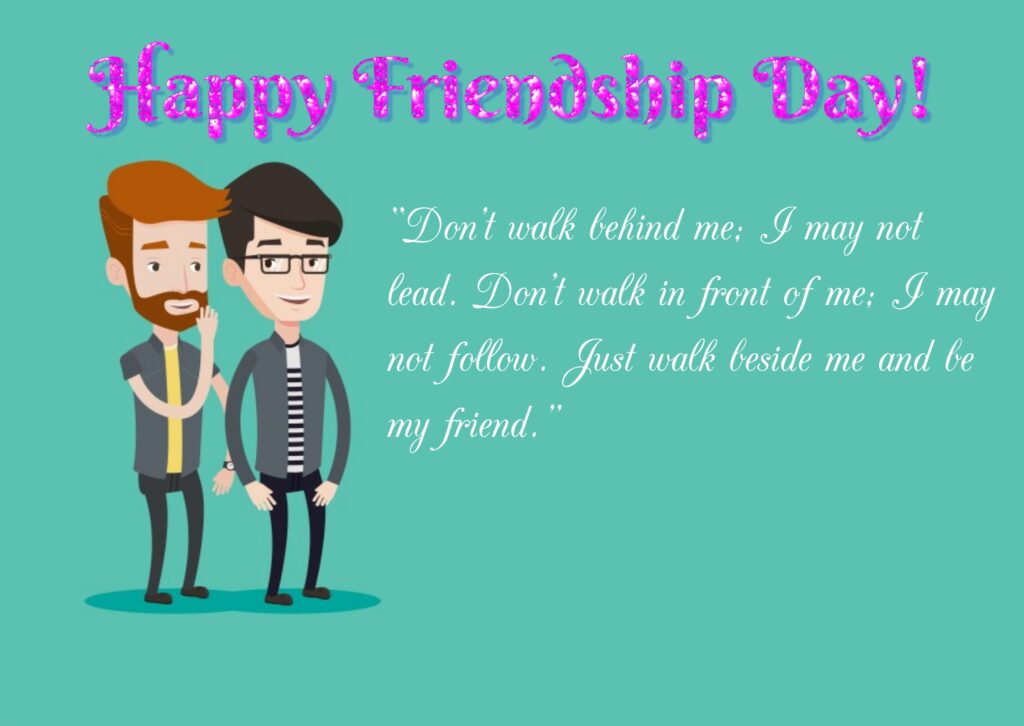 "In prosperity, our friends know us; in adversity, we know our friends."
"A friend can tell you things you don't want to tell yourself."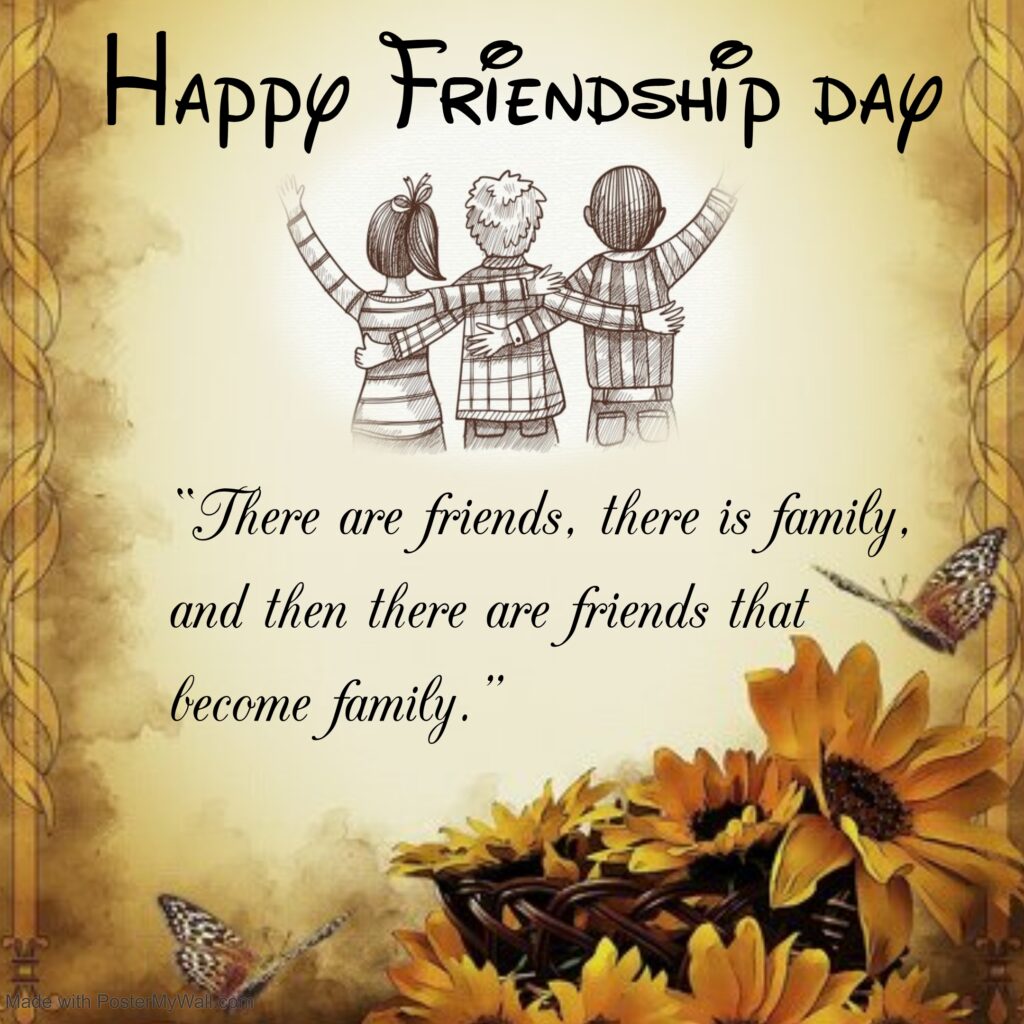 "Best friends can turn a horrible day into one of the best days of your life." – Nathanael Richmond
"The language of friendship is not words but meanings." – Henry David Thoreau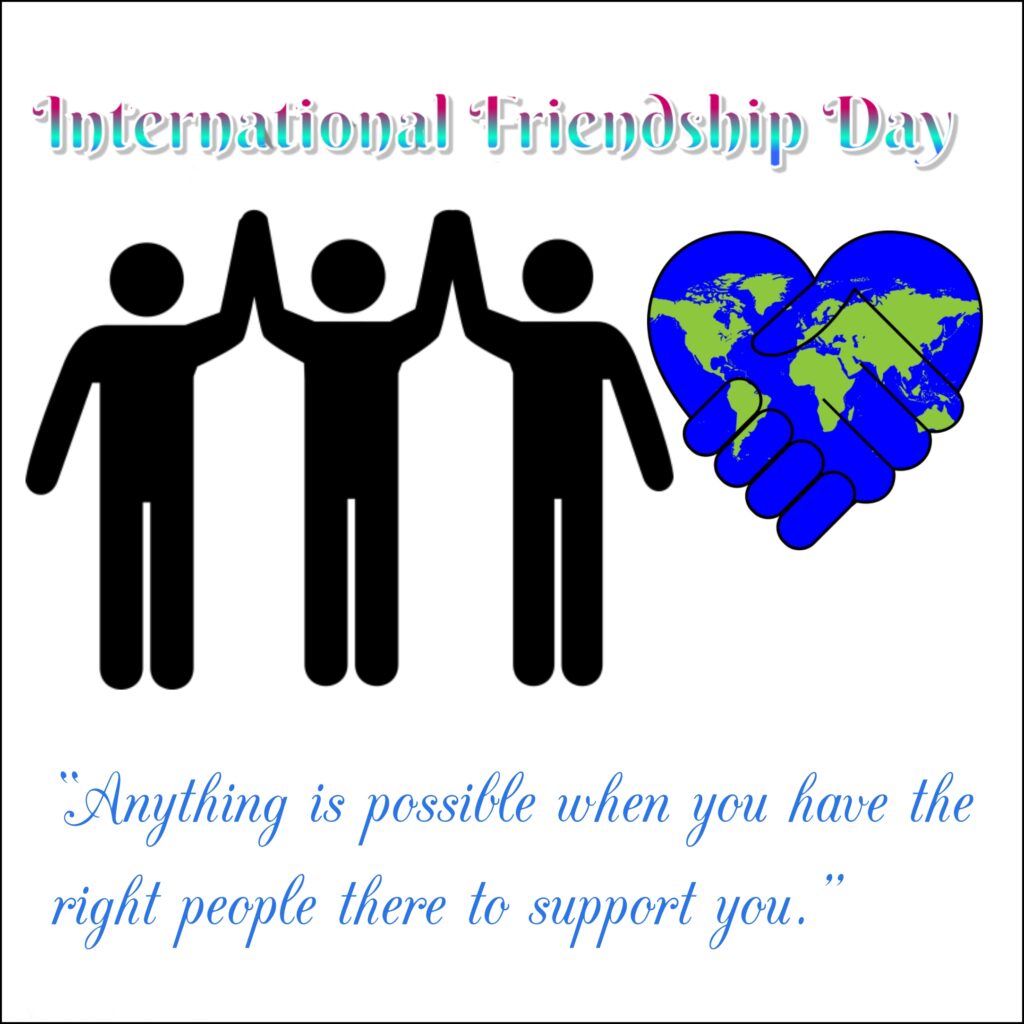 Quotes for Friends:
"A friend is one that knows you as you are, understands where you have been, accepts what you have become, and still, gently allows you to grow."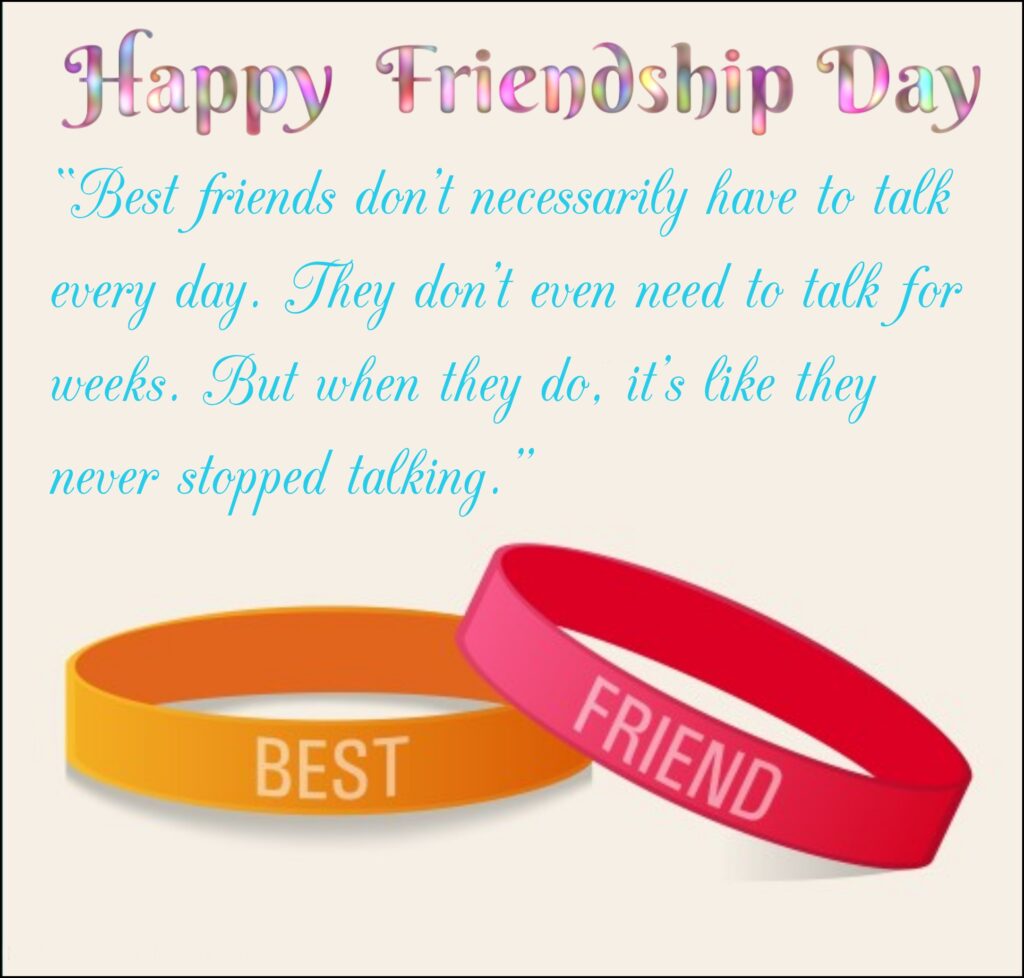 "In the end, we will remember not the words of our enemies, but the silence of our friends." – Martin Luther King, Jr.
"True friends don't judge each other, they judge other people together." – Emilie Saint-Genis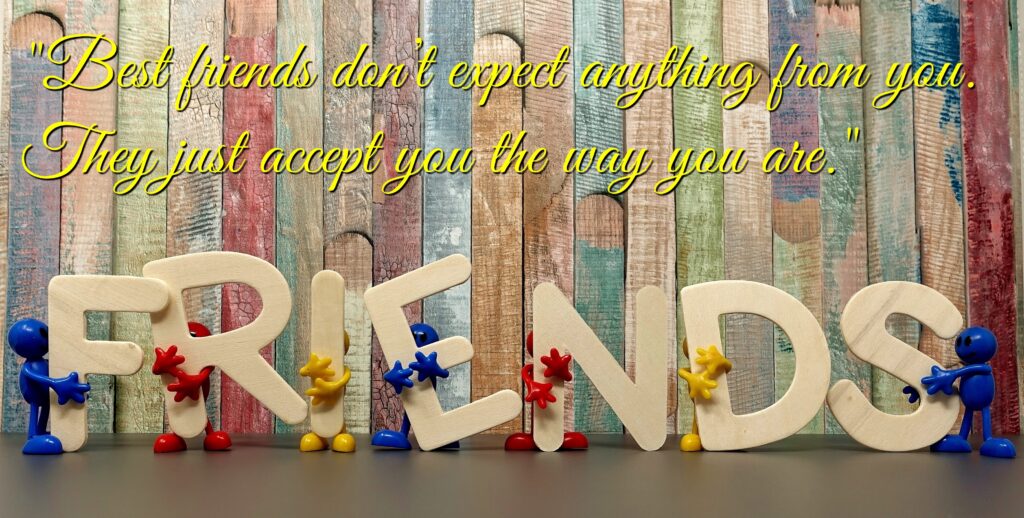 "The only rose without thorns is friendship." – Madeleine de Scudery
"Don't walk behind me; I may not lead. Don't walk in front of me; I may not follow. Just walk beside me and be my friend." – Albert Camus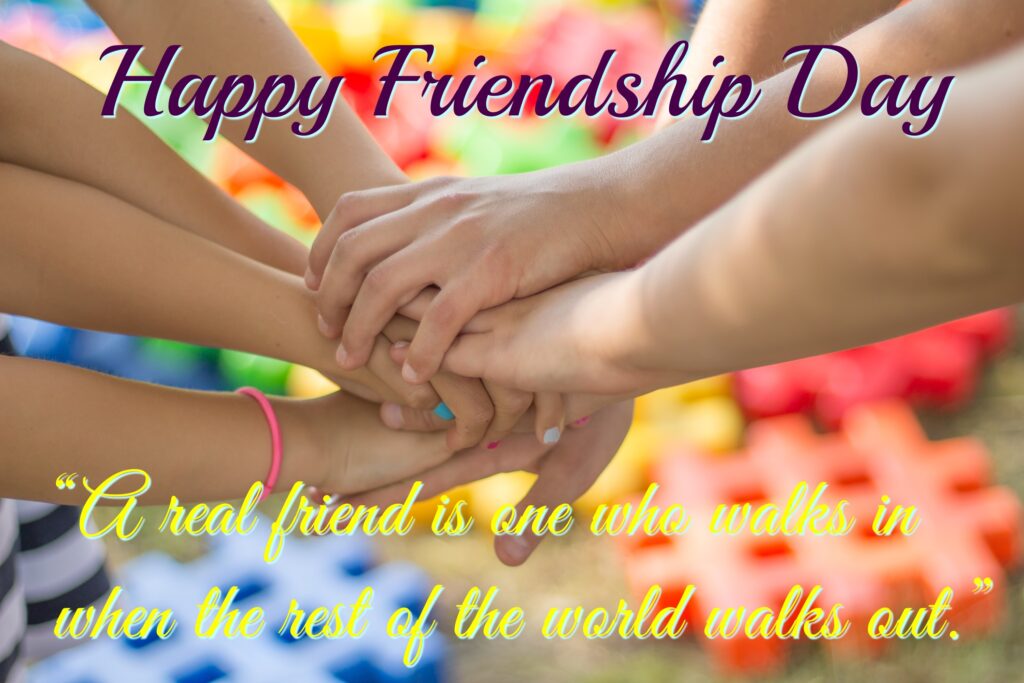 "The greatest gift in life is the gift of friendship, and the greatest healing therapy is friendship."
"Never leave a friend behind. Friends are all we have to get us through this life—and they are the only things from this world that we could hope to see in the next." –  Dean Koontz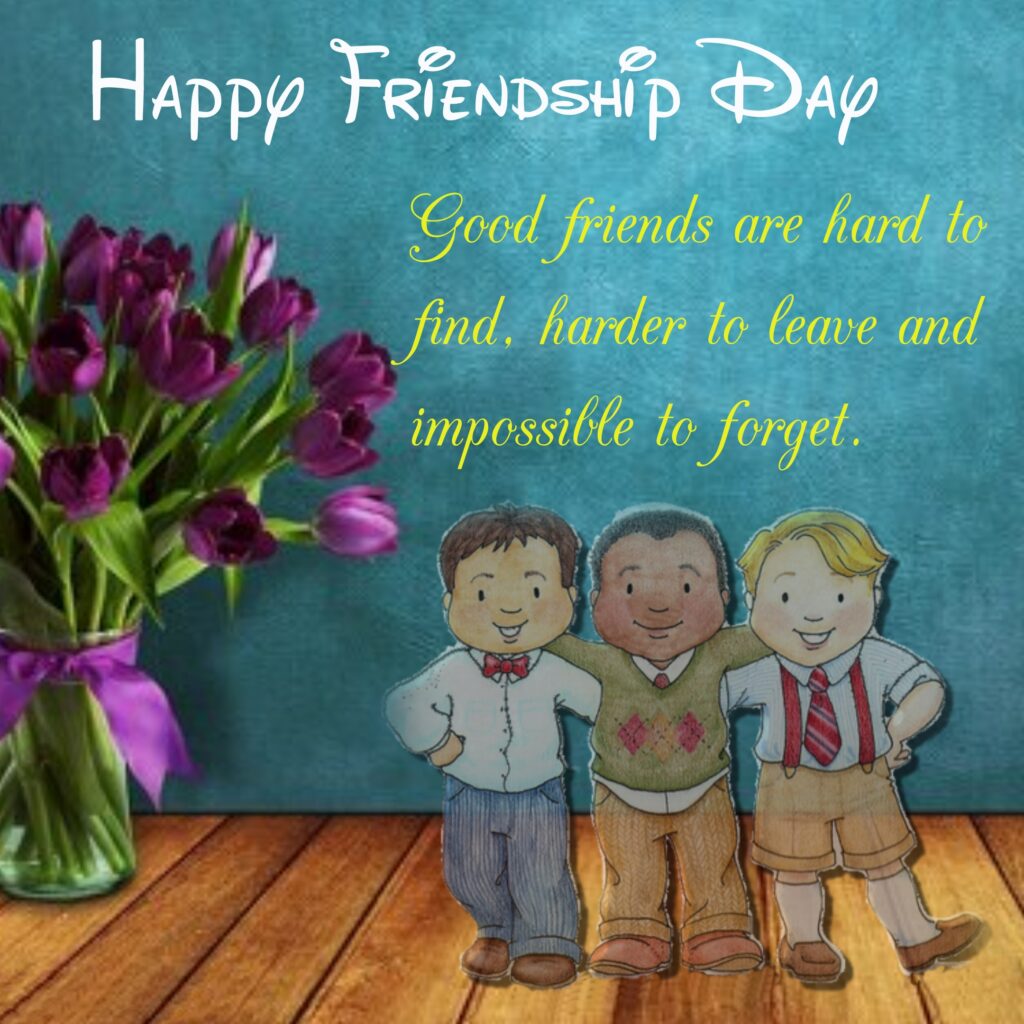 "And what is a friend? More than a father, more than a brother: a travelling companion, with him, you can conquer the impossible, even if you must lose it later. Friendship marks a life even more deeply than love. Love risks degenerating into obsession, friendship is never anything but sharing."   –  Elie Wiesel,
"A good friend is a connection to life – a tie to the past, a road to the future, the key to sanity in a totally insane world." – Lois Wyse
Short Friendship Quotes:
"A friend is one who overlooks your broken fence and admires the flowers in your garden."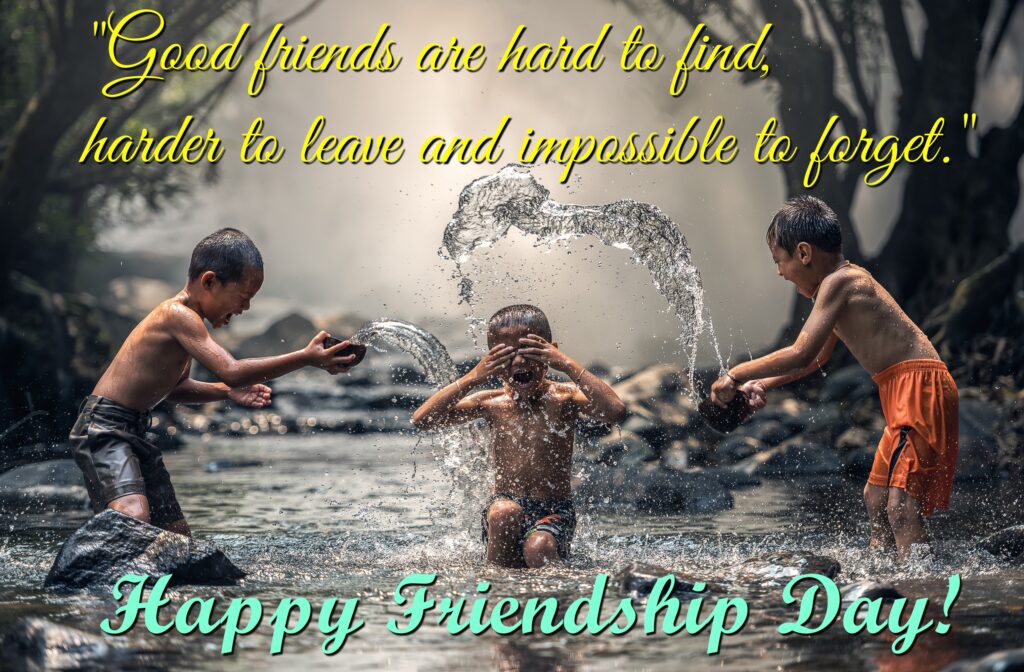 "True friends are those rare people who come to find you in dark places and lead you back to the light."
"Friendship isn't about who you've known the longest. It's about who walked into your life, said, 'I'm here for you, and proved it."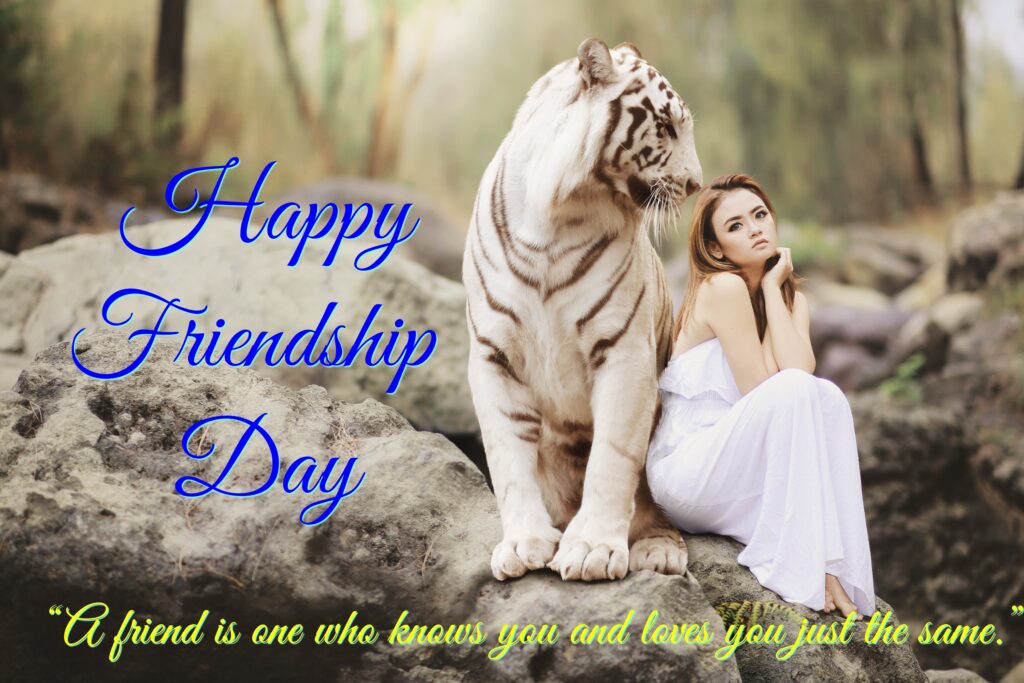 "Friendship is the source of the greatest pleasures, and without friends even the most agreeable pursuits become tedious." – Thomas Aquinas
"Every friendship goes through ups and downs. Dysfunctional patterns set in; external situations cause internal friction; you grow apart and then bounce back together."  – Mariella Frostrup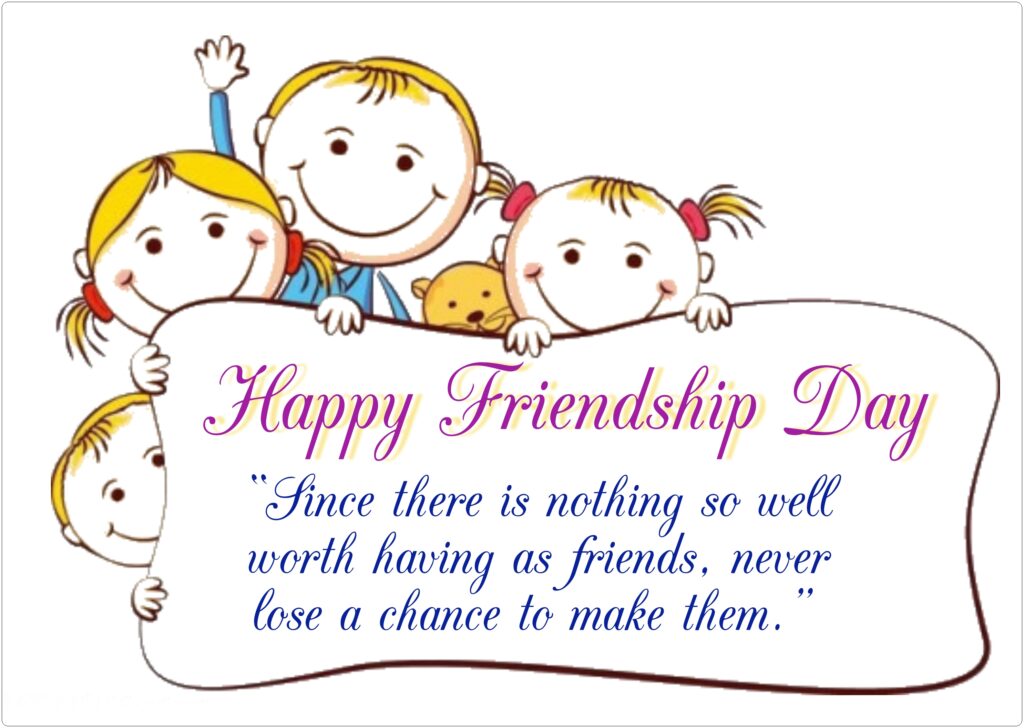 "A friend is an emotional bond, just like friendship is a human experience." – Simon Sinek
"A true friend is one who overlooks your failures and tolerates your success!"  – Doug Larson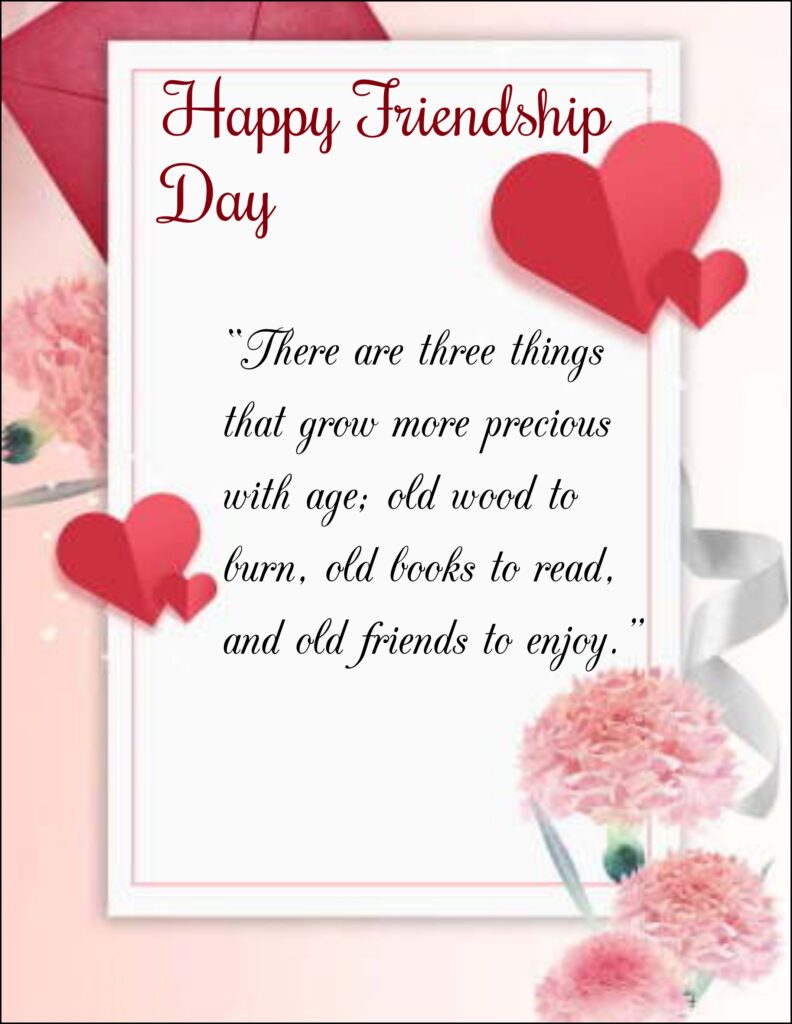 "Real friendship, like real poetry, is extremely rare and precious as a pearl."  – Tahar Ben Jelloun
"I value the friend who for me finds time on his calendar, but I cherish the friend who for me does not consult his calendar." – Robert Brault
Friendship Day wishes:
"Best friends don't necessarily have to talk every day. They don't even need to talk for weeks. But when they do, it's like they never stopped talking."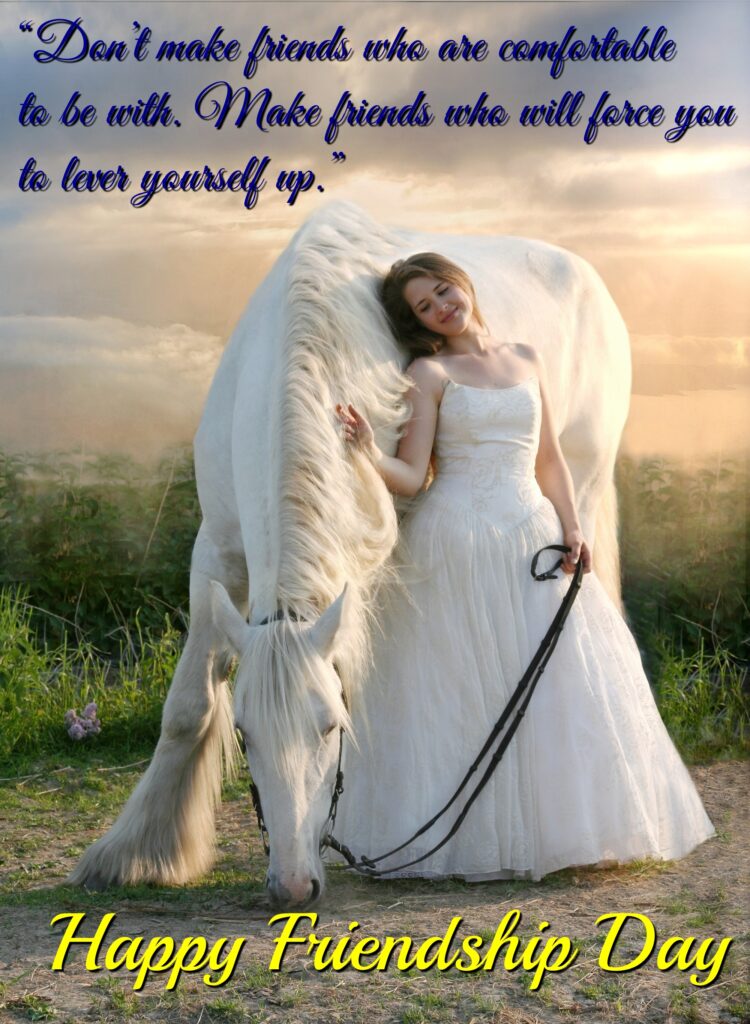 "In my friend, I find a second self." – Isabel Norton
"True friends are like diamonds – bright, beautiful, valuable, and always in style." – Nicole Richie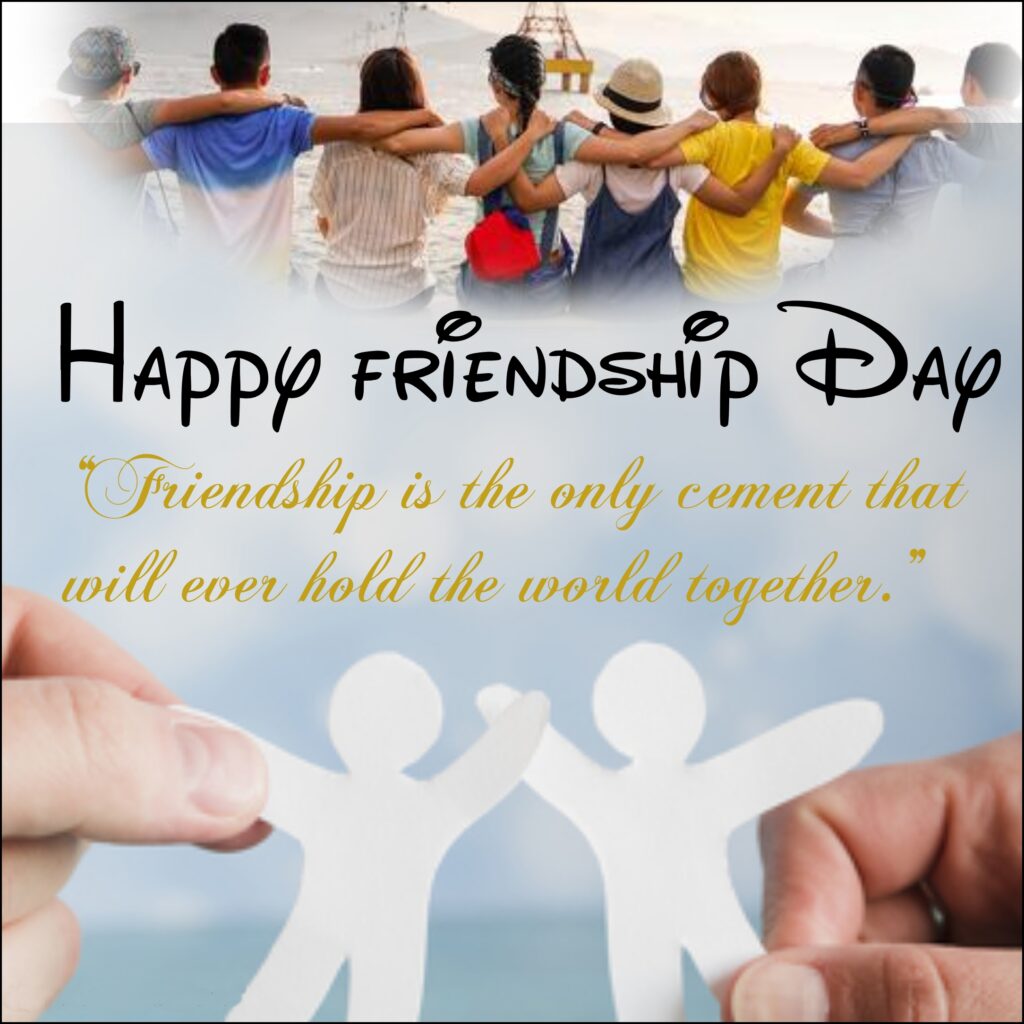 "A true friend is someone who thinks that you are a good egg even though he knows that you are slightly cracked." – Bernard Meltzer
"Friendship is the only cement that will ever hold the world together." – Woodrow Wilson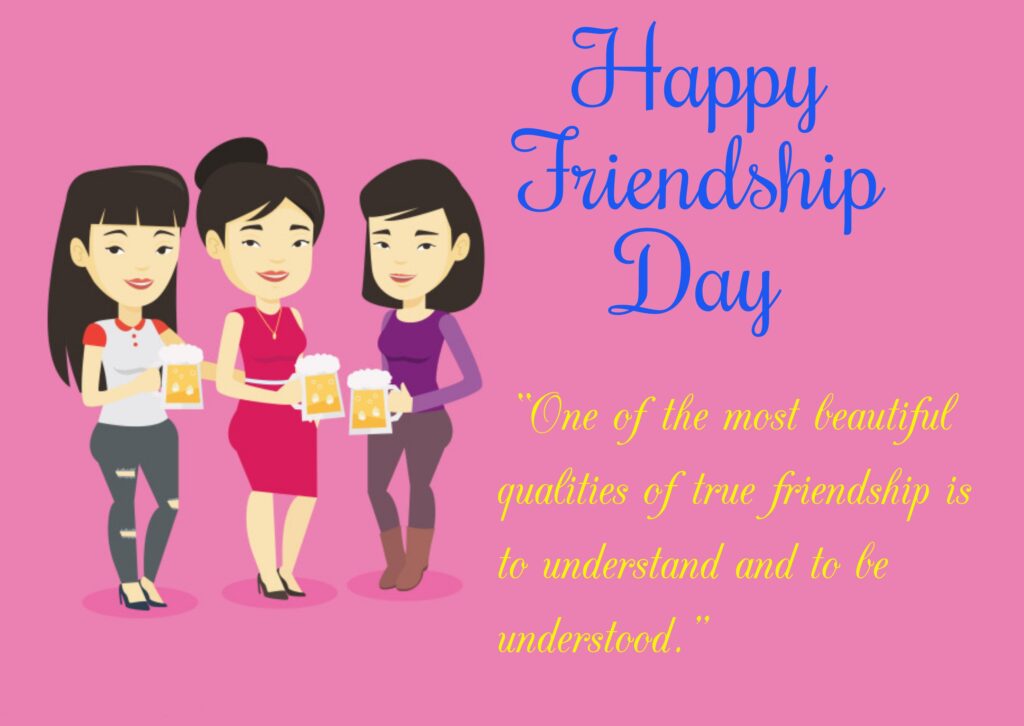 "Friends are relatives you make for yourself." – Eustache Deschamps
"Good friends are hard to find, harder to leave and impossible to forget." – G. Randolf
Funny Friendship Quotes:
"There is nothing better than a friend unless it is a friend with chocolate."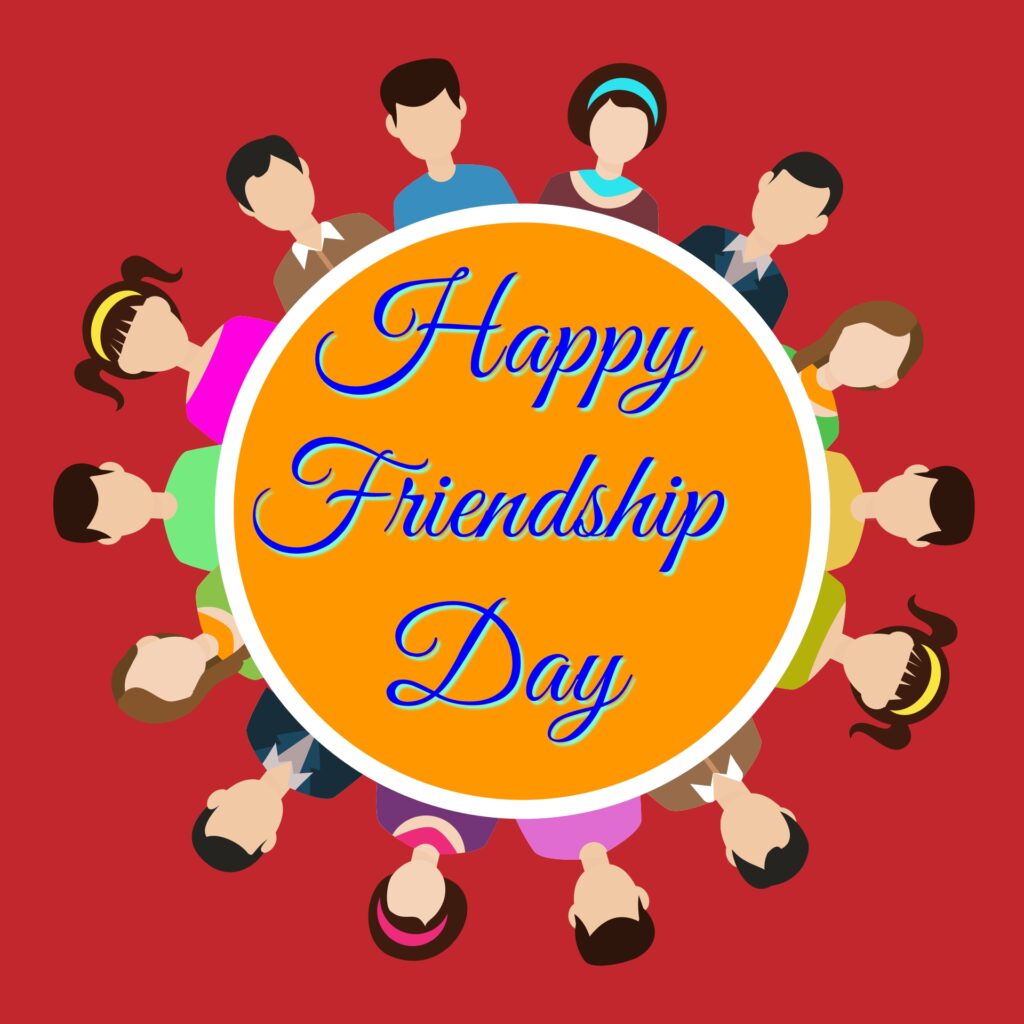 "I like to hang out with people who make me forget to look at my phone."
"True friendship is when you walk into their house and your WiFi connects automatically."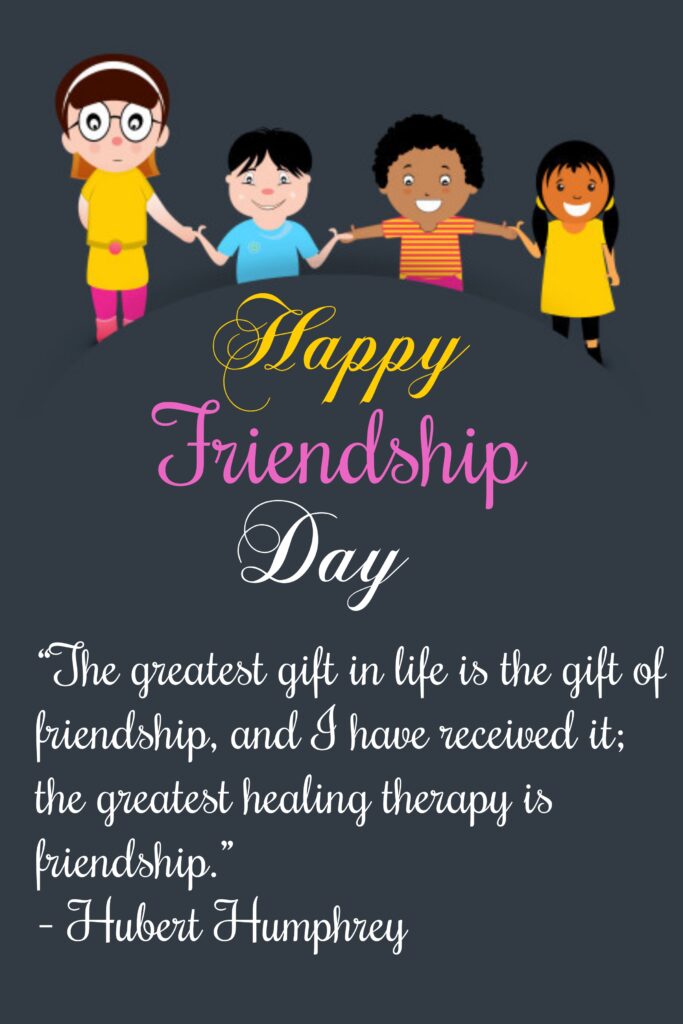 "There are small ships and big ships but the best ships are friendships."
"Real friends don't get offended when you insult them. They smile and call you something even more offensive."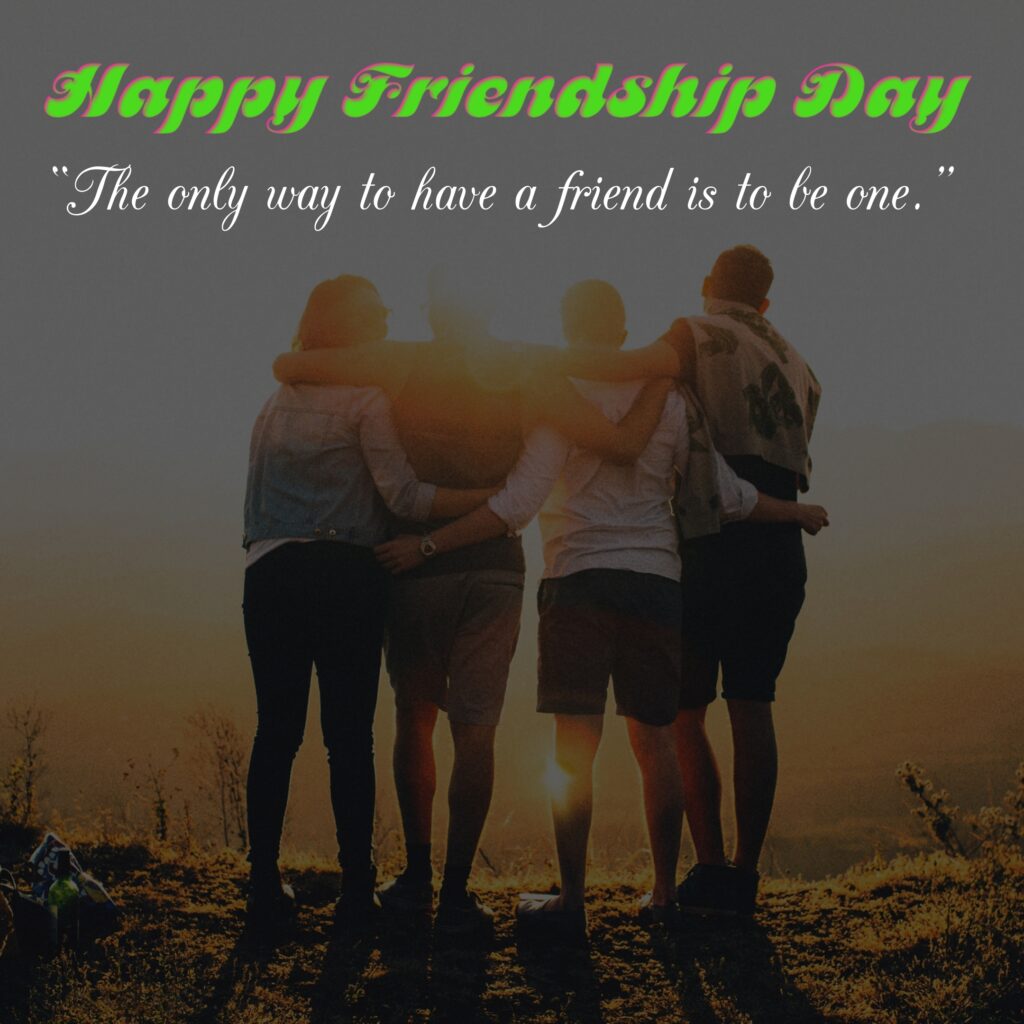 "It is easier to forgive an enemy than to forgive a friend."
"We need old friends to help us grow old and new friends to help us stay young."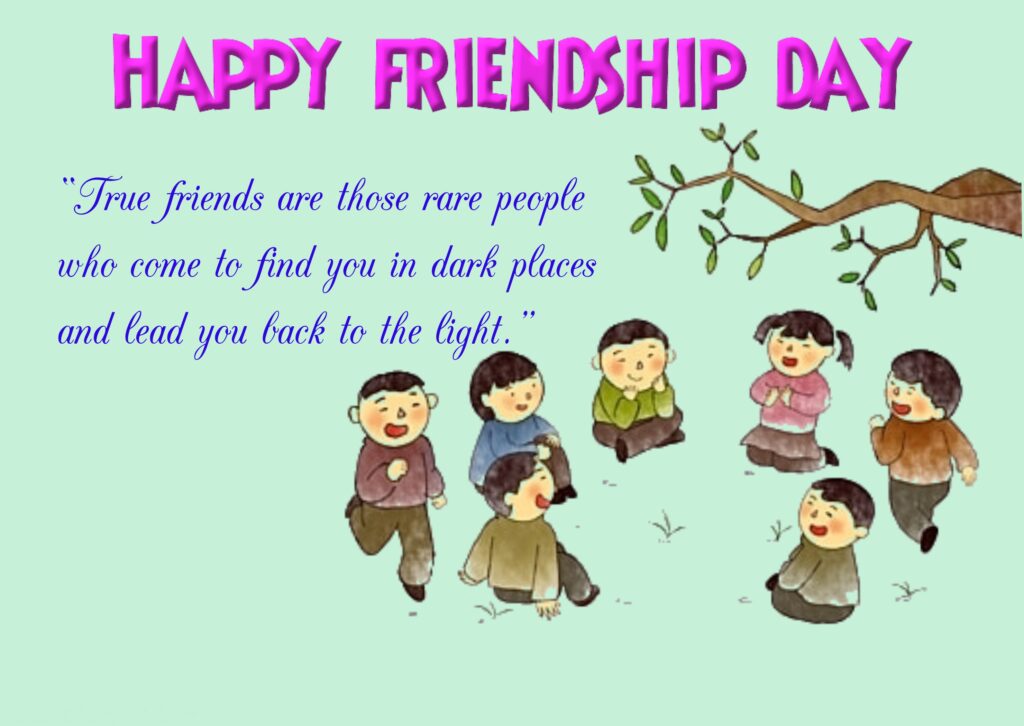 Friendship Day Quotes in Hindi:
"जब कोई नहीं था वो साथ थे मेरे
आज सब कुछ है तब भी साथ है मेरे
बड़े ही ज़िद्दी है ये यार मेरे…
कहते है मौत भी बाँट लेंगे संग तेरे.."
"ए दोस्त तेरी दोस्ती पर नाज़ करते हैं, हर वक्त मिलने की फ़रियाद करते हैं, हमें नहीं पता घर वाले बताते हैं, हम नींद में भी आपसे बात करते हैं।"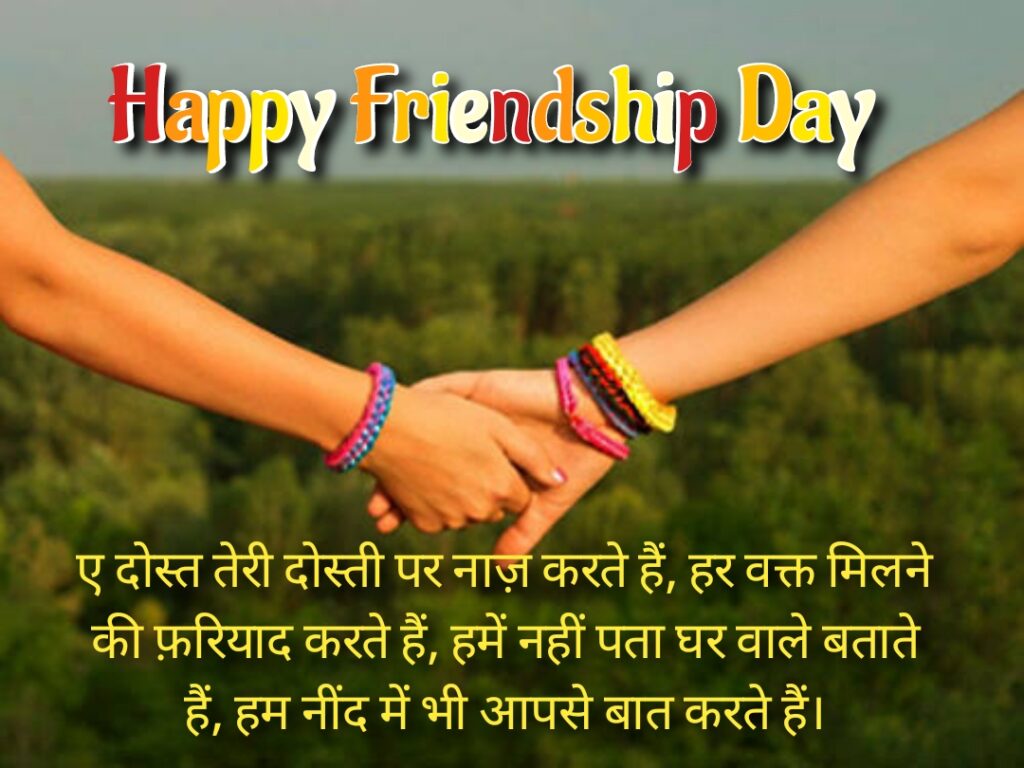 "काँटों को चुभना सिखाया नहीं जाता
फूलों को खिलना सिखाया नहीं जाता
कोई बन जाता हैं, यूँ ही दोस्त अपना
किसी को अपना बनाया नहीं जाता"
"ज़िंदगी मैं हज़ारों दोस्त बनाओ,
पर उन हज़ारों दोस्तों मैं
एक दोस्त ऐसा बनाओ की जब हज़ारो लोग,
आपके खिलाफ हो तो,
वो आपके साथ हज़ारों क खिलाफ हो।"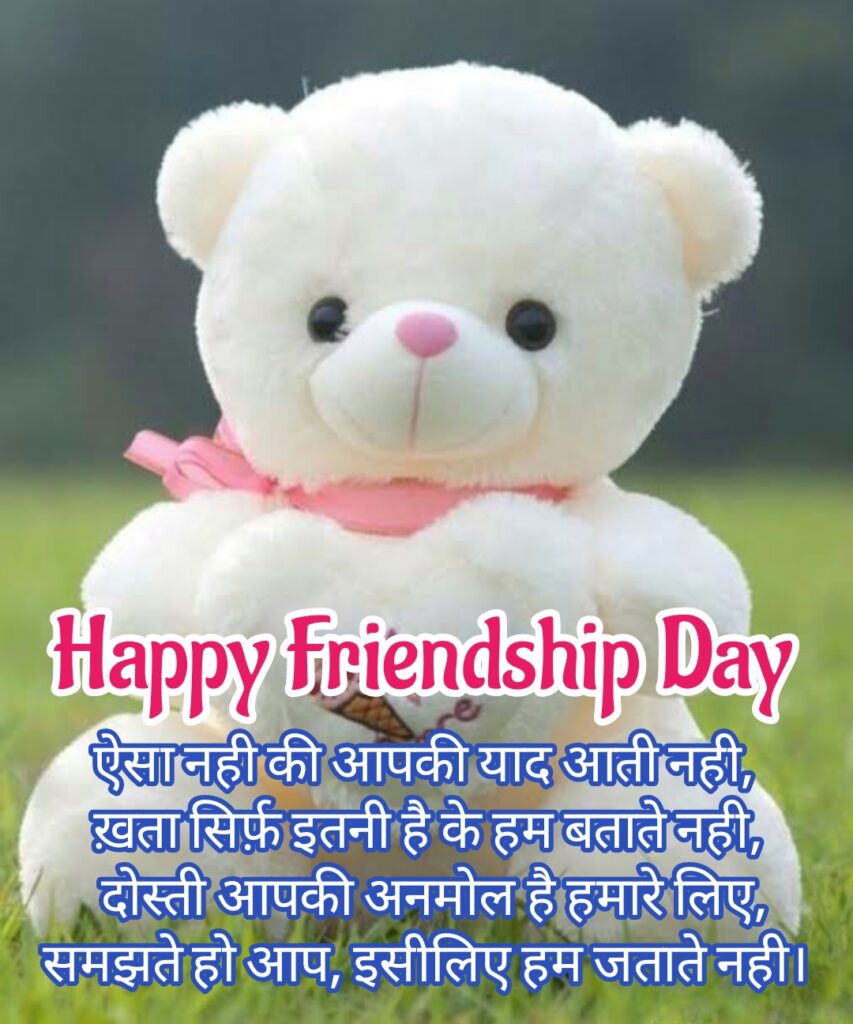 "आजमा कर देखना कभी,
तुम्हे निराश ना होने देंगे
कर देंगे अपनी हर ख़ुशी कुर्बान,
पर तेरी मुस्कराहट ना खोने देंगे"
"दोस्ती अच्छी हो तो रंग़ लाती है,
अगर दोस्ती गहरी हो तो सबको भाती है,
दोस्ती नादान हो तो टूट जाती है,
पर अगर दोस्ती अपने जैसी हो,
तो इतिहास बनाती है।"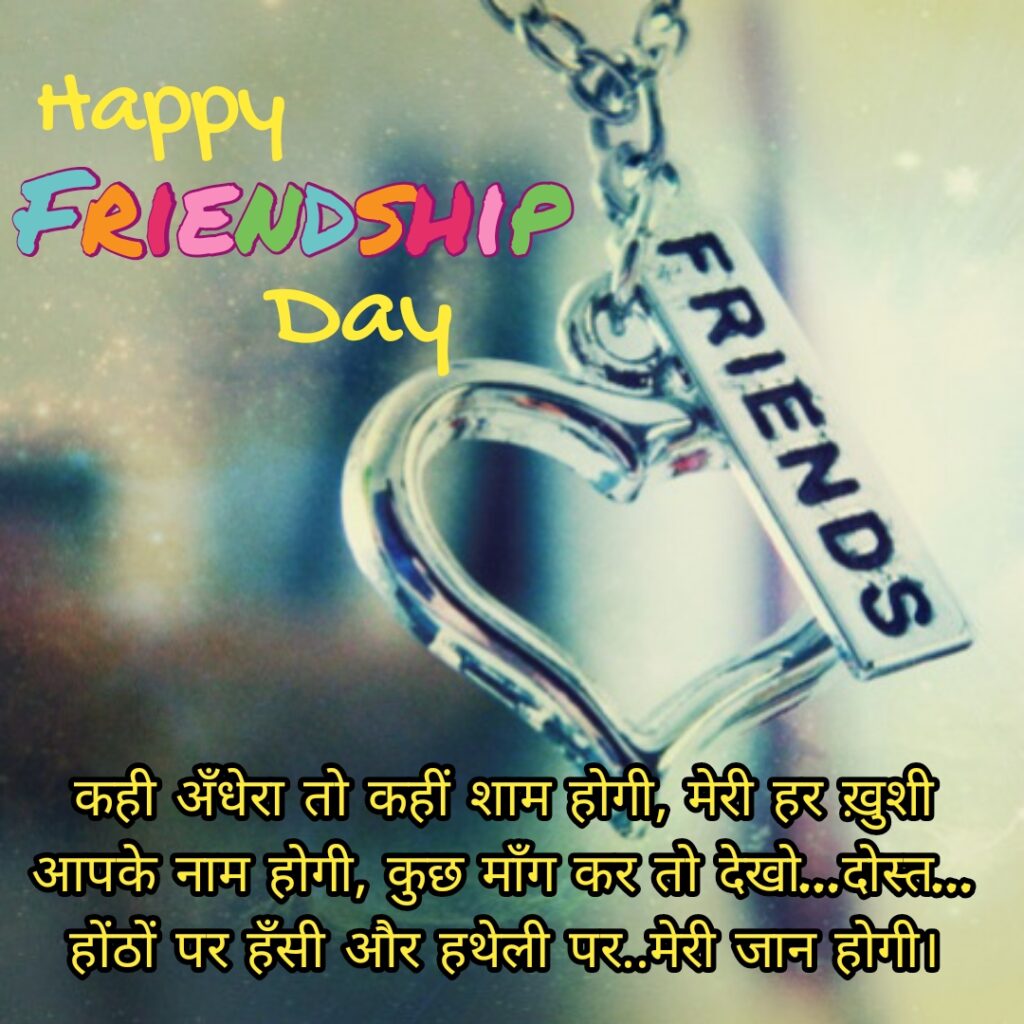 Friendship Quotes in Hindi:
"वक्त की यारी तो हर कोई करता है,
लेकिन तो मजा तो तब है,
जब वक्त बदल जाए,
लेकिन यारी न बदले।"
"अपनी ज़िंदगी के कुछ अलग ही उसूल हैं, दोस्ती की खातिर हमें काँटे भी क़बूल हैं, हँस कर चल देंगे काँच के टुकड़ों पर भी, अगर दोस्त कहे यह दोस्ती में बिछाये फूल हैं।"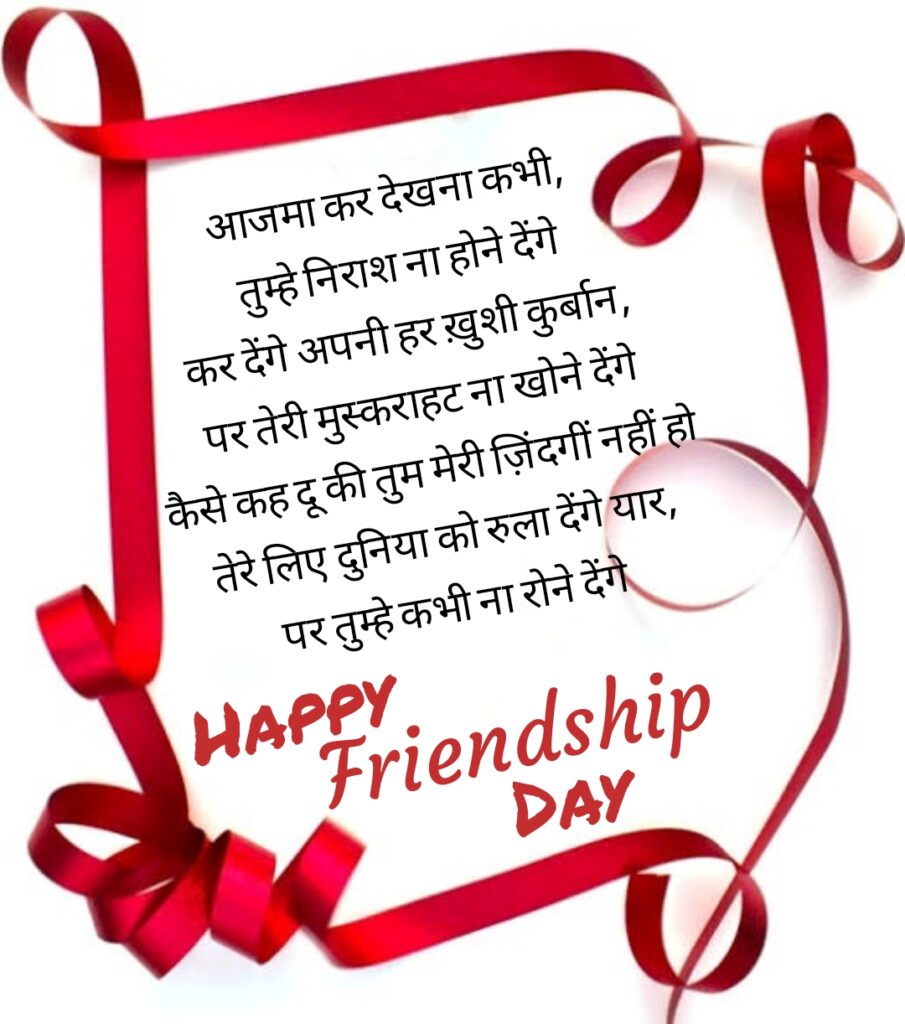 "सच्चे दोस्त हमें कभी गिरने नहीं देते,
न किसी कि नजरों मे न किसी के कदमों में।"
"अच्छा दोस्त एक फूल की तरह होता हे जिसे हमछोड़ भी नही सकते ओर तोड़ भी नही सकते, तोड़ दिया तो मुरझा जाएगा और छोड़ दिया तो कोई और ले जाएगा!"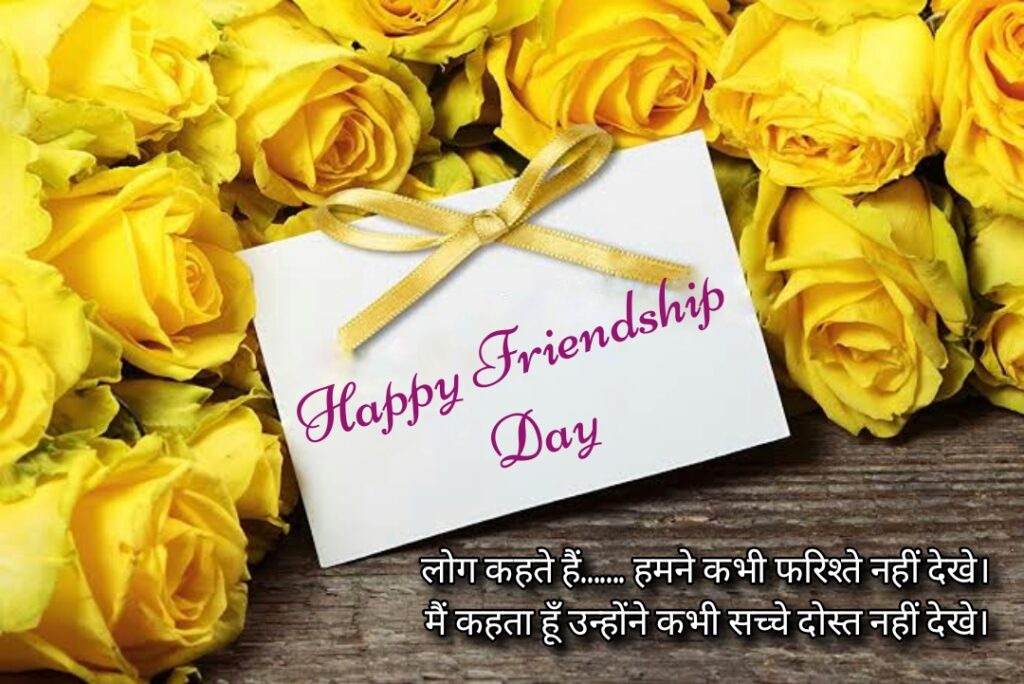 "दोस्त समझते हो तो दोस्ती निभाते रहना,
हमे भी याद करना,
खुद भी याद आते रहना।
मेरी तो ख़ुशी दोस्तों से ही है,
मैं खुश हूँ या नहीं,
तुम मुस्कुराते रहना।"
"किस हद तक जाना है ये कौन जानता है, किस मंजिल को पाना है ये कौन जानता है । दोस्ती के दो पल जी भर के जी लो, किस रोज़ बिछड जाना है ये कौन जानता है ।"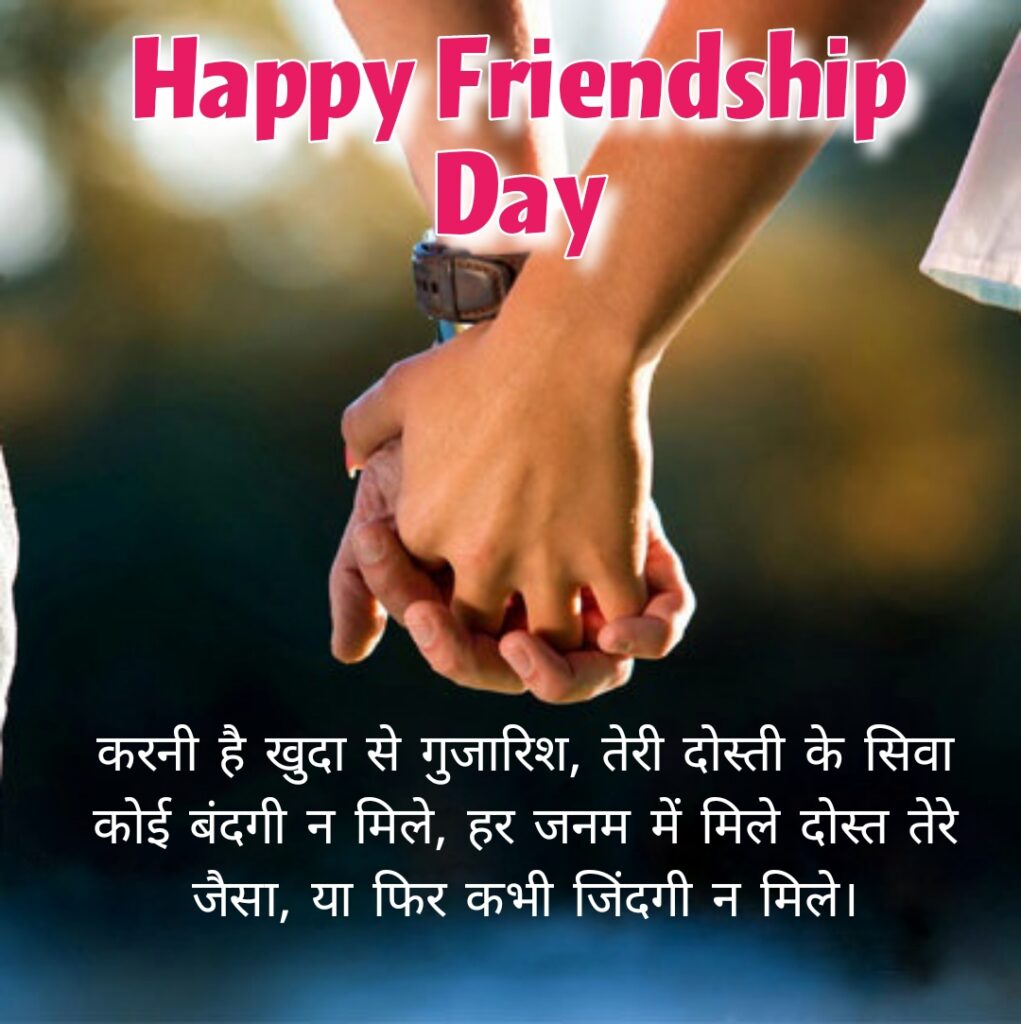 "दिल अरमानो से हॉउसफुल है,
पुरे होंगे या नहीं ये डाउटफुल है,
इस दुनिया मैं हर चीज़ वंडरफुल है,
पर ज़िंदगी तुम्हारे जैसे दोस्तों से
ही ब्यूटीफ़ुल है।"
"काश वो पल साथ बिताए ना होते,तो आँखों में ये आँसू आए ना होते जिनसे रहा ना जाए एक पल भी दूर, काश ऐसे प्यारे दोस्त बनाए ना होते।"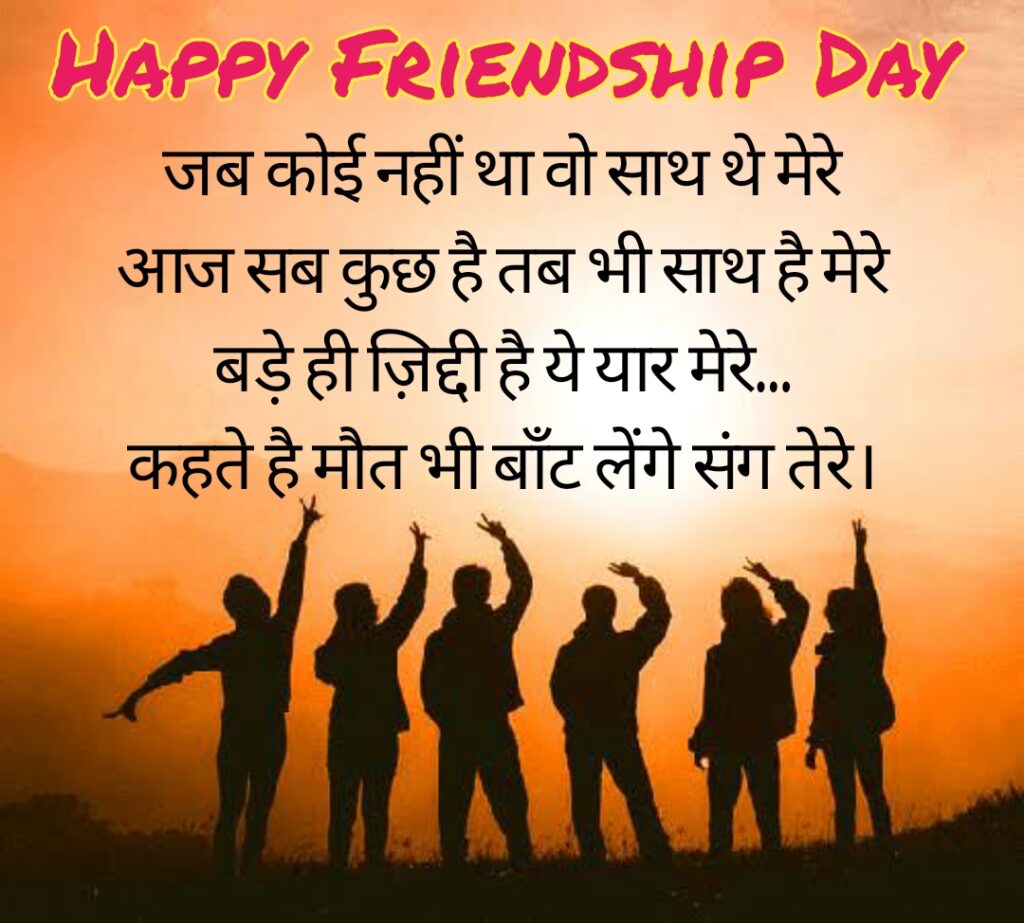 Friendship Day Images:
"मित्र आईना और परछाईं के जैसा होना चाहिए,
क्योंकि आईना कभी झूठ नही बोलता,
और परछाईं कभी साथ नहीं छोड़ती।"
"कही अँधेरा तो कहीं शाम होगी, मेरी हर ख़ुशी आपके नाम होगी, कुछ माँग कर तो देखो…दोस्त… होंठों पर हँसी और हथेली पर मेरी जान होगी।"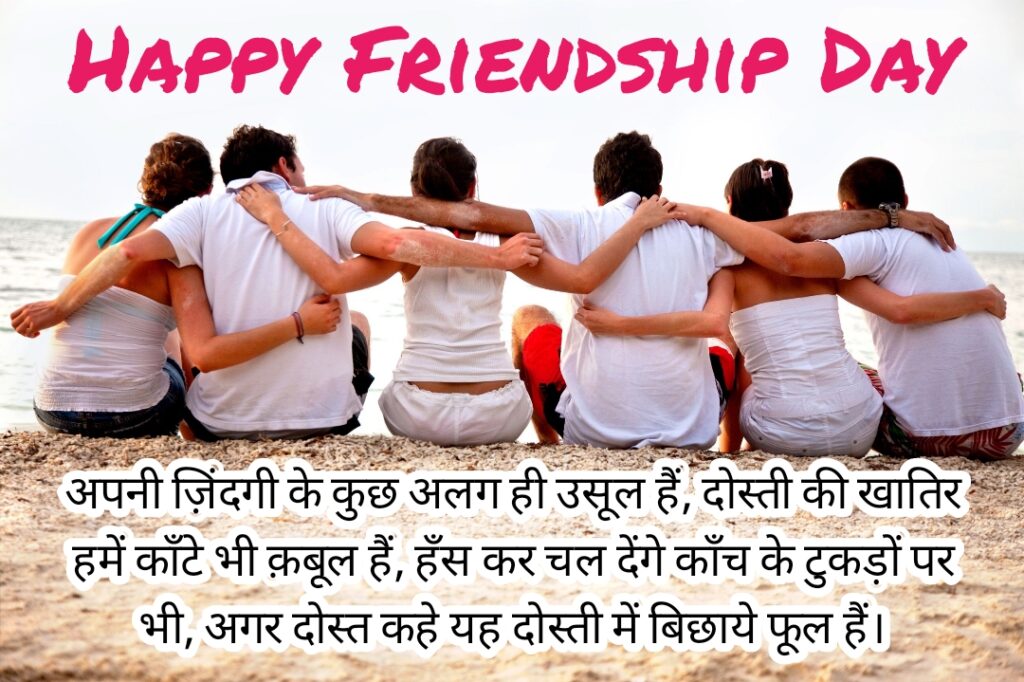 "करनी है खुदा से गुजारिश, तेरी दोस्ती के सिवा कोई बंदगी न मिले, हर जनम में मिले दोस्त तेरे जैसा, या फिर कभी जिंदगी न मिले।"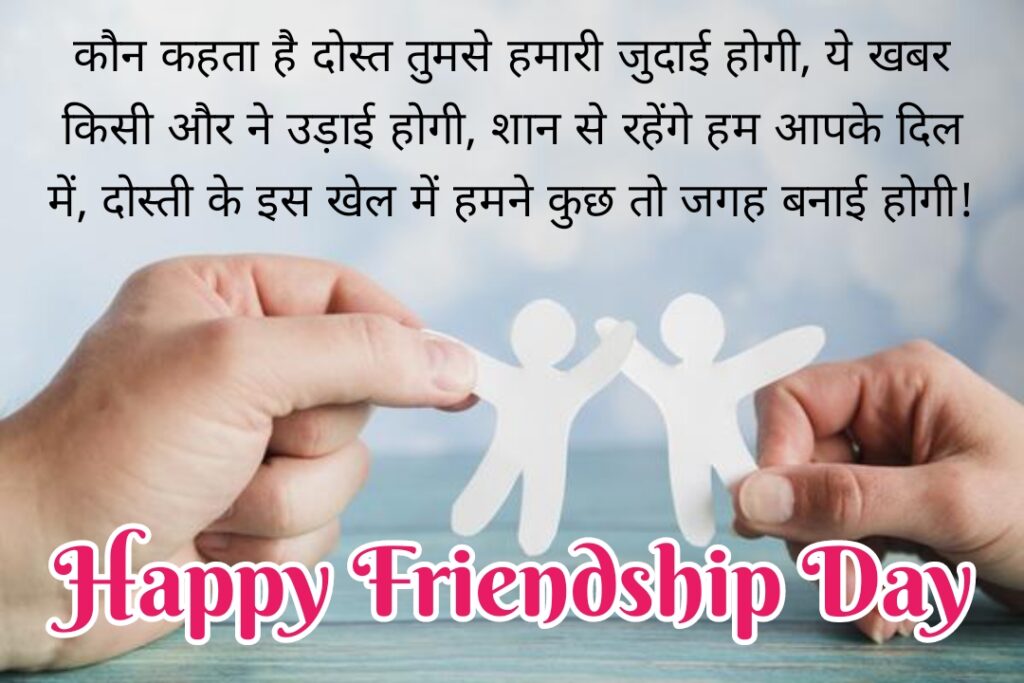 "कौन कहता है दोस्त तुमसे हमारी जुदाई होगी, ये खबर किसी और ने उड़ाई होगी, शान से रहेंगे हम आपके दिल में, दोस्ती के इस खेल में हमने कुछ तो जगह बनाई होगी!"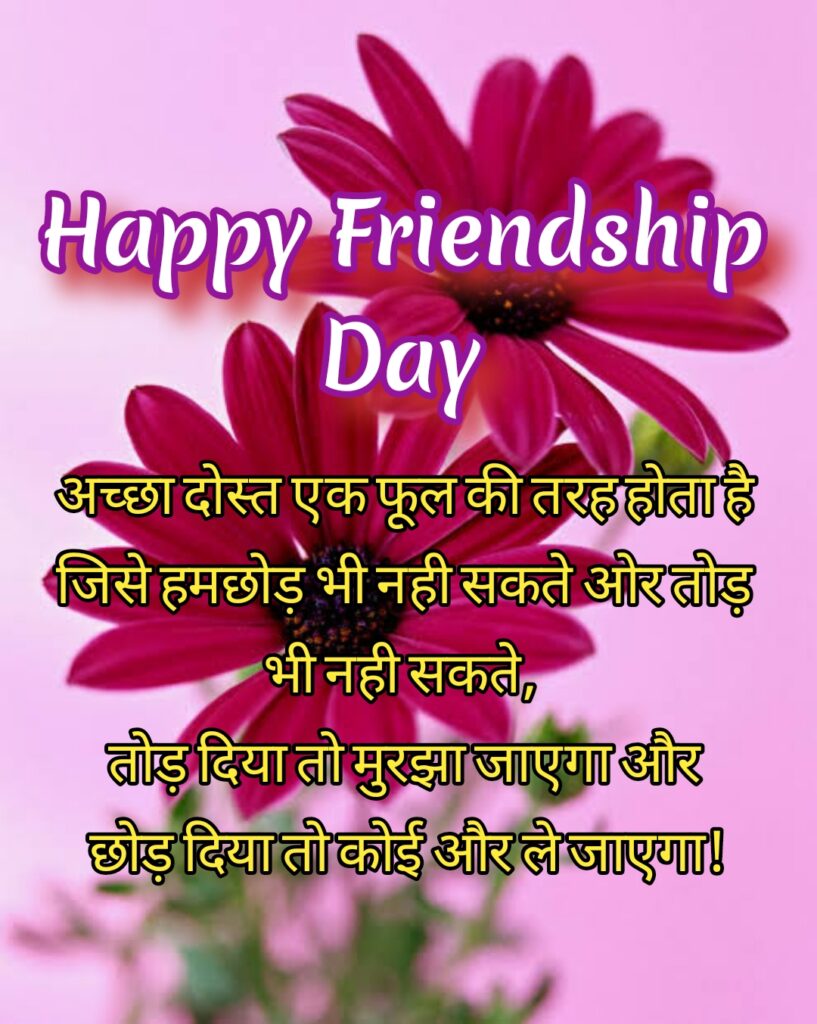 Friendship Quotes in Marathi:
"आयुष्यात माझ्या जेव्हा,
कधी दुःखाची लाट होती,
कधी अंधेरी रात होती,
सावलीलाही भिणारी एकट्याची अशी वाट होती,
तेव्हा फक्त मित्रा तुझी आणि तुझीच साथ होती…"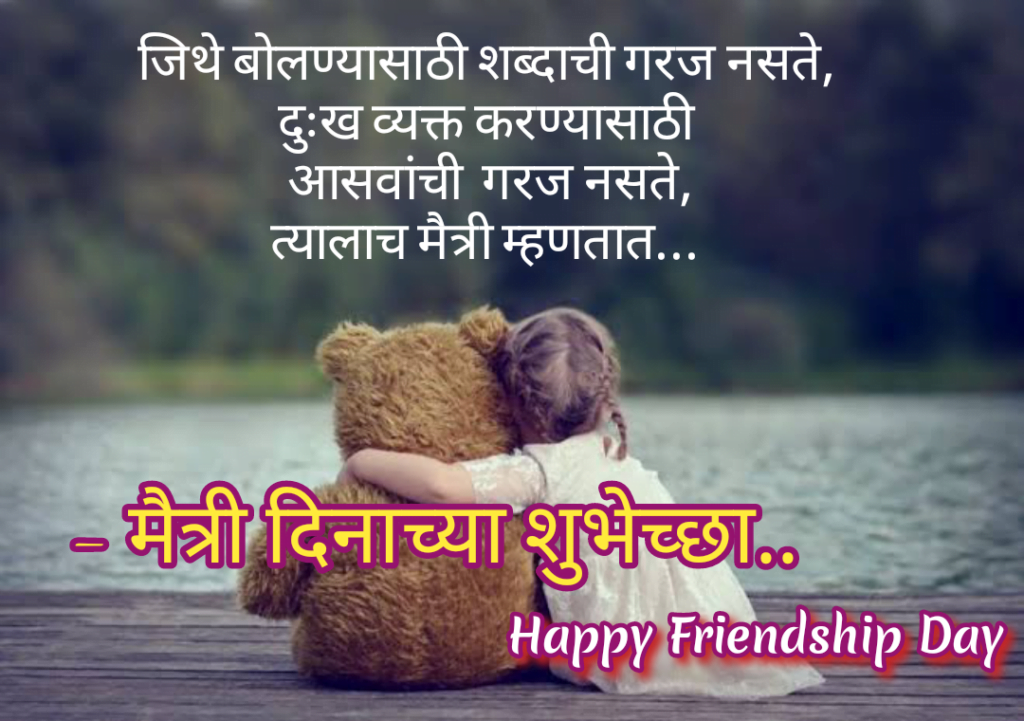 "मैत्री असावी मना मनाची,
खरी मैत्री असावी जन्मो जन्मांची,
खरी मैत्री असावी प्रेम आणि त्यागाची,
अशी मैत्री असावी फक्त तुझी आणि माझी.."
"जिथे शब्दावाचून मन वाचता येते ती खरी मैत्री"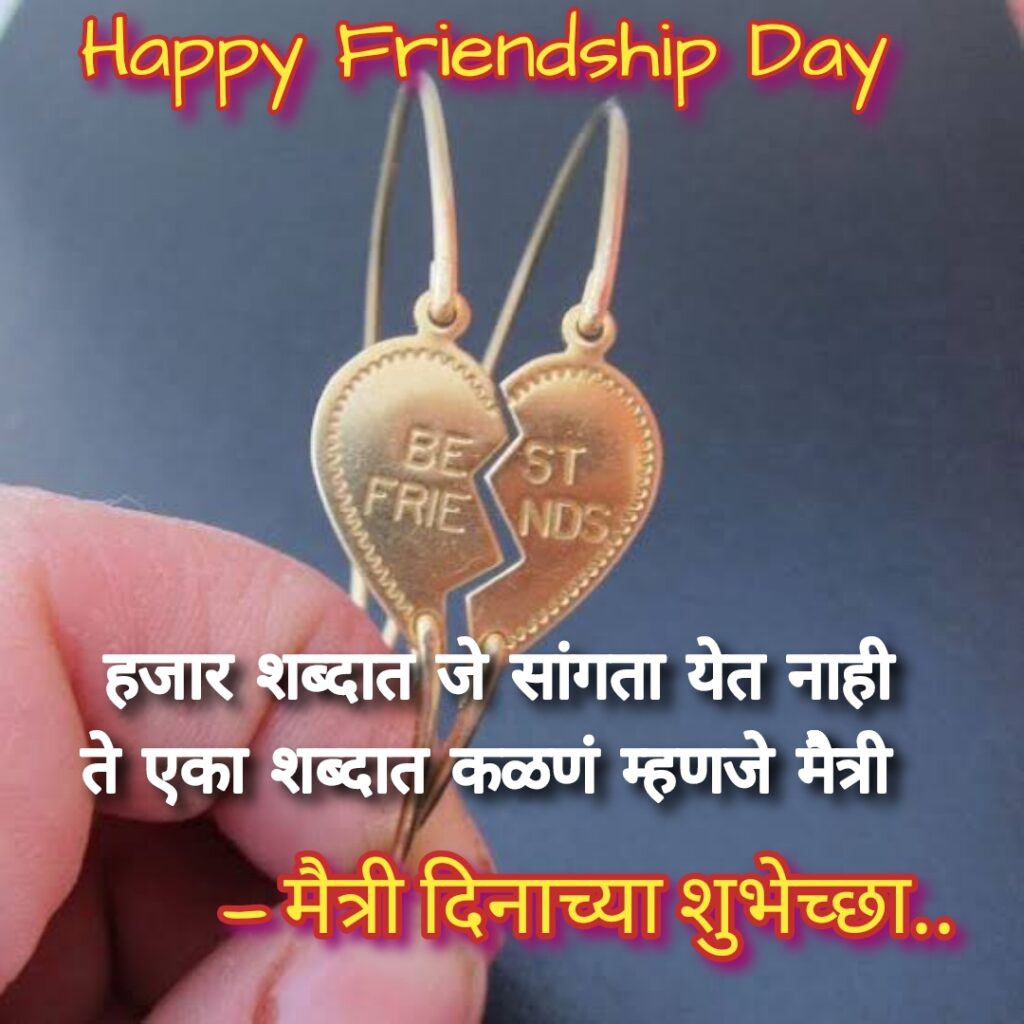 "मैत्रीचे धागे हे कोळ्याच्या धाग्यापेक्षाही
बारीक असतात.
पण लोखंडाच्या तारेहूनही मजबूत असतात.
तुटले तर श्वासानेही तुटतील
नाहीतर वज्रघातानेही तुटणार नाहीत. "
"चांगल्या व्यक्तीसोबत मैत्री ही ऊसासारखा असते. तुम्ही त्याला कितीही तोडा, घासा, पिरघळा त्यातून गोडवाच बाहेरयेतो."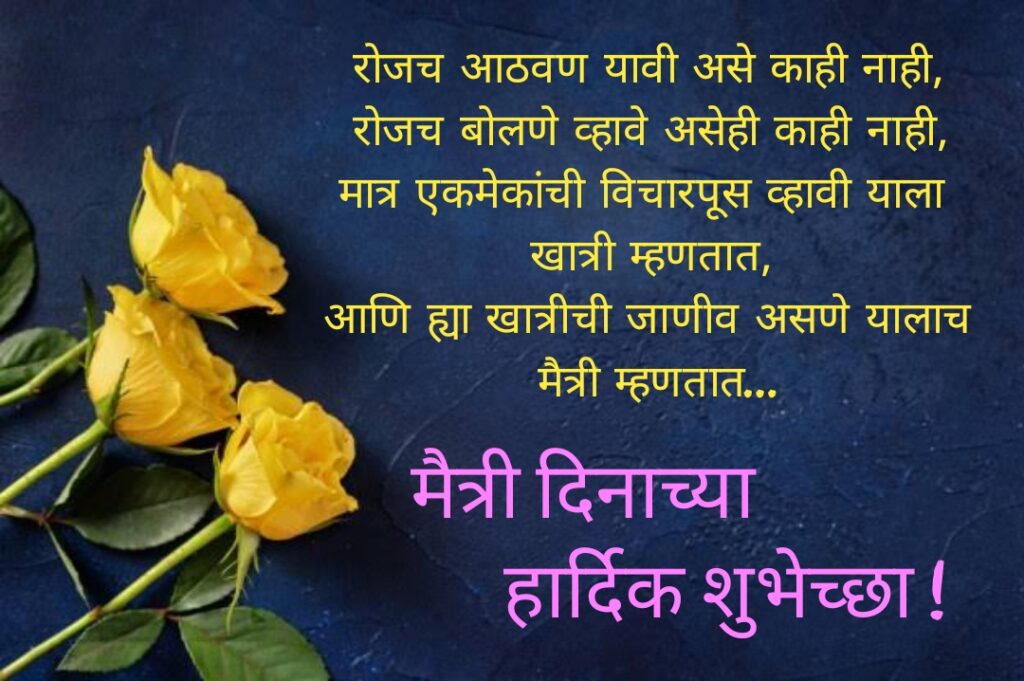 "जन्म एका टिंबासारखा असतो
आयुष्य एका ओळीसारखं असतं
प्रेम एका त्रीकोनाप्रमाणे असतं
पण मैत्री असते ती
वर्तुळासारखी कि ज्याला शेवट नसतो."
"देव पण न जाणो कोठून कसे नाते जुळवितो.
अनोळखी माणसांना हृदयात स्थान देतो.
ज्यांना कधी ओळखतही नसतो.
त्यांना पार जीवाचे जिवलग बनवतो."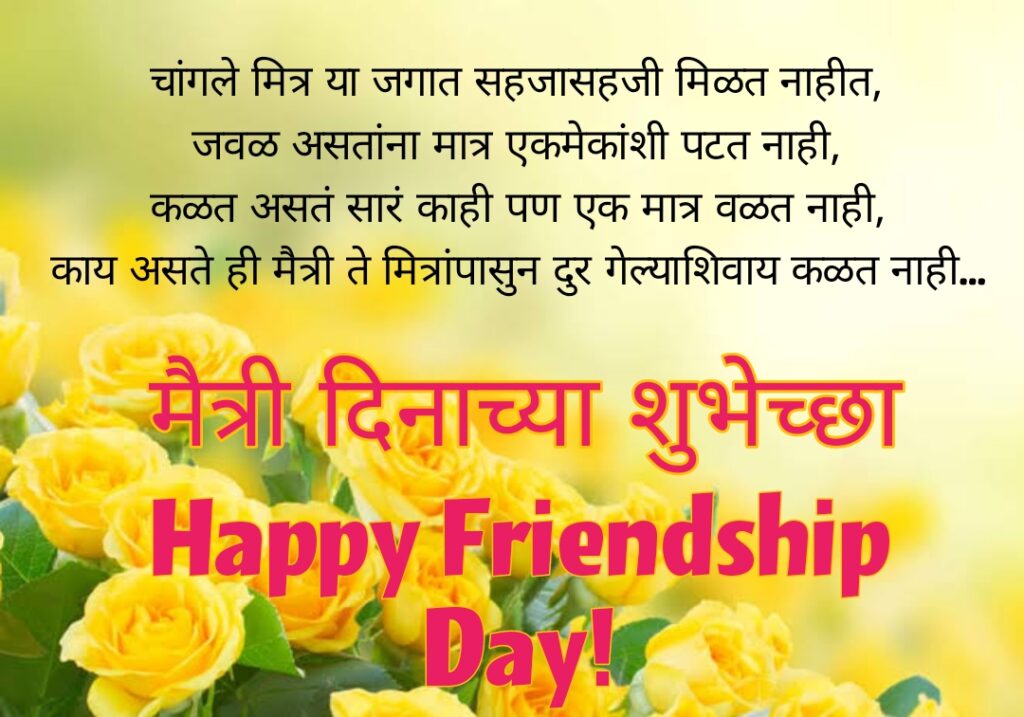 Friendship Day Quotes in Marathi:
"सागराचे पाणी कधी आटणार नाही,
मनाची आठवण कधी मिटणार नाही,
एक जन्म काय हजार जन्म झाले तरी,
तुझी आणि माझी मैत्री कधीच तुटणार नाही."
"ओठावर तूझ्या स्मित हास्य असु दे.
जिवनात तूझ्या वाईट दिवस नसु दे.
जिवनाच्या वाटेवर अनेक मित्र मिळतील तुला परंतु,
हदयाच्या एका बाजुस जागा मात्र माझी असु दे."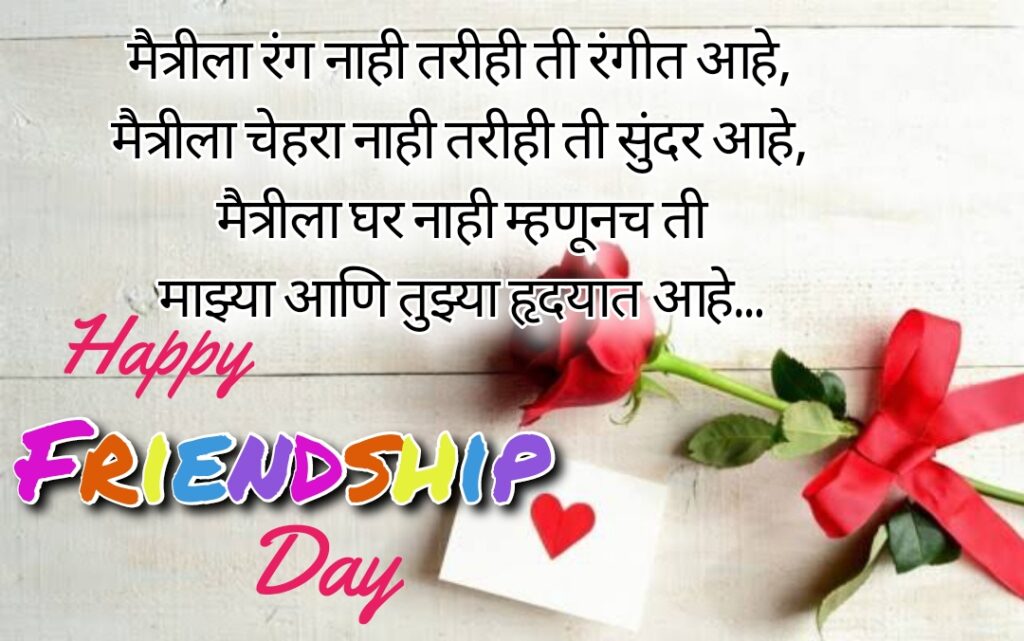 "बंधना पलीकडे एक नाते असावे,
शब्दांचे बंधन त्याला नसावे,
एक प्रेमळ भावनांचा आधार असावा,
दु:खाला तिथे थारा नसावा,
असा गोडवा एक आपल्या मैत्रीत असावा."
"मैत्री असावी चंदनासारखी,
सुगंध देणाऱ्‍या फुलासारखी,
जशी तुटलेल्या ताऱ्याला आधार देणाऱ्या धरतीसारखी,
प्रकाशाचे तेज घेऊन सावलीसारखी कोमल असावी."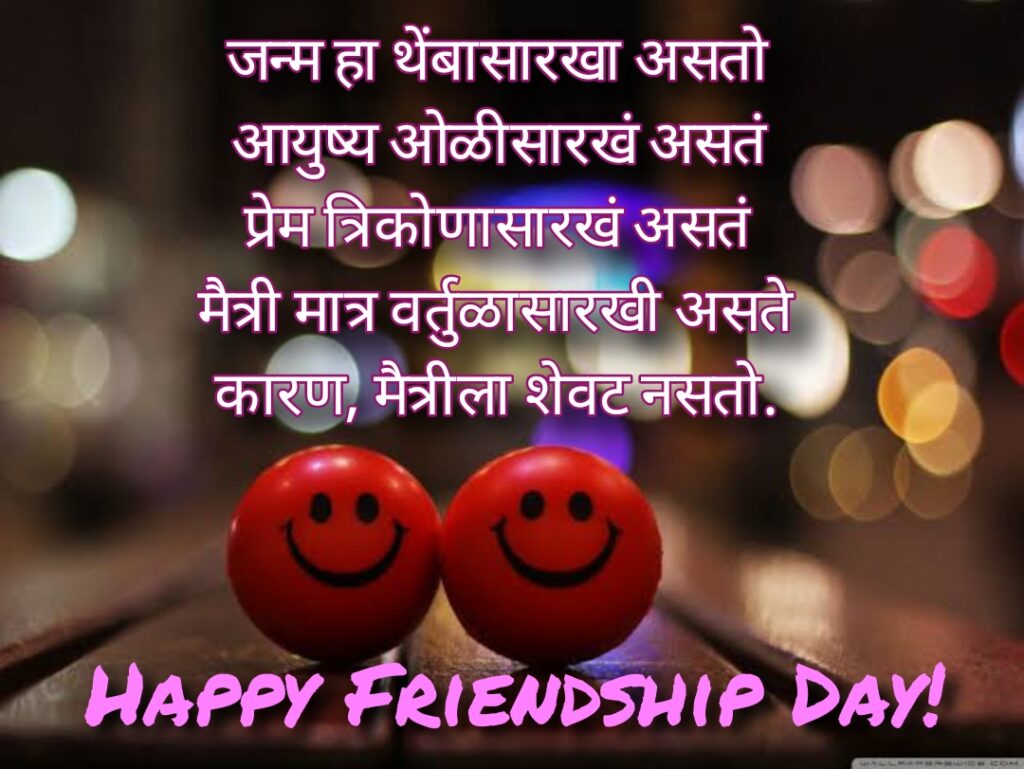 "मैत्री,नको फुलासारखी,शंभर सुगंध देणारी.
नको सूर्यासारखी ,सतत तापलेली.
मैत्री, नको चंद्रासारखी,दिवसा साथ न देणारी.
नको सावली सारखी,कायम पाठलाग करणारी.
मैत्री हवी अश्रुसारखी, सुख दुखात समान साथ देणारी."
"खरच मैत्री असते
पिंपळाच्या पाना सारखी त्यांची किती
ही जाळी झाली तरी,
ती मनाच्या पुस्तकात जपून ठेवावीशी वाटती."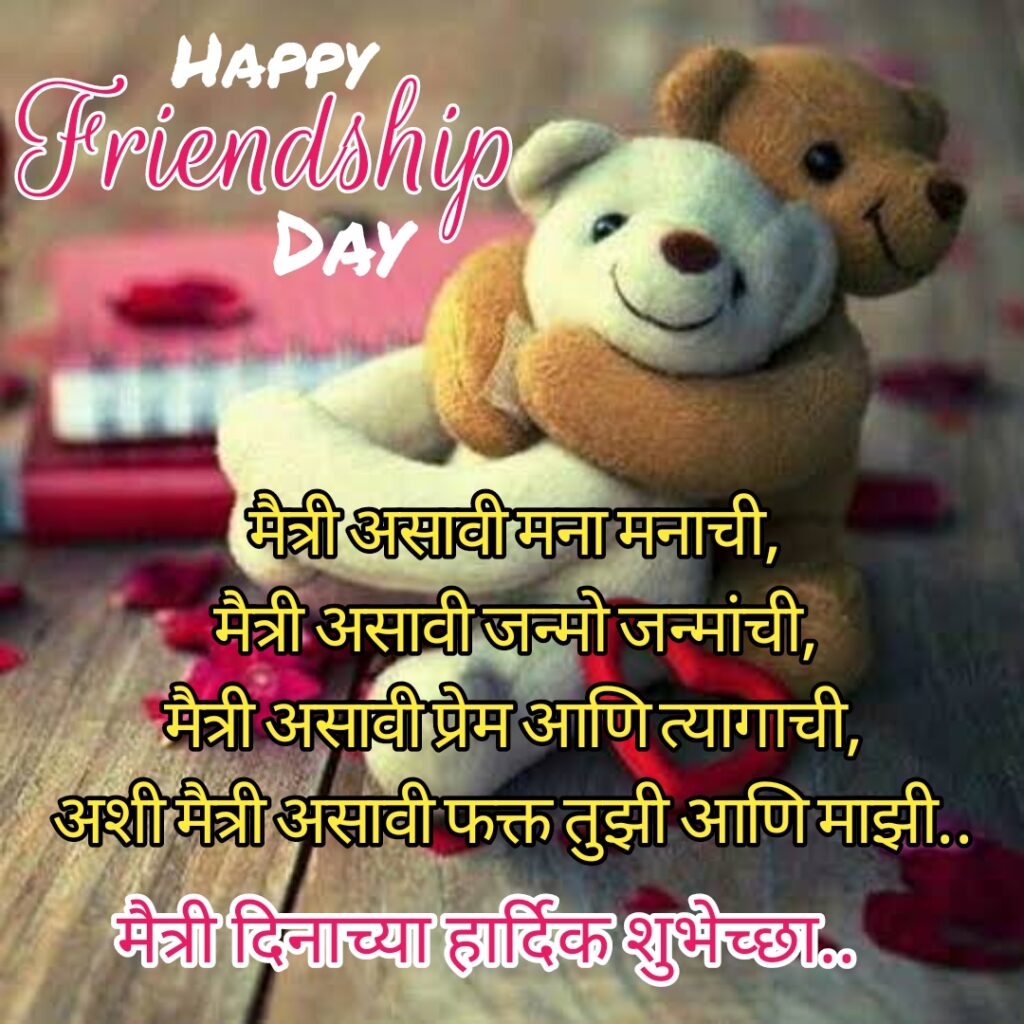 Best Friends Quotes in Marathi:
"रक्ताची नाती जन्माने मिळतात,
मानलेली नाती मनाने जुळतात,
पण नाती नसतानाही जी बंधनं जुळतात,
त्या रेशमी बंधनांना मैत्री म्हणतात."
"चांगले मित्र या जगात सहजासहजी मिळत नाहीत,
जवळ असतांना मात्र एकमेकांशी पटत नाही,
कळत असतं सारं काही पण एक मात्र वळत नाही,
काय असते ही मैत्री ते मित्रांपासुन दुर गेल्याशिवाय कळत नाही…"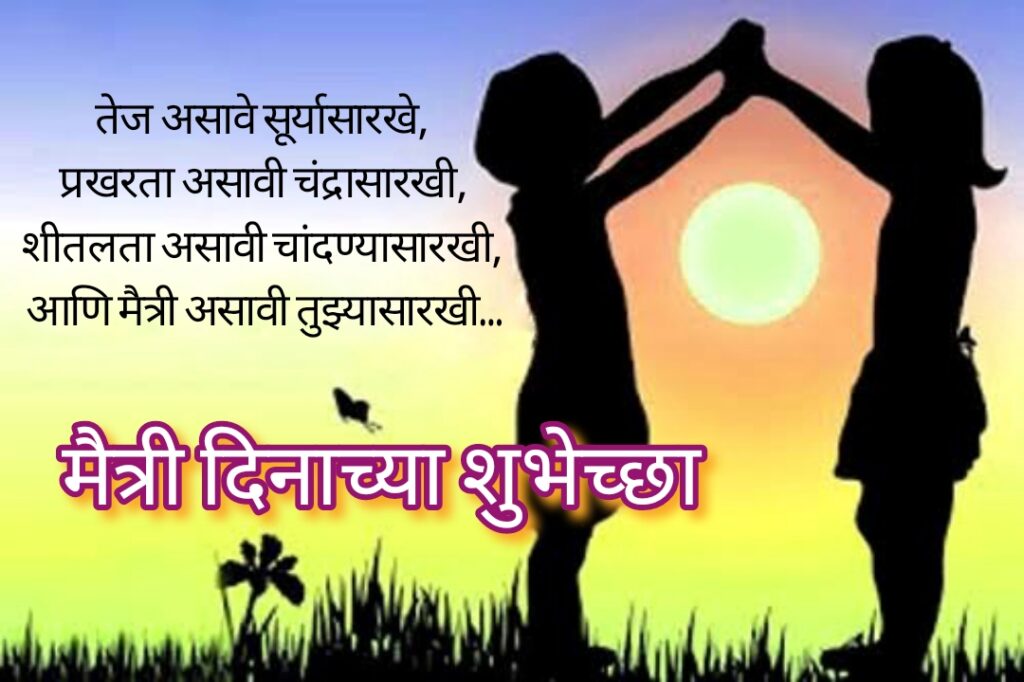 "काही नाती बनत नसतात.
ति आपोआप गुंफली जातात.
मनाच्या ईवल्याशा कोपऱ्यात
काहि जण हक्काने राज्य करतात.
त्यालाच तर "मैत्री" म्हणतात."
"मैत्रीमध्ये जरुरी नाही दररोजची भेट,
ह्रदयाचा ह्रदयाशी संवाद असता थेट.
तुझी-माझी मैत्री म्हणजे आयुष्याचा ठेवा,
मुखवट्यांच्या गर्दीमधला खात्रीचा विसावा.."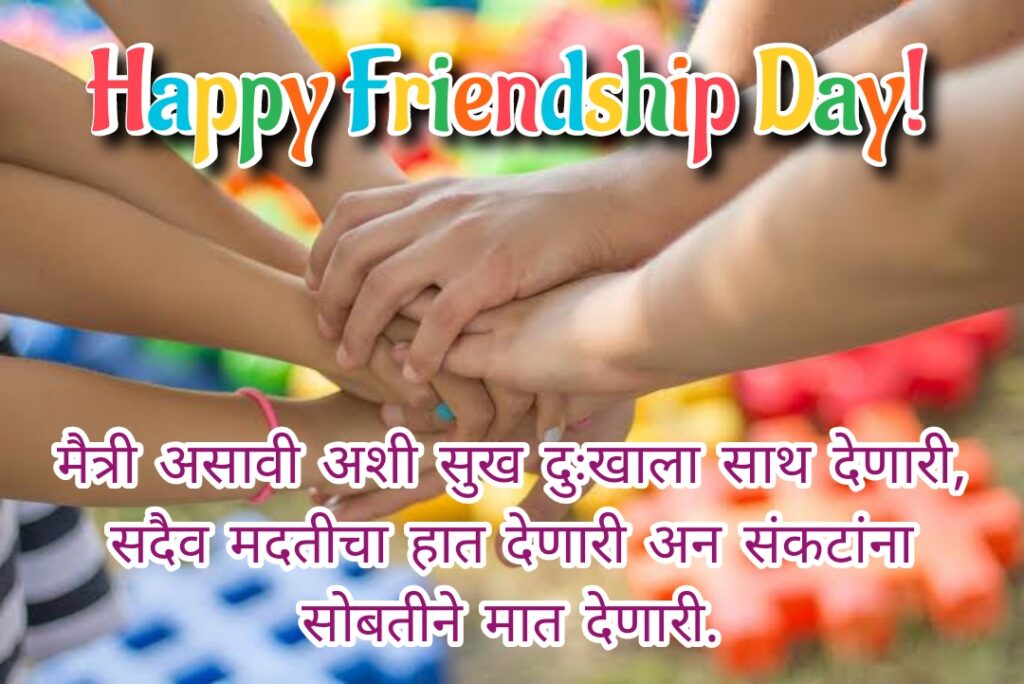 "लक्षावधी वर्षानी एखादा सुर्य निर्माण होतो,
कित्येक कळप शोधल्यावर कस्तुरी मृग सापडतो,
हजारो शिँपले उघडल्यावर एखादा मोती दिसतो,
शेकडो माणसे आयुष्यात भेटतात पण त्यात,
तुझ्या सारखा मिञ एखादाच असतो."
"पानाच्या हालचाली साठी वार हव असत,
मन जुळण्या साठी नात हव असत,
नात्यासाठी विश्वास हवा असतो,
त्या विश्वासाची पहिलि पायरी म्हणजे?
" मैञी " मैञीच नात कस जगावेगळ असत,
रक्ताच नसल तरी मोलाच असत."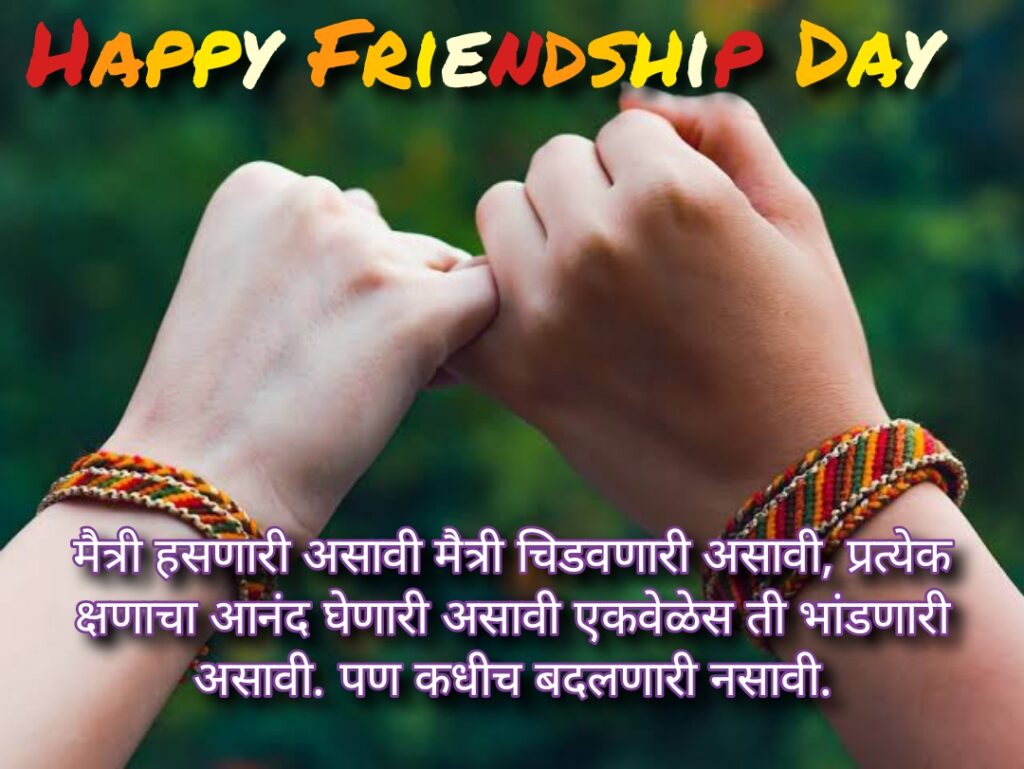 "काट्यांवर चालून दुसऱ्यासाठी रचलेली फुलाची रास म्हणजे मैत्री.
तिखट लागल्यावर घेतलेला पहिला गोड घास म्हणजे मैत्री.
एकटे असल्यावर झालेला खराखूरा भास म्हणजे मैत्री.
मरताना घेतलेला शेवटचा श्वास म्हणजे मैत्री."
"मैत्री ही कृष्ण आणि सुदाम्यासारखी असावी
एकाने गरीबीतही स्वतःचा कधीच स्वाभिमान सोडला नाही
आणि दुसऱ्याने श्रीमंतीचा कधीच अभिमान केला नाही."