Quotes on children's day
Quotes on Children's Day: Special commemorative day dedicated to children and celebrated annually to bring awareness about child's right to get an education and live in a healthy environment as they are the future of society. In India children's day is celebrated every year on November 14, this day is the birthday of the first Prime Minister of India, Pandit Jawaharlal Nehru and he was very much in love with children, children used to call Pandit Jawaharlal Nehruji as (Chacha) uncle Nehru. This is why his birthday is celebrated as Children's Day.  Schools specially organize various activities on Children's Day in which children are required to give a speech or a performance.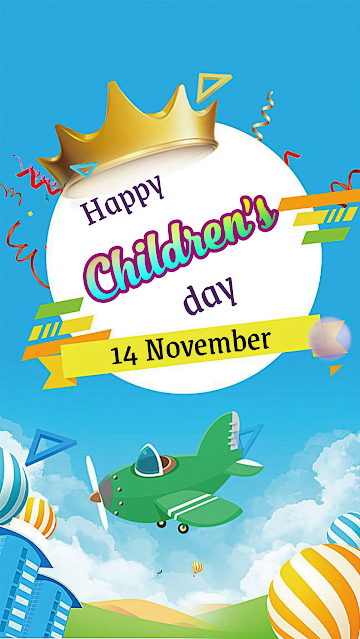 Nehru believed that today's childhood will be tomorrow's youth, which means that if the foundation is right, then the building itself will become stronger.  He used to say that the country can move forward on the path of development only when the children of that country develop properly.  Children are the soul of the nation. Childhood is a stage in which caste, religion, the occupation does not matter, children are the soul of the nation and they also have the responsibility of preserving the past.
Start of celebrating Children's Day in India:
  After the death of Pandit Jawaharlal Nehru on 27 May 1964, it was unanimously decided that henceforth every year on November 14, Children's Day would be celebrated on the birthday of (Chacha) Uncle Nehru, and the Children's Day program will be held.
History of children's day:
  Actually the foundation of children's Day' was laid in 1925.  It was recognized worldwide in 1954 when the World Conference on Children's Welfare was first announced to celebrate Children's Day.  In 1954, the United Nations announced to celebrate 20 November as Children's Day.  This is the reason that even today, Children's Day is celebrated on 20 November in many countries, while there are many countries which celebrate Children's Day on 1 June but in India, it is celebrated on 14 November.
  Children's day is not just a day to celebrate children for who they are but to bring awareness to children around the world who have experienced violence in form of abuse, exploitation, and discrimination. Children are still used as laborers in many countries, living on streets, suffering in many forms be it religion, minority, or disabilities. Children suffering because of armed conflict may suffer lifelong physical and psychological trauma.
 Mothers and fathers, teachers, nurses and doctors, government leaders and civil society activists, religious and community elders, corporate moguls and media professionals, as well as young people and children themselves, can play an important part in making Children's Day relevant for their societies, communities, and nations. Children's day offers each of us an inspirational entry-point to advocate, promote and celebrate children's rights, translating into dialogues and actions that will build a better world for children.
Why children's day is celebrated?
   As we all know, children are a bright future.  They should get lots of love and affection.  Children's Day is celebrated all over India on November 14 every year to fulfill this kind of need in the context of children. Children's mind is very clean and weak and every little thing or thing in front of them affects their mind.  Their today is very important for the coming tomorrow of the country.  Therefore, special attention should be paid to their activities, knowledge, and rites are given to them.
  Along with this, taking care of the mental and physical health of children is also very important.  The children should get the right education, nutrition, good virtues or values. It is very important for the benefit of our country because today's children are tomorrow's future.  Only then the country will be able to move forward.
How to celebrate children's day?
 Normally on children's day, many programs are organized in schools, colleges, and various educational institutions. Children's Day is celebrated to make people aware of children's rights and education.  Programs are organized in schools to make this day special.  Programs like fancy dress, dance, drama, etc. are held.
  But this year is not any other year, and these are far from normal circumstances. Nowadays, schools are quiet in many countries, and schools are closed because of the Coronavirus epidemic.
The COVID-19 pandemic effect on celebrations:
 This year, the world is facing a grave and unprecedented threat. The COVID-19 pandemic has reached an unimaginable scale. While so far, the direct health impact of the pandemic has been far milder for children than for other age groups, the anticipated socio-economic impacts—if not addressed—could be devastating for them.
Globally, we are already seeing some early warning signs. Million of children are missing out on life-saving health and nutrition services, such as immunization against polio or measles. More children have had their education suspended or disrupted due to widespread school closures. And this year alone, many children could fall into extreme poverty as a result of the crisis. But it does not have to be this way. This pandemic, while devastating, has nonetheless given the world a rare opportunity to radically transform the way we live and work together—and to think hard about the kind of future we want to bestow upon our children. We do not have much time, and much is at stake.
 This year we can contribute as much as we can for the betterment of sick and poor children. Along with this, we can celebrate this year's Children's Day by sharing Quotes on Children's Day through social media platforms Facebook, WhatsApp, Twitter, and Instagram, etc.
  Best quotes on children's day, If you too want to congratulate kids around you on this special day, here we have some best collections of  Quotes on Children's Day, Special quotes on children's, which you can share freely on your social media.
Quotes on children's day
:
"Children's are the future, The hope for a good tomorrow. They Are symbols of promise and potential."  Happy children's day to all children's in the world!
"There are some things that money can't buy, one of which is "childhood" Happy children's day!
"चाचा नेहरू के
जन्म दिन के अवसर पर,
बाल दिवस की शुभकमनाएं!"
"हमारे अंदर के बच्चे की तरफ से
आप सभी के अंदर के बच्चे कों
 बाल दिवस की ढेर सारी
शुभ कामनाएं!"
 "हम दुआ करते हैं ,
उस खुदा से की,
 दुनिया के सारे बच्चे ,
हसँते रहो, मुस्कुराते रहो,
फूलों के जैसे महकते रहो,
पंछी के जैसे चहकते रहो,
सूरज की तरह चमकते रहो,
इतने प्रतिभाशाली बने की,
सिर्फ अपने माता पिता का ही नहीं
 बल्कि, देश गौरव बने।
हमारी तरफ से सभी बच्चो को,
बाल दिवस की शुभकामनाएं!"
"Every child is an amazing creation of God. each child having their own ways make this world a stunning place for us. happy children's day to every child within the world!"
"Your children need your attention, support, and love more than gifts you buy for them.   Let your children know how special they are to you. Happy children's day!"
"Children are the best creation of God, they spread joy and happiness wherever they go. Happy children's day to every child within the world!"
"It's our duty to taught our child that,  how to be a good human being than how to be rich. Happy children's day !"
"Though we are your parents we also have a lot more things to learn from you dear, especially, how to laugh with all your hearts. Happy children's day!"
"On this children's day, come on we should all celebrate the innocence and purity of our lovely kids. Let them feel they are precious than anything in our lives. Happy children's day!"
"If we want to see our future filled with happiness and harmony, we must teach our kids to be good human being more than anything else. happy children's day!"
"We have to learn three things from our children's:
 to be happy for no reason,
 to be always busy with something
and know how to demand with all his might what you want.
Happy children's day!"
"All children's are great imitators so give them the great things to imitate! Children's need models rather than critics."
"Every child is the best gift of God, give them their own space, give them time to play, and allow them to find and make way for their future. Happy Children's Day!"
"Children's are God's greatest gift, they spread joy and happiness in the home.  Love them a lot and handle them with delicate hands."
"Childhood is about innocence and playfulness. It is about joy and freedom. Happy Children's Day!"
"There are only two lasting gifts you should give your children, One is roots and the second is wings."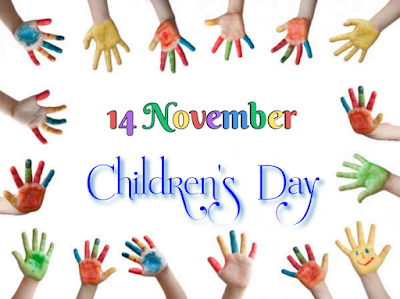 Children's Day Wishes:
"Dear child, there are no words to describe how special you are to us. Come on let's enjoy this day with fun and happiness. Happy Children's Day!"
"Dear children! A smile on your face can show heaven on earth. A twinkle of your eyes can boast our lives."
"Never stop screaming, playing, and laughing, it's part of your childhood which will always be with you. Happy Children's Day!"
"The best period of anyone's life is their childhood. A very happy children's day to all the kids in the world. It's your day today, enjoy this day with unlimited fun! Happy children's Day!"
"To us, you are the most precious of blessings of God. And I enjoy every moment that I spend with you. You make us complete. Happy Children's Day, my dear child!"
"Childhood is the best and happiest period of our life, so enjoy your childhood days and make good memories! You will cherish them when you grow up. Have a Happy Children's Day!"
"Every child is like a flower and no two flowers can be compared."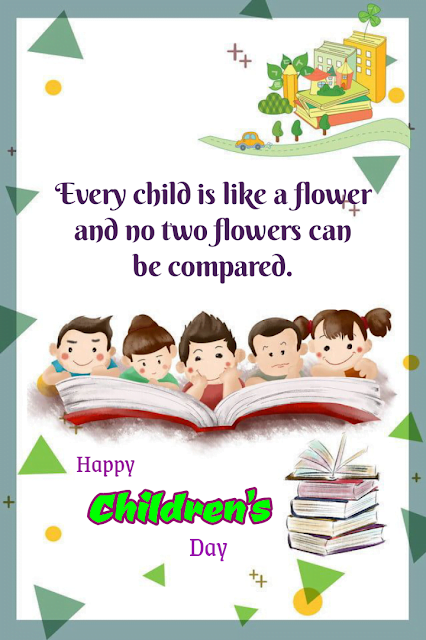 "Do not educate children to be rich. Educate them to be happy so that when they grow up, they will know the value of things and not just the price."
Happy Children's Day  In Hindi:
"बच्चे भगवान का सबसे बड़ा उपहार हैं, वे घर में खुशी और सिर्फ खुशी फैलाते हैं। उन्हें बहुत प्यार करें। हमारी तरफ से सभी बच्चो को, बाल दिवस की शुभकामनाएं!"
"प्यारे बच्चो, यदि आपको दयालु होने और सही होने के बीच किसी एक को चुनाव करना हो, तो दयालु बनें, और आप हमेशा सही रहेंगे।हमारी तरफ से सभी बच्चो को, बाल दिवस की शुभकामनाएं!"
अगर हम अपने भविष्य को खुशियों और समृद्धि  से भरा देखना चाहते हैं, तो हमें अपने बच्चों को किसी भी चीज़ से ज्यादा एक अच्छा इंसान बनने की शिक्षा देनी चाहिए। बाल दिवस की ढेर सारी शुभ कामनाएं!"
"Always smile back at children's.  When you ignore them is you destroy their belief that the world is good. Happy children's day!"
Quotes on Children's day by famous peoples:
" The children of today will make the India of tomorrow. The way we bring them up will determine the future of the country. — Jawaharlal Nehru."
"Creativity is inventing, experimenting, growing, taking risks, breaking rules, making mistakes and having fun." -Mary Lou Cook
"What you think, you become. What you feel, you attract. You create, What you imagine." – Buddha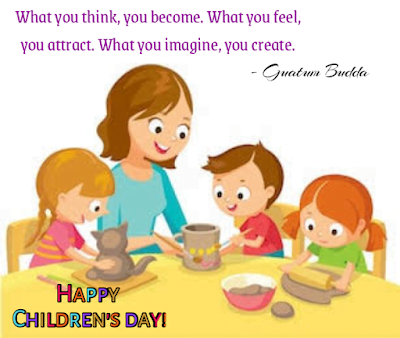 "Believe in yourself and all that you are. Know that there is something inside you that is greater than any obstacle." Christian D. Larson
"Be more concerned with your character than your reputation, because your character is what you really are, while your reputation is merely what others think you are." – John Wooden
"Be helpful. When you see a person without a smile, give them one of yours." – Zig Ziglar
"Courage does not always roar. Sometimes it is the little voice at the end of the day that says 'I'll try again tomorrow.'" Maya Anne Radmacher
"All our dreams can come true if we have the courage to pursue them." – Walt Disney
"Be yourself, for everybody else is already taken"  – Oscar Wilde
"Be kind whenever possible. It is always possible." -The Dalai Lama
"हम इस बात की चिंता करते हैं कि हमारे बच्चे  कल क्या बनेगा, मगर हम ये भूल जाते हैं कि वह आज भी कुछ है। बाल दिवस की शुभकामनाएं!"
"Children are our most valuable resource." – Herbert Hoover
"Winning doesn't always mean being first. Winning means you're doing better than you've done before." — Bonnie Blair
"Learn as much as you can while you are young since life becomes too busy later." – Dana Stewart Scott
"Children are like wet cement: whatever falls on them makes an impression." – Haim Ginott
Children's Day Greetings:
"Children are the hands by which we take hold of heaven." – Henry Ward Beecher
"Speak to your children as if they are the wisest, kindest, most beautiful and magical humans on earth, for what they believe is what they will become." – Brooke Hampton
"When the milk is splattered all over the floor, and those little eyes are looking at you for your reaction, remember what really matters. It takes 5 minutes to clean up the spilled milk. It takes much longer to clean up a broken spirit."  -Rebecca Eanes
"Children are like buds in a garden and should be carefully and lovingly nurtured, as they are the future of the nation and the citizens of tomorrow. Only through right education can a better order of society be built up." — Jawaharlal Nehru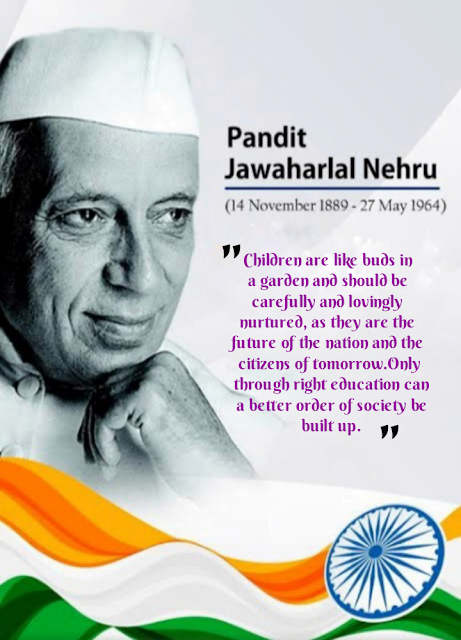 "Every child comes with the message that God is not yet discouraged of man."— Rabindranath Tagore
"We feel blessed to have you in our lives. Your one smile is enough to make us forget all the unnecessary things we worry about. Thank you for bringing children."  Happy children's day!
"Let us sacrifice our today so that our children can have a better tomorrow." – A. P. J. Abdul Kalam
"Always smile back at little children. To ignore them is to destroy their belief that the world is good." – Pam Brown
"While we try to teach our children all about life, Our children teach us what life is all about." – Angela Schwindt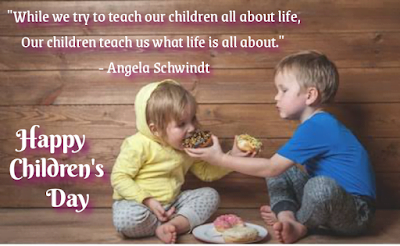 "Teach your children they're unique. That way, they won't feel pressured to be like everybody else." – Cindy Cashman