Happy Diwali Wishes, Quotes, and messages
 Happy diwali wishes, deepavali wishes, diwali wishes images, diwali wishes quotes, diwali funny wishes,
diwali wishes 2021, short diwali wishes, diwali wishes in english, diwali wishes in hindi, happy diwali wishes quotes messages, happy diwali wishes 2021, diwali wishes in marathi
  Diwali is a festival known as the festival of light, positivity, prosperity, it is also named Deepavali.  Deepavali is a Sanskrit word.  It means 'lines of lights'. It is not only celebrated in  India but also in many countries of the world.  Diwali is known as the biggest festival in India.  On the day of Diwali, the King of Ayodhya, Shri Ram had returned to his kingdom, after he defeated Ravana and completing his 14 years of exile. People celebrated and welcomed him everywhere by lighting rows of clay lamps. Southern India celebrates it as the day that Lord Krishna defeated the demon Narakasura.
   Wishing a very very Happy Diwali to all…!!
 According to the Indian calendar, this festival is celebrated on the new moon of the month of Kartik.  This festival is seen as the victory of knowledge (light) over ignorance (darkness). Diwali celebration is five days celebration that starts with Dhanteras and ends with Bhai Dooj (Bhaubeej)
Let's view the importance of those 5 days of Diwali one by one.
Five days of Diwali:
 The five-day festival is very interesting.  People start preparing for Diwali a couple of weeks in advance, which includes cleaning the house and painting.  Clothes and essentials are purchased a week or two in advance.
 The house and shop are decorated with garlands of flowers and mango leaves.  Sky lanterns are placed in front of the house.  Beautiful rangoli is drawn.  It is decorated with different colors.
Diwali- Dhantrayodashi (Dhanteras)
 On the day of Dhantrayodashi, which is the 1st day of Diwali, people consider it auspicious to buy new items and gold and silver.  The house is decorated with lamps.  Dhanvantari, a god of medicine and an avatar of Lord Vishnu and the goddess of wealth Lakshmi, is worshiped and anointed.
Worshiping the God Dhanvantari brings good health and worshiping goddess Laksmi, brings good wealth and prosperity to the family.  Many people believe that Goddess Lakshmi enters the house on the same day, so poverty falls.  Positive energy is spread throughout the house.
Diwali -Narakchturthi 
 This day is known as Chhoti Diwali. This is the second day of Diwali. On this day people decorate the house with colors and women draw mehndi on their hands. Special Diwali sweets distributed among neighbors and friends. Gifts are given to children. People enjoy their joy by cracking Firecrackers, at night sky looks amazing with the sight of colorful lights lighting up the sky in various patterns.
Diwali – Lakshmipujan
 The most important day of the five-day Diwali which we also call Diwali.  On this day, Mata Lakshmi, Shri Ganesh Bhagwan, and Mata Saraswati are worshiped with great pomp and ceremony. For this, doors, windows and balconies are kept open. Beautiful lamps are decorated there and rangoli is made.
After the ritual is completed, the celebration of the arrival of the deities is doubled by bursting firecrackers.  Sweets are added to eat.  On this day, merchants and traders worship Lord Kubera and Mother Lakshmi in their shops.
 Diwali – Padhva
 The fourth day of Diwali is Padva. On this day, married couples try to please each other by giving nice gifts.  Even today many people worship Lord Krishna Govardhan.
 In rural areas, domestic animals, especially cows, bulls, buffaloes, and goats, are decorated and fed Diwali sweets.
Diwali- Bhaiduj (Bhaubeej)
 The fifth day of Diwali is to cultivate the unbreakable and boundless love of brother and sister.  On this day, the sisters wish their brother prosperity and prosperity by lighting lamps and waving with great sincerity.
 Brothers give nice gifts to their sisters.  And try to make your relationship more enjoyable.  This day is considered as sacred as Rakshabandhan.
 India is a country where communities of different castes live together in one bond and celebrate each other's with great joy.  In today's stressful life, when people rarely meet each other, Diwali brings a happy opportunity to meet your loved ones.
People strengthen their relationship by giving each other good wishes and giving gifts and Diwali sweets.
Happy Diwali wishes, messages, quotes, SMS, greetings:
 The time has come to celebrate the favorite festival of India and perhaps the Indian sub-continent, the festival of lights, Diwali.
Celebrations include sharing Diwali Wishes, lighting up diyas (traditional earthen pots), cleaning up of houses, decorations around the house, and exchange of gifts. Many regions in India use fireworks for Diwali celebrations. A special prayer is offered to goddess Lakshmi as this ritual is believed to bring prosperity, good luck, and wealth into the family.
Diwali 2020 is here! This year Diwali will be celebrated on November 14 (Saturday). The year-long wait for India's greatest festival is almost over as everyone seems well prepared for the festival of lights. People all around the country are eagerly waiting for this day as it symbolizes the victory of light over darkness and good over evil. We have hand-picked the best collection of 2020 Diwali Wishes and Greetings, and in addition to that, we have also created high-resolution Happy Diwali Images that you can share with your loved ones and celebrate the spirit of this festival.
Diwali wishes, quotes, messages greetings in Hindi: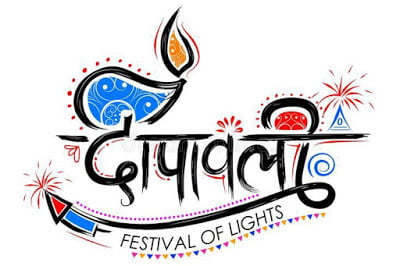 "दिवाली आए  साथ अपने खुशियां लाए
  ना मिल सकेंगे जिन अपनों से
 फुलझडि़यां उनकी याद है लाए।
  क्या हुआ अगर हम साथ नहीं आज उनके,
  उनकी याद लिए ये दिवाली है आयी।
दिवाली  की हार्दिक शुभकामनाएं!!"
"होठों पे हंसी दिलो में खुशी, गम का कभी नाम न हो, आपको दुनिया की सारी खुशिया मिलें, उन खुशियों की कभी शाम न हो। शुभ दीपावली!"
"लक्ष्मी जी का आपके सिर पर हाथ हो सरस्वती जी का साथ हो गणेश जी का दिल में निवास हो आपके जीवन में खुशियों का प्रकाश ही प्रकाश हो।"
"रास्ता चाहे कितना भी कठिन क्यों न हो,
 आप यूँ ही अपना हौसला बनाए रखना,
चाहे तुम हजार बार हारो,
 जीतने की  आशा बनाएं रखना
अपने दिलो में उम्मीदो का दिया जलाये रखना।
दिवाली की हार्दिक शुभकामनाएं..!"
"भगवान करे दिनों दिन बढ़ता
 जाए आपका कारोबार ..
 परिवार में बना रहे स्नेह और प्यार
होती रहे सदा आप पर धन कि बौछार
 ऐसा हो आता रहे हर साल
 धनतेरस का त्योहार…!!!"
"दीयों की रोशन से जगमगाए आपका घर द्वार,
  खुशियां मिले अपार,
  सफलता हर वक्त करे आपका इंतज़ार,
  लाख लाख शुभ कामनाएं है हमारी
  धूम से मनाओ दिवाली का त्यौहार।"
"दिवाली पर्व है खुशियाओ का,
उज्जलो का, लक्ष्मी का और इस
दिवाली आपकी जिंदगी खुशीओ से भरी हो,
दूनिया उज्जेलो से रोशन हो,
घर पर मां लक्ष्मी का आगमन हो,
 दिवाली की हार्दिक शुभकामनाएं..!"
"कुमकुम लगे पैरों से मां लक्ष्मी आपके घर द्वार आएं,
और आपके जीवन में यश और खुशियां लाएं !
 Happy Lakshmi pujan !"
"स्नेह और प्यार,
 खुशियों की बौछार,
बढे आपका कारोबार,
ऐसा हो आपका ये त्योहार,
दीपावली के त्योहार की हार्दिक शुभकामनाएं।"
"दियों की रोशनी से झिलमिलाता आँगन हो,
 पटाखों की गूँज से आकाश रोशन हो,
 ऐसे आये के यह दिवाली,
हर तरफ़ खुशियों का मौसम हो।"
"सफ़लता तुम्हारे कदम चूमती रहे,
खुशी तुम्हारे आसपास घुमती रहे,
हर ख्वाहिश तुम्हारी पूरी होती रहे,
तुम पर लक्ष्मी की कृपा हमेशा बरसती रहे।
दिवाली और भाई दूज की ढेरो शुभकामनाए…!"
"एक दुआ मांगते हैं हम अपने भगवान् से,,
 चाहते हैं आपकी ख़ुशी पूरे विश्वास से,
 सब ख्वाहिशें पूरी हो आपकी,
आप सदा मुस्कुराते रहे शान से।"
"भाई दूज का है आया है शुभ त्यौहार,
बहनों की दुआएं भाइयों के लिए हज़ार ,
भाई बहन का यह अनमोल रिश्ता है बहुत अटूट,
 बना रहे यह बंधन हमेशा खूब।
भाई दूज की शुभकामनाएं !"
"सागर भरी खुशियां, आसमान भरा प्यार, मिठाई की खुशबू, दीपों की बहार, मुबारक हो आपको दिवाली का त्यौहार..!  दिवाली की हार्दिक शुभकामनाएं!!!"
"दिवाली की सुहानी रात हों माँ लक्ष्मी का आशीर्वाद हों जगमगाते दीयो का साथ हो धरती पर चमकते सितारों की बारात हों और अपनों का साथ हों।  दिवाली की आपको और आपके परिवार को ढेरों शुभकामनाएं !!"
"May millions of lamps illuminate your life with endless joy, prosperity, and wealth forever.  Wishing you and your family a very healthy Нappy Diwali ..!"
"On this auspicious festival of lights
May the glow of joy
Prosperity and happiness
Illuminate your life and your home.
Wishing you a very Happy Diwali …!!"
"May this light of happiness, light up your life. May this Diwali be the most sparkling and lightening. Wishing you and your family a very Happy Diwali!"
"An occasion to celebrate Victory over defeat, Light over darkness, Awareness over Ignorance, An Occasion to Celebrate Life …. May this auspicious occasion light up your life with happiness. Happy Diwali !!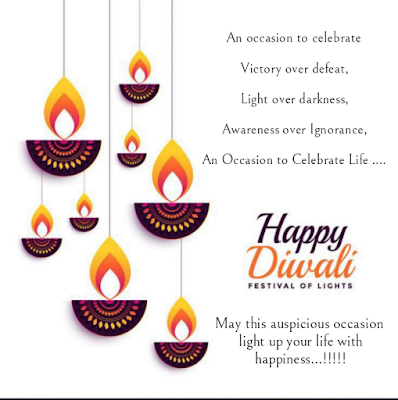 "May in this Diwali, you be blessed with Good fortune, Wealth, Prosperity, and Happiness. Wish you and your family a very Happy Diwali!"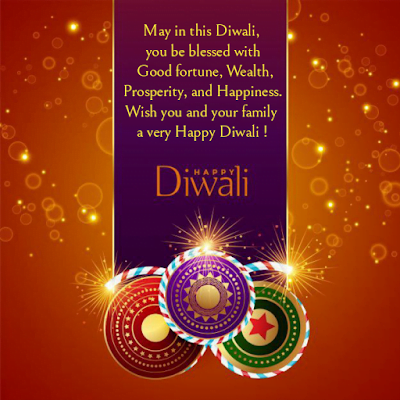 "Candles to enjoy life; Decorations to light life; Presents to share success; Fire Crackers to burn evils; Sweets to sweeten success, And Worship to thank God! Diwali Wishes from Heart!"
"Best friends are those who help their friends whenever they need help. So don't worry, I am coming to your house in the evening! I will help you burst all the firecrackers you have purchased! Happy Diwali, friend!"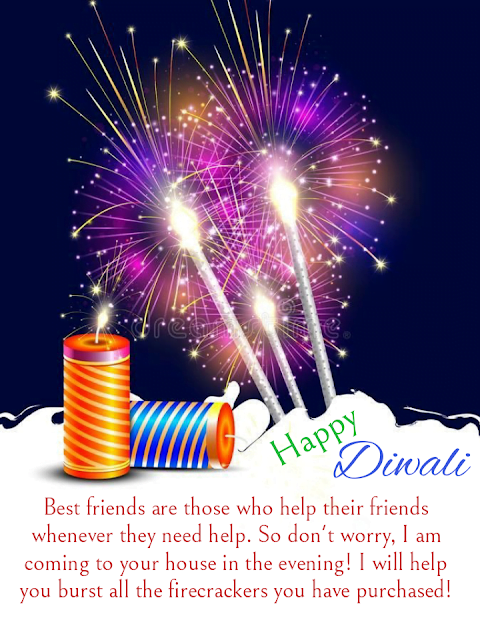 "I am sending out the brightest wishes for you and your family this Diwali! Hope you all have a great year ahead!"
"Hope this Diwali brings you every joy and blessing. Happy Diwali!"
"This Diwali let us give thanks for all we hold dear. Our health, our family, our friends, and to the grace of God which never ends. Happy Diwali!"
"Let's celebrate the festival in the true sense by spreading joy and light up the world of others. Have a happy, safe, and blessed Diwali!"
" A festival full of sweet memories, a sky full of fireworks, a mouth full of sweets, a house full of diyas and a heart full of enjoyment. Have a safe and happy Deepawali."
"Open your main entrance door & welcome Goddess Lakshmi wholeheartedly. I hope she will fulfill all your dreams. Wish you a very Happy & Wealthy Diwali!"
"May This Divine Festival Color The Pages of Your Life With Peace, Joy And Happiness. Happy Diwali!"
"The delicious Diwali desserts add sweetness to your life, And may Goddess Lakshmi shower you with all that you have wished for!"
"May the beauty of Deepavali season Fill your home with Happiness, And may the coming year, Provide you with all that brings you joy! This Diwali let us give thanks for all we hold dear Our health, our family, our friends and Happy Diwali!"
"Hope the festival of lights brings your way bright sparkles of peace, contentment, joy, and happiness which stays with you throughout this year and also in the years to come. May the lamp of joy remain illuminated in your life now and forever. Happy Diwali!"
"Hope millions of lamps illuminate your life with endless joy, prosperity, and wealth forever. Wishing you and your family a very healthy Нappy Diwali.!"
"On this auspicious festival of lights
May the glow of joy
Prosperity and happiness
Illuminate your life and your home.
Wishing you a very Happy Diwali …!!"
"An occasion to celebrate Victory over defeat, Light over darkness, Awareness over Ignorance, An Occasion to Celebrate Life …. May this auspicious occasion light up your life with happiness..! Happy Diwali !"
"Hope this Diwali brings you every joy and blessing. Happy Diwali to you and your family enjoy the celebration of light !!!"
"I am sending out the brightest wishes for you and your family this Diwali! Hope you all have a great year ahead!"
"This Diwali let us give thanks for all we hold dear. Our health, our family, our friends, and to the grace of God which never ends. Happy Diwali!"
"Let's celebrate the festival in the true sense by spreading joy and light up the world of others. Have a happy, safe, and blessed Diwali!"
"May this light of happiness, light up your life. May this Diwali be the most sparkling and lightening. Wishing you and your family a very Happy Diwali..!"
"Open your main entrance door & welcome Goddess Lakshmi wholeheartedly. I hope she will fulfill all your dreams. Wish you a very Happy & Wealthy Diwali!"
"Candles to enjoy life; Decorations to light life; Presents to share success; Fire Crackers to burn evils; Sweets to sweeten success, And Worship to thank God! Diwali Wishes from Heart. A very Happy Diwali to you and your family …!"
"May in this Diwali, you be blessed with Good fortune, Wealth, Prosperity, and Happiness. Wish you and your family a very Happy Diwali!"
"Best friends are those who help their friends whenever they need help. So don't worry, I am coming to your house in the evening! I will help you burst all the firecrackers you have purchased! Happy Diwali, friend!"
"May This Divine Festival Color The Pages of Your Life With Peace, Joy, And Happiness. Happy Diwali!"
"May This Diwali, Come Up With Beautiful Beginnings, Fresh Hopes, Bright Days, New Dreams And Your Days Filled With Cheerful Moments And Pleasant Surprises Wishing you a Happy Diwali!"
"May the delicious Diwali desserts add sweetness to your life, And may Goddess Lakshmi shower you with all that you have wished for. Happy Diwali and Lakshmi pujan !!"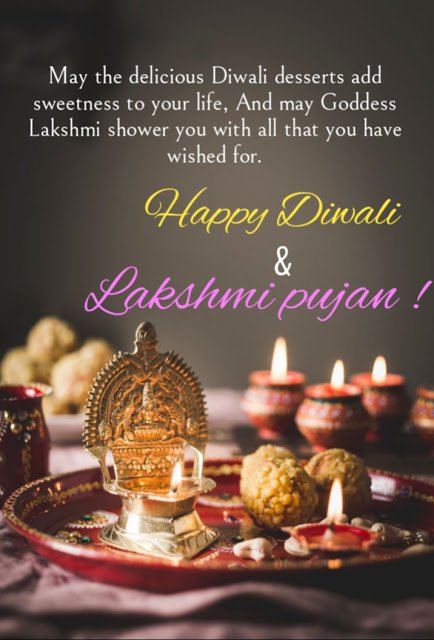 "May the beauty of Deepavali season Fill your home with Happiness, And may the coming year, Provide you with all that brings you joy! This Diwali let us give thanks for all we hold dear Our health, our family, our friends, and Happy Diwali!"
"Hope the festival of lights brings your way bright sparkles of peace, contentment, joy, and happiness which stays with you throughout this year and also in the years to come. May the lamp of joy remain illuminated in your life now and forever. Happy Diwali!"
"May this auspicious day strengthen the brother-sister bond forever. Wish you a very happy Diwali and Bhaidooj…!"
 "Bhaidooj is a celebration of endless love and care between brother and sister. Wish you a very happy Diwali and Bhaidooj…!"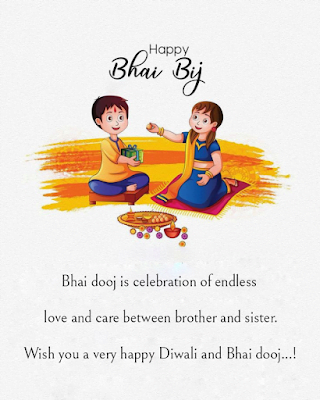 "Dear Bhai, On this Bhai Dooj I wish to say that you are the best brother and you mean the whole world to me. Happy Diwali !!"